Claro and Tigo Internet mobile data for families of Hispanic expats
Believe it or not, Internet use among Hispanic adults continues to grow, just as the rate approaches 90% for Americans overall, according to PewHispanic.org findings. Most of them are born in the USA, so we're talking about a high Internet usage among second or third generation Hispanic immigrant decedents. And that includes mobile data service on the go. BUT they are closely followed by Hispanics born outside the USA, in countries of South and Central America, many of them still in connection with their Hispanic relatives living abroad. Are you one of them? If yes, the good news is that you can now support them with Tigo Internet or Claro Internet from far away via MobileRecharge.com: from 1.5 GB to 3 GB data for orders of $10, $15 or $20.
And it's all happening online! Hispanic expats can now send Internet data to their friends and family members back in El Salvador, Honduras, Nicaragua, Costa Rica and El Salvador. Thanks to the fast online environment, the whole process takes seconds. Let's dive deeper into the possibilities on MobileRecharge.com, per country!
But before that… one thing is clear, Latinos are loving the Internet. Just by a simple Google search, we learn that as early as 2015, 90% of all Hispanics below 50 were already lovingly using the Internet, while 67% of those above 50 years old were also Internet enthusiasts. The educational level has very little relevance, which makes Hispanics a really curious and adaptable ethnic group, we'd say. Go go Hispanic tech-lovers!
What countries can I send Internet mobile data to?
If part of your family lives in El Salvador, Guatemala or Honduras and they are using Claro or Tigo balance, you can send Internet balance to any of them on MobileRecharge.com. It takes seconds, and it's hassle free!
Claro subscribers in Costa Rica can also receive Internet data from abroad via MobileRecharge.com.
If you have friends or family members in Nicaragua, they are lucky to have you! And if they are Claro Nicaragua subscribed they are double-lucky! Because they can get Claro Internet as a present or support from abroad. The sender could be YOU!
In a nutshel,
How to send Tigo Internet data to your Hispanic relatives & friends 
Pretty simple:
Go to MobileRecharge.com and open a free account. No contract needed, so no worries about commercial handcuffs on your arms. Kidding, but you know what we mean…
Pick the country you want to send the Tigo or Claro Internet data: El Salvador, Costa Rica, Honduras, Nicaragua.
Enter the prepaid phone number you want to top up! Please double check to make sure it gets where you want it to get.
Select one of the 3 amounts: $10, $14 or $20.
Proceed to payment. The processing fee for this transaction is the smallest, globally speaking. You can pay with your PayPal account or any major card at hand. Whatever currency will do, no matter if you're a Hispanic in the USA, or a Hispanic in Canada, Australia or Europe…
It takes seconds for your Internet balance or load to get to the person in the other country!
So, congrats, you paid someone a surprise.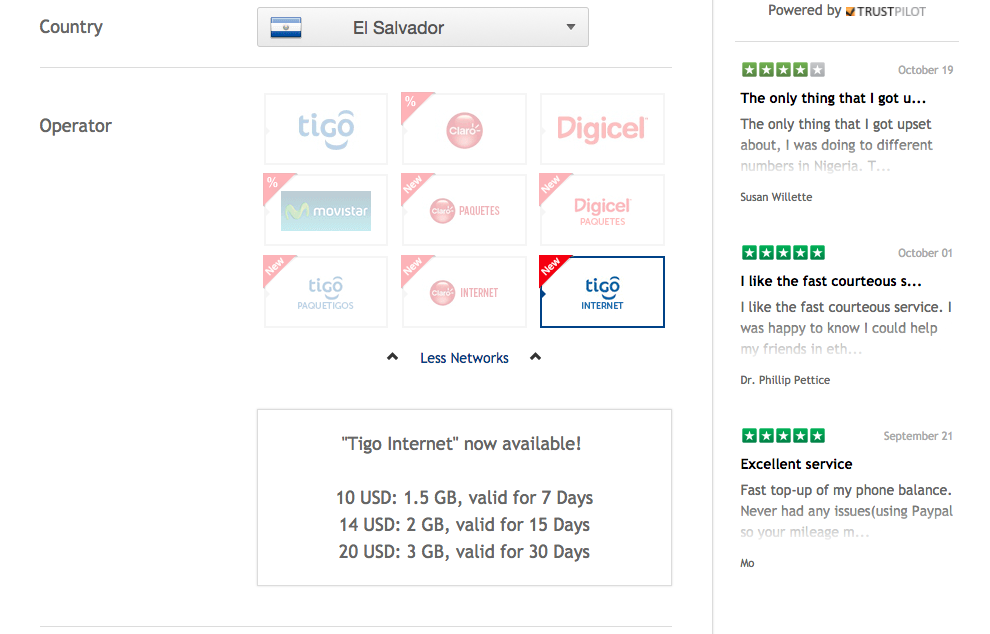 How much Internet balance can I send them?
From 1.5 GB to 3 GB, more than enough for any kind of Internet user. Let's take Tigo Internet and Claro Internet offers in turn!
The Tigo balance you send can be:
1.5 GB ($10)
2 GB ($14)
3 GB ($20)
If you send $10 Internet data, that includes 1.5 GB, valid for 7 days. If your relative does a lot of web browsing and uses apps like KeepCalling or other kinds, and little youtubing and photo uploading on her/his phone, he/she will never use up their 1.5 GB. At the end of the month he/she will probably use around 700 megs on a high usage month. So, $10 that will be more than enough.
If the person you send Tigo or Claro Internet balance is a high Internet user, then go for $14 which means 2 GB, or $20 that includes 3 GB. That data amount will give them about 60 hours of Internet browsing, app usage and thousands of emails.
Claro Internet top ups have 2 options:
1.5 GB for $10
3 GB 0 or $15
Claro balance has an extended validity time, up to 2 weeks, and for $10, your friend or relative back home gets 1.5 GB, which is suitable for someone who does a lot of browsing, photo uploading and emailing, but is not fanatically over-using YouTube.
The second option is to send them 3 GB for a $15 Mobile Recharge order. In case you wonder just how much is 3 GB, read below. But in a nutshell, if your relative in Central America is not an abusive user, 3 GB is plenty.
Just how much data is 3 GB?
Believe it or not, most people never use more than 3GB of data in a month. If you stream high definition (HD) videos, that could put someone in jeopardy of extending the data balance, but in these cases here, it's out of the question, since the validity period is less than 1 month.
Let's conclude
Hispanics in the USA, Canada, Australia, Asia or else can send Claro or Tigo Internet on mobiles in El Salvador, Nicaragua, Honduras, Costa Rica, Guatemala.
The amount to send varies from operator to operator.
Tigo Internet balance ranges from 1.5 GB – 3 GB for $10-$20.
One can send 1.5 GB – 3 GB Claro mobile data for $10-$15 or the equivalent in other currency.
1.5 GB is more than enough with most people.
3 GB is a superheroic balance for those who prefer HD video streaming, besides the usual Internet goodies like browsing, emails, chat and moderate YouTube.
https://blog.mobilerecharge.com/wp-content/uploads/2017/11/josh-rose-158801.jpg
4000
6000
Aura Badiu
https://blog.mobilerecharge.com/wp-content/uploads/2013/11/blog.mr_.logo_.png
Aura Badiu
2017-11-03 18:52:12
2018-04-26 12:07:48
Claro and Tigo Internet mobile data for families of Hispanic expats