Which phones do expats and travelers prefer in 2023?
Which phones make the best choice in 2023? Well, we wondered too and turned to the expats in our community for advice as techie and credible smartphone users. Why? MobileRecharge.com community is huge, they live in different parts of the world and are digital citizens, who use their phones for more than 3 purposes, locally and internationally.  Does it make sense?
No assumptions. Based on a few numbers that count the devices visiting a website in 2023 for example we could tell what are the top 10 choices of travelers and expats on MobileRecharge.com. Which phones expats and travelers use to browse MobileRecharge.com, call, send top-ups abroad, shop, and so on.
You'd say phone preferences can vary widely depending on an individual's personal preferences, budget, and specific need, especially since immigrants are a diverse group of people from many different countries and backgrounds. And yet, it seems there are some clear mainstream choices. Curious to know why.
Which are the best plans for the expats in the USA?
Tips first before you get your dream phone or your budget-friendly-dream phone.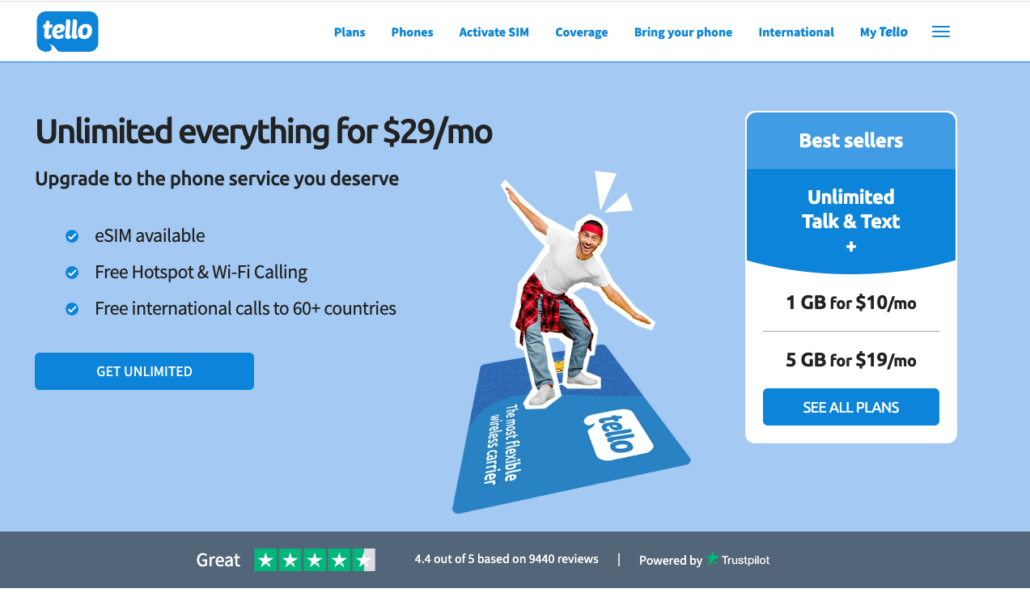 We recommend Tello.com, the rebel carrier scoring Excellent on Trustpilot in the US.
For at least 5 reasons:
Flexible build-yourself plans
Low prices. As low as $29 for unlimited everything.
Family plans
Wi-Fi calling included
Hotspot included
More about Tello phones and Tello US plans on their platform.
Of course, this is also due to the fact that most fans of MobileRecharge.com and the MobileRecharge app live in the USA. And yes, Apple is still super popular here.
There are several reasons why people in the USA prefer Apple smartphones:
Brand loyalty. Apple has a strong brand reputation there, plus many of those who have owned an iPhone in the past continue to upgrade to newer models.
User experience. Apple is known for providing a user-friendly and seamless experience across all devices. iPhone is famous for its simple and intuitive interface, and seamless integration with other Apple products such as Macs and iPads.
The sleek and modern design.
Variety of colors and finishes to choose from, allowing users to personalize their device.
The high selection of apps on App Store. These are vetted for security and quality. Most of the apps that become popular are first launched on iOS before being released on Android.
Weird, but true: social status. Owning an iPhone is a status symbol due to its price and elegance, mainly. You can afford one, you fall into "that category". The younger generation seems to care more than any other before, since they place a high value on technology and social media.
Naturally, these reasons are not exclusive to the USA. They are part of the culture of other countries as well.
When talking about iPhone models that get popular in 2023, we took a look at Forbes' trend analysis and learned that these are the "Best iPhone Models of 2023″
iPhone 14 Plus
iPhone 14
iPhone 13 Pro Max
iPhone 13 Pro
iPhone 13
iPhone 13 mini
iPhone 12 Pro Max
2. Samsung Galaxy A51 (SM-A515F)
The Samsung range is extremely competitive in terms of the ratio price – features. Which phones manufactured by Samsung are most popular in 2023? Yes, since December 2019 when it was launched, this Samsung model is still highly popular worldwide.
The Samsung Galaxy A51 (SM-A515F) is appreciated for several reasons, but especially for its combination of decent design, decent performance, well-appreciated camera capabilities, and affordable price point. 
Here are more details, without having any relationship with them or any of the producers of the models, below.
Clear & vibrant viewing experience thanks to a 6.5-inch Super AMOLED display. Its resolution is 1080 x 2400 pixels, which explains it all.
Excellent camera. The Galaxy A51 has a quad-camera setup on the back, including a 48-megapixel main camera, a 12-megapixel ultrawide camera, a 5-megapixel macro camera, and a 5-megapixel depth sensor. This setup allows for a variety of photography options and produces high-quality images.
Smooth performance for most tasks. The phone is powered by an octa-core Exynos 9611 processor and comes with 4GB or 6GB of RAM.
Battery life can last all day with moderate usage. The Galaxy A51 has a large 4,000mAh battery.
Modern design. The details give this model a premium look and feel.
Perfect price for a mid-range phone with high-end features
3. Samsung Galaxy A52s 5G (SM-A528B)
Which phone is better? Samsung Galaxy A51 or Samsung Galaxy A52s 5G?
Samsung Galaxy A52s 5G is an improved version of Samsung Galaxy A51 dating back in 2019. In 2023, Samsung Galaxy A52s 5G comes with some improvements in certain areas.
Here are some of the key differences between the two phones:
The Galaxy A52s 5G offers better performance, especially in gaming and other resource-intensive tasks due to a more powerful Qualcomm Snapdragon 778G processor compared to the Exynos 9611 processor in the Galaxy A51.
The Galaxy A52s 5G supports 5G connectivity, which means faster download and upload speeds on 5G networks. The Galaxy A51, on the other hand, only supports 4G LTE connectivity.
The Galaxy A52s 5G has a slightly better camera setup compared to the Galaxy A51. Its main camera has 64 megapixels instead of 48 megapixels. Additionally, the A52s 5G has a higher resolution front camera (32 megapixels vs 20 megapixels in the A51) for better selfies.
The Galaxy A52s 5G has a slightly larger battery capacity (4,500mAh vs 4,000mAh in the A51), but many users confess experiencing similar battery life and fast charging in both cases.
Overall, the Samsung Galaxy A52s 5G is a better phone compared to the Galaxy A51. Especially in terms of performance and connectivity. Yet, the old buddy Galaxy A51 is still a good phone in its own right. It makes a great option for those on a budget. So, which phone is better of the two? It depends on your standards!
4. Samsung Galaxy A71 (SM-A715F)
Samsung launched Galaxy A71 (SM-A715F) in January 2020. And since then it still stands out for some great features that makes it an excellent mid-range phone which can compete with some of the high-end phones on the market.
Excellent photos. The camera setup is amazing, colors are vibrant. The Galaxy A71 has a quad-camera setup on the back, including a 64-megapixel main camera, a 12-megapixel ultra-wide camera, a 5-megapixel macro camera, and a 5-megapixel depth sensor. The camera setup allows for excellent photos with sharp details and vibrant colors.
Large display with excellent viewing angles. The phone has a large 6.7-inch Super AMOLED display with a resolution of 1080 x 2400 pixels. The display is bright and vibrant.
Smooth performance. The processor makes it possible (octa-core Qualcomm Snapdragon 730), as well as, the 6GB or 8GB of RAM.
Fast charging and long battery life. It has a large 4,500mAh battery that can last all day with moderate usage. The phone also supports 25W fast charging.
Premium look, modern design.
It uses Android 10, which is clean, intuitive, and easy to use.
Here's an Android phone with a selling price of $69, ideal for those who are not tech-savvy. Or those who travel or want to separate work from personal life using one phone only. Before you decide which phones would make it on your shortlist, check reviews also. Wiko, for example, scores 4 stars on NotebookCheck and 2 on Trustpilot. Some differences to consider! Many users raise the issue of apps not being supported or connection cuts.
Obviously, the price is the best attribute of this product and the reason many of our MobileRecharge fans go for it. The design is also a big plus for a low-budget smartphone like Wiko K-KOOL; a sleek and modern design. You can choose the color and that's great because Wiko has a variety to pick from, and thus you can make your phone match your personal style.
Despite its low price, Wiko has impressive features: a large display, and a decent camera. As mentioned before, it is easy to navigate, so, a perfect choice for tech-savvy.
Did we mention it has dual-SIM capabilities? Well, that's most useful if you use two different SIM cards at the same time. For example, if you travel frequently or want to separate work and personal phone usage.
6. Xiaomi M2003J15SC Redmi Note 9
Gagdet360 qualifies this model as a good phone when it comes to its battery.
It also delivers good battery life thanks to the big 5,020mAh battery.
TechRadar's
verdict is 4 stars and supports the strong battery idea, adding 2 more:
Strong camera for the price
Screen is LCD but large and bright
They are not very satisfied with the design and the "mediocre performance".
7. Xiaomi Redmi Note 9 Pro
Which phones are better for you? Say you decided to go with a Xiaomi. Which model would be ok for you?
After almost 3 years after its launch, it seems it's still a nice choice for many. Android Authority points to its camera, design, and price. Plus, remember all Xiaomi phones come with Google Mobile Services.
An above-average camera, class-leading internals and beautiful design for the low price.
This model is not on TechRadar shortlist for best Xiaomi phones in 2023, but they did support the brand from the get-go, and even if they now prefer the offspring models, they seem to trust the brand altogether.
8. Samsung Galaxy S21 Ultra 5G
The price of Galaxy S21 Ultra 5G is higher compared to the Galaxy A51 or A52. So, someone may choose to use this model if they have the budget for a high-end device and want the latest and greatest features. However, the Galaxy A51 or A52 is somehow a better choice for someone on a tighter budget who still wants a good smartphone.
There are many great features users appreciate and report as great about the Samsung Galaxy S21 Ultra 5G, but here are 3 of the best:
This model has an impressive camera system, with 4 cameras, actually. A 108-megapixel primary camera, a 12-megapixel ultra-wide camera, and two 10-megapixel telephoto cameras. This gives users a lot of versatility in their photography. And this makes possible high-quality photos and videos in various situations, including low light. Nice, right?
It has a beautiful 6.8-inch display (Dynamic AMOLED 2X display with a resolution of 3200 x 1440 pixels). The 120Hz refresh rate makes scrolling and navigation using apps and websites very smooth.
It proves a great performance. The Exynos 2100 or Snapdragon 888 processor and 12 GB or 16 GB of RAM, make it one of the most powerful smartphones on the market. This means it can handle even the most demanding apps and games with ease. The phone also supports 5G connectivity, most useful for faster download and upload speeds.
9. Xiaomi Redmi Note 8 Pro
The Xiaomi Redmi Note 8 Pro has several impressive features, but one of its best features is its camera system: a 64-megapixel primary camera, an 8-megapixel ultra-wide camera, a 2-megapixel macro camera, and a 2-megapixel depth sensor.
Such a setup gives the user versatility in photography, high-quality photos, and videos in various contexts. The camera also has features: HDR, panorama, and night mode, which help to enhance the overall image quality. Overall, the camera of this phone is great for anyone who wants a high-quality camera on a budget.
Hope it makes a difference in your adventure to find the best phone for you right now. To conclude, there are some factors to consider. What's most important to you? The camera? The battery? Will you surf a lot on the internet? Will you use many apps? How much are you willing to spend?