Best deals to get a free top up in June
Imagine you'd be an actor instead or besides an expat, and you'd play in a movie called "June is a good deal" or "How do you deal with June?". In any case, there's a clear connection between June, you and "deal." Act wisely and fast! :)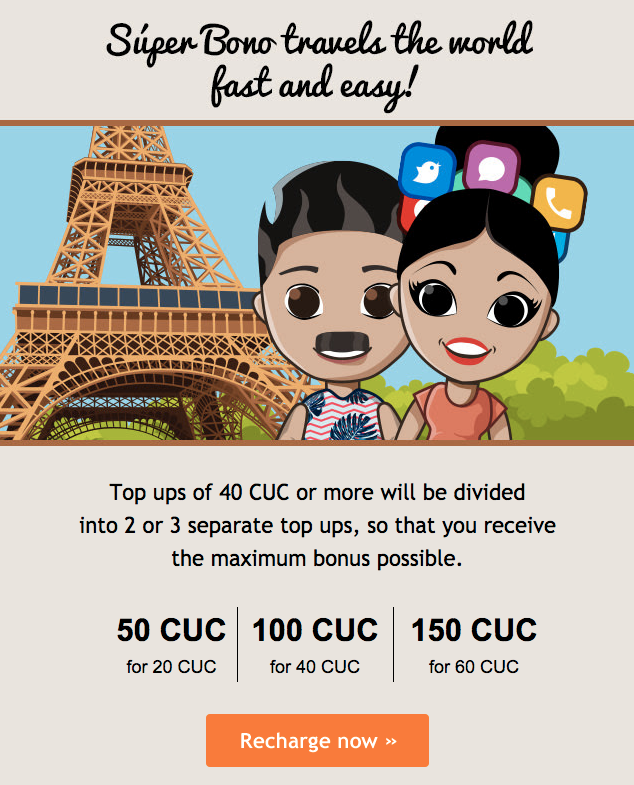 To get a free top up in June for yourself, a friend away or your relatives abroad, you can choose from the deals below.
Deal #1 – FREE top up credit for Cubacel  mobiles in Cuba
This is a good deal for Cuban expats. They can send a free top up to a Cubacel mobile in Cuba if they are eager to transfer some credit there today or tomorrow and get a Bonus for them as well. The current promotion running on MobilerRcharge.com from June 13 to June 17, until 23:59 Cuba time. 
The smashing bonus applies for recharges between 20 and 60 CUC. More refills brings a higher Bonus.
The promotional balance can be used until July 31, 2016 (23:59 EST). The recharges may arrive a few minutes apart, so no worries folks!
The best deal is that if you miss it this month, you can hunt the free top up Cubacel offers in July. Best thing to make sure you get the news on this free top up is to press "Get offers" in the footer of the website, and you'll get updates by email. Sounds easy, right? And it is.
Many expats use this monthly Cubacel promotion to send free extra credit on their regular recharges to a mobile in Cuba, or to send a gift form times to times since it only takes few seconds to make it happen. 
Any further questions can be addressed in real time here. Enjoy!
#2 Win $10 mobile credit for your dad 
Just tell the expat community on Facebook: "What did you learn from your dad?" And that can get you a $10 free top up  to send to someone abroad you care about, or you need to surprise or help.
The community celebrates International Fathers Day, between June 14-16. And the touchy marathon of comments about dads has already started. The focus is on the positive impact of dads in our lives. The MobuleRecharge.com team has also contributed by creating a touchy video for expats worldwide and for their dads too.
The winner of the $10 mobile credit top up will be selected randomly, using a specialised online tool. He or she will be announced on June 16 on the expat Facebook page that will host both the expat video and the prize contest.
If you are a new user on MobileRecharge.com you have now the chance to try the international top up service for free. The only thing you need to do is:
 Join the contest, that is post a comment until June 16 about what you learned from your dad.
Get ready for a sur-PRIZE by opening a free account on MobileRecharge.com. Otherwise you will not be able to use the $10, in case you win.
Wait for the winner to be announced on June 17, 2016.
Fans and existing customers of MobileRecharge.com have now the opportunity to save money on their regular mobile refills. This time the prize is a 100% discount, which makes it a good deal.
#3 Top ups to Orange Madagascar mobiles get 100% FREE EXTRA credit
Those who have friends or relatives in Madagascar are lucky too this June. Any value sent as mobile credit to an Orange mobile there, is doubled automatically if the top up is made until June 27th. The bonus is available for national and international destinations for The 7 days.
https://blog.mobilerecharge.com/wp-content/uploads/2016/06/KC_FathersDay_G.png
608
1080
Aura Badiu
https://blog.mobilerecharge.com/wp-content/uploads/2013/11/blog.mr_.logo_.png
Aura Badiu
2016-06-16 11:58:14
2018-04-26 12:08:02
Best deals to get a free top up in June