How to top up Bolt balance and pay for your relatives' rides in Africa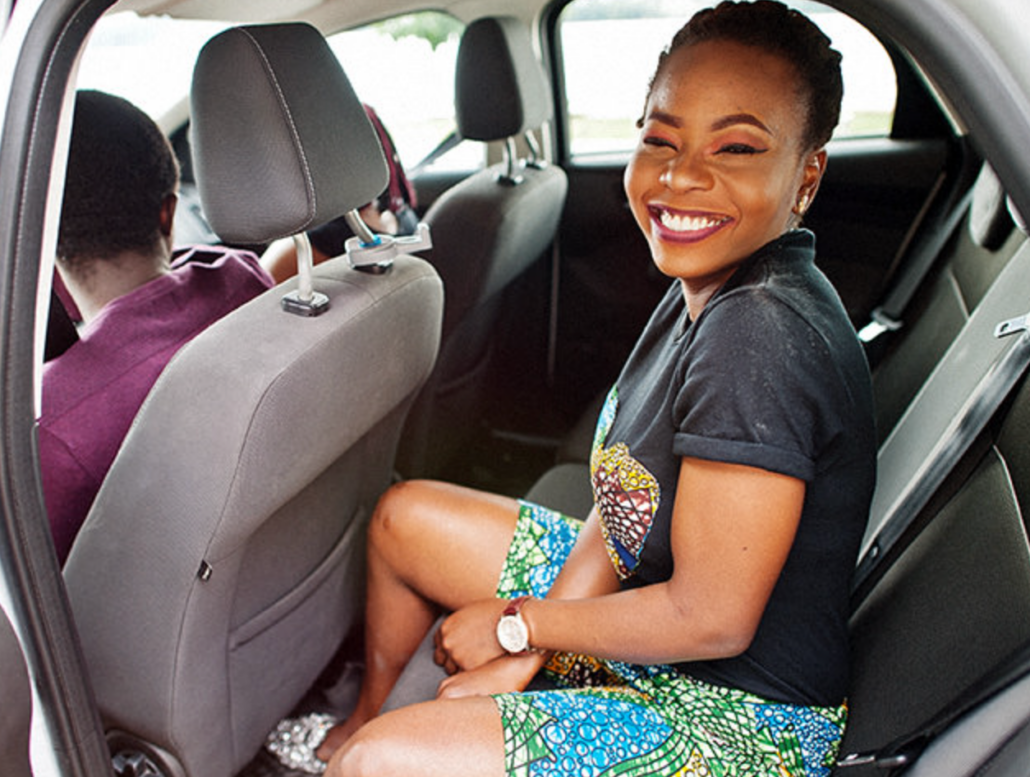 Besides Boomplay gifts to African countries, you can now top up Bolt for Nigeria, Ghana, and Kenya from anywhere in the world, using the MobileRecharge.com platform or the MobileRecharge app. We'll explain below the steps if you care to pay for your mom's or spouse's or son's Bolt rides in these countries. But first, let's see the benefits.
Bolt's affordability made it popular in countries all over the globe, including some African countries. According to WageIndicator, Bolt now operates ride-hailing and delivery services in South Africa, Kenya, Ghana, Nigeria, Uganda, Tanzania, and Tunisia. And it announces expansion.
If you're an expat with relatives or friends in Ghana, Kenya, or Nigeria, you can now load balance online for your folks on MobileRecharge.com or via the MobileRecharge app.
Pay for their Bolt rides in Nigeria, Kenya and Ghana
Thanks to their low prices, user-friendly app, transparency, and safety, Bolt is now a very popular ride-hailing service, and the best alternative to taxis worldwide, including some African countries like Ghana, Nigeria, and Kenya. Perfect for budget-conscious travelers.
What else makes Bolt super cool?
Their pricing model. Customers can see the cost of their ride upfront, without any hidden fees or surcharges. Also, anyone can use their app as long as they have a smartphone. It's super intuitive. The app allows users to request a ride, track their driver's location, and pay for their ride, all from their mobile devices. And it's here where you can hit the jackpot.
If you top up Bolt balance from MobileRecharge.com to your relative's phone number in Ghana, Nigeria or Kenya, you add a voucher to their Bolt account. And that makes it super easy for them to benefit from free rides.   
Not only does the rider know the identity of the driver, but they can rate them. Also, the company has implemented safety features such as in-app SOS buttons, facial recognition technology, and background checks for drivers to ensure a safe and secure ride experience.
Advantages for your friends
&

family
Besides some pragmatic reasons to top up Bolt online (in seconds), like avoiding running out of funds, there are some good reasons to do it when traveling abroad and even living abroad.
Pay for your folks' rides from the distance. Especially if they live abroad and you can also spare them some expenses.
Making sure your family members that are close by never run out of Bolt balance.
Ensure that you can use the Bolt service while you are traveling to a country where Bolt is available.
Save while traveling. Depending on the country you are visiting, it may be cheaper to top up your Bolt balance online on MobileRecharge.com, especially if the local currency is weaker against your home currency.
Use the ride-hailing service without having to worry about currency conversion rates and foreign transaction fees.
Avoid currency exchange or carrying cash around.
Let's focus on the most important and how to do that with MobileRecharge.com.
How to load a Bolt account in Africa from anywhere in the world
Pretty simple, to be honest. Top up Bolt credit in seconds, even on the go, while communicating or on a work break, or while preparing dinner. You know better.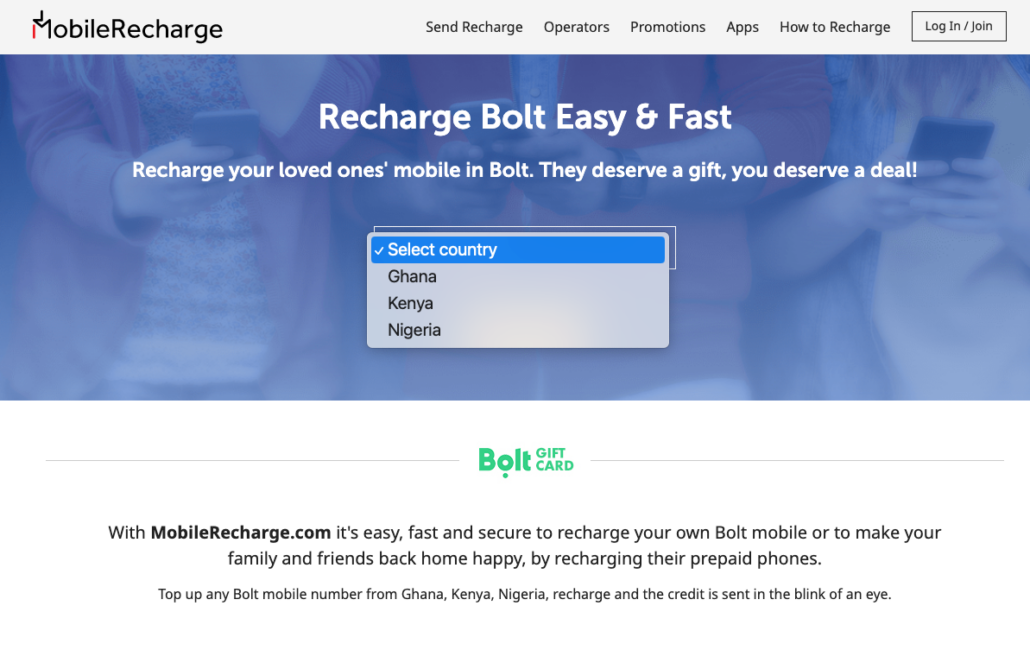 Go to the this page on MobileRecharge.com or the MobileRecharge app (free to install).
Pick the country where you want to send Bolt credit and pick the amount.
Pay for the gift card super safely.