How to top up a mobile overseas with MobileRecharge app for Android
Every 0.82 seconds someone is looking for an Android device, or an Android tutorial, software, or app for Android on the Internet. This is what Google search results show this March. Globally, there are 1.4 billion Android users (expandedramblings.com), and 12,000 of them are MobileRecharge.com friends, most of them expats.
Just for the record, in the USA alone, there are 107+ million Android users (statista.com). Again for the record, every day 1,500 million people activate an Android device according to statista.com. Apps are then installed for different purposes, from online top ups, to expense records, news or whatever crosses your mind, no kidding! 
Why MobileRecharge app for Android? 
MobileRecharge app for Android supports fast mobile credit delivery to friends and family. They can be in some other country, or in the same town. Some even use it to top up their own mobile, online. In translation, EASY, safe and FAST.
What makes it so popular is that:
It saves time and hassle, and it can be used on the go.
The app has been built per expats feedback, so it is a realistic one, not the dream of an IT guru who has nothing to do with mobile credit transfers.
Daily promotions run on the first page. And Bonuses worldwide amount to 700%  free extra credit.
It is FREE to install.
It is for both experienced and inexperienced Android users.
Today, hundreds of thousands of expats who use an Android smartphones also have MobileRecharge app installed. Some just bumped into it, but most have singled it out after having read the reviews on Trustpilot or other review platforms. Many have tested it after having learned about it from an expat friend.  
Who uses MobileRecharge app on their Android?
There are mainly 3 categories who use MobileRecharge app on their Android devices:

Expats who support their families back home by every available means

Generous residents who spare their family and friends the hassle of going to the store; they top up mobiles of family or friends (living in the same country) ONLINE.
People who use top up their own mobile fast & easy, in their resident country and / or while traveling.
Mobile credit as a gift
Mobile credit is a great help especially if the next store to recharge with mobile credit is tens of kilometres away, in the next village. This is common for villages in Nepal, for example.
How to buy mobile credit for family & friends with MobileRecharge app for Android
Go to MobileRecharge.com and takes seconds to open a free account, with no contract. Very very easily!
On your Android smartphone, go to Play Store and install MobileRecharge app for FREE or click here.
Follow the steps: select the country where you want to send the mobile credit, the operator and enter the phone number, balance amount carefully!
Double check details entered and proceed to payment; you can use PayPal or any major card, no matter the currency, in the most secure environment you can imagine.
That's it! The mobile credit gets to your friend or family instantly.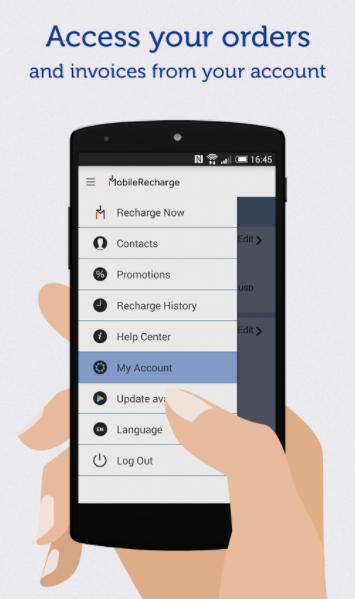 Benefits
Save time to top up your own mobile or someone else's, no matter the country, by using MobileRecharge app for Android.

The recharge is ready in few seconds.
Anyone can do it, since it is conceived as a very easy-to-use app for Android.
MobileRecharge app for Android costs 0 to install on your Android device.
MobileRecharge app for Android requires no contract.
All transactions are available in your account on MobileRecharge.com.
Daily promotions are available in this top up app for Android.
https://blog.mobilerecharge.com/wp-content/uploads/2017/03/1-MobileRecharge.png
321
845
Aura Badiu
https://blog.mobilerecharge.com/wp-content/uploads/2013/11/blog.mr_.logo_.png
Aura Badiu
2017-03-03 18:52:37
2018-04-26 12:07:55
How to top up a mobile overseas with MobileRecharge app for Android