Second Cubacel Promotion in April for Cubans abroad who want to surprise their relatives in Cuba
Way over 11 million Cubans live outside their motherland. We're talking only about Cubans abroad registered in their new countries: the USA, Canada, Germany, Italy, etc. Many of them still have friends and relatives back home in Cuba, and for them… we have good news!
For the second time this month, MobileRecharge.com hosts a new Cubacel promotion on international mobile top ups to mobile phones in Cuba. We cannot remember any similar situation so far. This time, Cubans abroad get to send 30 CUC airtime Bonus on every load of minimum 20 CUC and maximum 60 CUC. The offer runs between April 24-28, 2017, on MobileRecharge.com.
30 CUC for FREE on every recharge
The minimum load that adds the Bonus automatically is 30 CUC. Also, recharges from abroad of Cubacel mobiles that go over 60 CUC do not get any Bonus. So, if you choose to take advantage of this promotion stick to a value between 30 CUC and 60 CUC.
Here is a situation. You are one of the happy Cubans abroad who still support your family in Cuba. You live in the USA, and you need to save some money when you help your family with mobile credit. This is the harvest season!
Go to MobileRecharge.com and register for free; if you already have an account, take a sip of tea.
Sit comfortably and enter the details of your recharge: pick 20 CUC, 40 CUC or 60 CUC as your order value.
Proceed to Payment, and the Bonus will apply immediately. You'll get to send 50 CUC for a 20 CUC order, 100 CUC for a 40 CUC order, and 150 CUC for the maximum order of 60 CUC.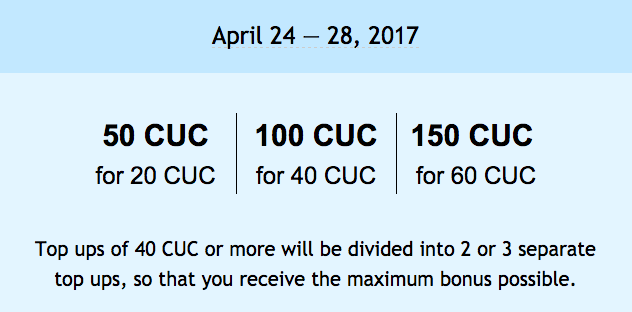 Try MobileRecharge app!
For those Cubans abroad who use smartphones and spend pretty much time commuting, a good option is to install MobileRecharge app (Spanish version) on their Android or iOS device. All promotions are also displayed in the app. So, you can send credit in seconds, on the go. A handful of advantages. Oh, and the app is free to install, by the way.
It was customers' feedback that optimised the app in the long run, despite the 10+ year of experience of MobileRecharge team. The app is easy to use by non-experienced too.
Stay updated with MORE promotions!
On Facebook, MobileRecharge.com posts promotional notifications regularly, since there are DAILY promotions running on the website. There are monthly news feed for Cubans abroad, as well as other Latinos or Caribbean living abroad. African expats and South Americans also get their share of surprise. Even weekly! Like the page to get the DEALS in your Facebook News Feed. Or, visit the website from times to times to check the current Promotions!
https://blog.mobilerecharge.com/wp-content/uploads/2017/04/2016.04.24-mobileRecharge.png
321
845
Aura Badiu
https://blog.mobilerecharge.com/wp-content/uploads/2013/11/blog.mr_.logo_.png
Aura Badiu
2017-04-26 10:24:20
2018-04-26 12:07:53
Second Cubacel Promotion in April for Cubans abroad who want to surprise their relatives in Cuba