2 smart ways to send FREE Cubacel credit to Cuba this June
Top of your head! What's the first thing you hear most often when talking to your Cuban friends and folks back home? If you have your answer already, don't wait too long to forget it. Because a simple comment you leave in MobileRecharge expat community can bring a prize: FREE Cubacel credit for someone you keep in touch with in Cuba. But we'll tell you more about the free top-up prizes and the contest on Facebook below. Meanwhile, have a bite of the sweetest Cubacel queen watermelon this June! Or shall we better say a cocktail Bonus for your mobile top ups to Cuba between June 11-15. ;)
FREE Mix of Cubacel credit, minutes and SMS by June 15
A NEW Cubacel offer kicks in this June for top-ups from abroad. Yummy! Why yummy? Because it's unexpectedly diverse, so don't be skeptical just because it's NEW. The offer is a really cool deal for Cuban migrants supporting folks back home.
Let's see! For the modest 20 CUC order on MobileRecharge.com, the person in Cuba gets 10 CUC FREE Cubacel credit plus 60 minutes, plus 50 SMS. All valid for more than one month. Oh, and during this time, tell your relative or your spouse or a friend in Cuba, who receives it, that they can check the balance via USSD (*222#) for free.
Want your dad or cousin to get 80 CUC FREE Cubacel credit? ¡No hay problema! That's also on the menu. You pay for an order of 60 CUC on MobileRecharge.com. So, they get a total of 140 CUC if you count your gift and the FREE Cubacel credit that adds automatically.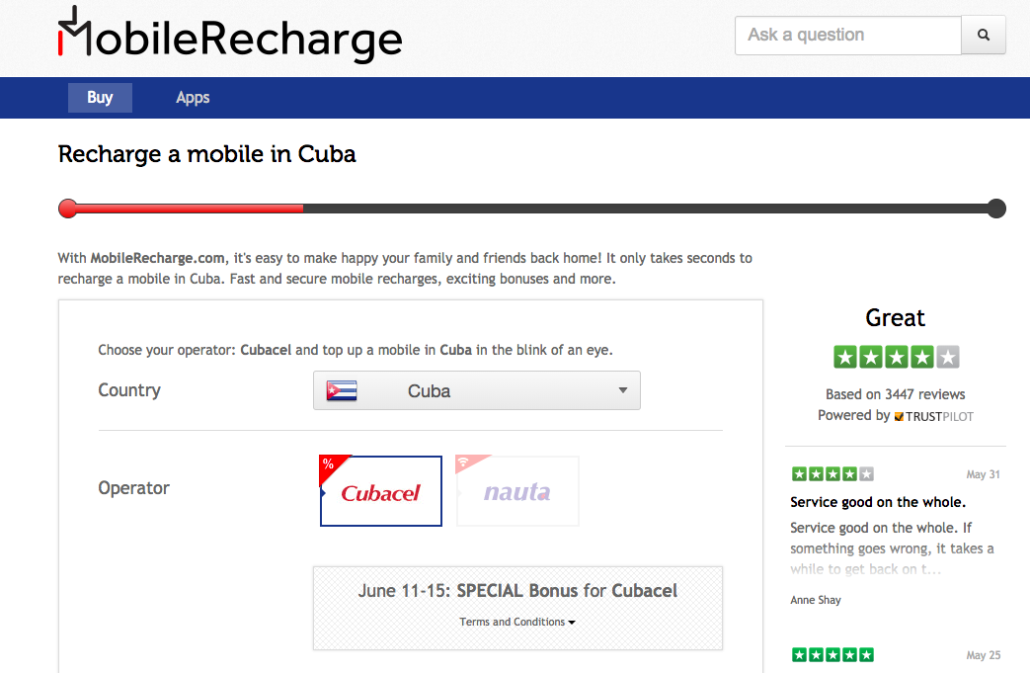 If you want to go somewhere in between with the value of your gift, here is how much FREE Cubacel credit is added between June 11-15, 2018:
35 CUC order = your 35 CUC gift + 30 CUC + 60 min + 50 SMS (valid until July 15)
45 CUC order = your45 CUC gift + 60 CUC (valid until July 8)
50 CUC order = your 50 CUC gift + 50 CUC + 60 min + 50 SMS (valid until July 15)
3 FREE top-ups for grab on Facebook
Fun is the best warm up for a cool Promotion, right? So, a new challenge for expats, including Cubans abroad comes right in time before the Cubacel promo starts on Tuesday, June 12, 2018.
The new contest on Facebook puts out for grab 3 prizes. More specifically, 3 free top-ups anywhere in the world, including Cubacel. It runs between June 7-11, and the entry ticket for a free top-up is a comment that will definitely come naturally, as we know you.  :)
Top of your head! What's the first thing you hear most often when talking to your Cuban friends and folks back home? Leave your comment now, before it slips away!
So, hurry up to get FREE Cubacel credit:
#1 Leave your comment on Facebook and enter automatically the draw for one of the three free top-ups. The winners will be announced on Monday.
#2 Or pick one of the default deals, according to your budget and people you want to send FREE Cubacel credit to:
15 CUC order + Bonus of 20 CUC, valid until July 8th
20 CUC order + Bonus of 10 CUC + 60 min + 50 SMS, valid until July 15th
35 CUC order + Bonus of 30 CUC + 60 min + 50 SMS, valid until July 15th
45 CUC order + Bonus of 60 CUC, valid until July 8th
50 CUC order + Bonus of 50 CUC + 60 min + 50 SMS, valid until July 15th
60 CUC order + Bonus of 80 CUC, valid until July 8th
https://blog.mobilerecharge.com/wp-content/uploads/2018/06/milo-miloezger-646943-unsplash.jpg
3101
4682
Aura Badiu
https://blog.mobilerecharge.com/wp-content/uploads/2013/11/blog.mr_.logo_.png
Aura Badiu
2018-06-07 18:28:14
2019-03-13 18:38:50
2 smart ways to send FREE Cubacel credit to Cuba this June