USA, Canada and Australia are still tightly connected to the rest of the world not only because of their economical or political agreements, but as a result of the immigrant sons and daughters they host. The South Americans and the Caribbean expats are new comers to the Dream Land on the historical timeline… if you think about it. Others arrived as early as the 16th century. Now, let's forget about the historical talk, the good news is that if you are one of them or a proud descendent, MobileRecharge.com made it possible and easy for you now to top up Plans or Packages, also known as Paquetigos or Paquetes of data, SMS, domestic and international calling credit to mobiles in 3 countries in South America: El Salvador, Guatemala, Nicaragua, Honduras. That's right!
It's all done in seconds, because it's online. Obviously! That would be the biggest WIN.
Also, your residence country is not relevant unless you have great pics to share with us! You can pay with any currency and distance does not influence the processing cost, which you should not worry about, it's the lowest on the global market, not even enough to buy you a coffee.
Anyway, here are more details about each Internet package you can send to your Tigo, Claro or Digicel fans back home in your motherland.
#1 Top up Plans for your family in El Salvador: international and domestic minutes, cellular Data and SMS
El Salvador is very welcoming when it comes to people, landscapes and… options to top up cellular data of local subscribers from their relatives abroad. So, if you wish you can top up Plans for Tigo, Claro or Digicel subscribers in El Salvador. Glasses on, let's look closer!
?  "Tigo Paquetigos" are now available on MobileRecharge.com and this gives you the chance to top up Plans of $7 or $10.
7 USD Plan: 300MB, 100 mins, 100 SMS, valid for 5 days
10 USD Plan: 750MB, 200 mins, 200 SMS, valid for 7 days
BONUS is also included between November 23-26.
If you order the $10 Plan for your relative or friend in El Salvador, he/she gets 100 additional minutes to call the USA, valid for the following 7 days. Sounds good, right? Especially if you're living in the USA!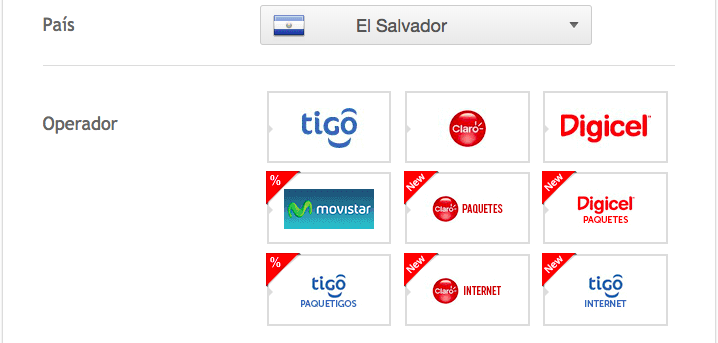 ? "Digicel Paquetes" for people in El Salvador can be sent online in seconds.
What for? Consider it your quick way to save time on your gifts to your folks, or.. why not, a small anniversary gift. Here are the details to make your choice easier… Oh, and all plans are valid for 30 days, which is a considerable amount of time for an Internet fan.
10 USD order brings 150 national minutes/SMS + USA ??  and Canada ?? calls + 1.5GB data
15 USD » 1000 minutes to call the USA ??  and Canada ??
20 USD » 1000 minutes to call the USA ??  and Canada ?? + 2GB of data
25 USD » 1000 minutes to other Digicel mobiel phones in the country + USA ??  and Canada ?? calls+ 2GB  of data
1.5GB is great for someone who does a lot of web browsing, youtubing, photo uploading and uses apps like KeepCalling or other kinds on their phone. It's hard to believe one can use 1.5GB in less than a month. So, $10 that will be more than enough for an enthusiastic Internet user.
As for the 2GB, that's for Internet champions. If the person you send Your Digicel Internet balance is a high Internet user, then go for $14 which means 2 GB, or $20 that includes 3 GB. That data amount will give them about 60 hours of Internet browsing, app usage and thousands of emails.
?  "Claro Paquetes" include:
300MB, 100 mins, 50 SMS for $7, while they are valid for 5 days
600MB, 200 mins, 75 SMS for $10, with 10 day validity
750MB, 400 mins, 100 SMS for 15 days for a $15 purchase.
#2 Top up Plans for your relatives in Guatemala: minutes, SMS & cellular data
?  "Claro Paquetes" for your relatives or friends
There are three packs at grab for your online gifts to people in Guatemala who use Claro. You pay between $7 to $15 and they get cellular data up to 750MB, plus minutes and SMS. Pretty generous, right? MobileRecharge.com facilitates all transfers in seconds.
7 USD order includes: 300MB, 100 mins, 50 SMS, 5 days validity
10 USD: 600MB, 200 mins, 75 SMS, 10 days validity
15 USD: 750MB, 400 mins, 100 SMS, 15 days validity
?  "Tigo Paquetigos" now available from abroad for your relatives!
Choose any of the two, or… both, and be the first Santa this year.
7 USD: 300MB, 100 mins, 100 SMS, valid for 5 days
10 USD: 750MB, 200 mins, 200 SMS, valid for 7 days
#3 Hondurans welcome your top up Plans: cellular data, minutes and SMS
?  "Tigo Paquetigos"
A $7 order brings the person in Honduras: 300 MB, 100 SMS, 100 minutes talktime with 5 days validity.
For $10, one gets to send: 600 MB, 200 SMS, 200 mins talktime; 7 days validity.
?  "Claro Paquetes" have 3 options:
7 USD: 300MB, 100 mins, 50 SMS; 5 days validity
10 USD: 600MB, 200 mins, 75 SMS, 10 days validity
15 USD: 750MB, 400 mins, 100 SMS, 15 days validity
https://blog.mobilerecharge.com/wp-content/uploads/2017/11/warren-wong-238678.jpg
3491
6000
Aura Badiu
https://blog.mobilerecharge.com/wp-content/uploads/2013/11/blog.mr_.logo_.png
Aura Badiu
2017-11-24 17:09:44
2018-04-26 12:07:47
3 Countries in Central America where you can top up Plans online from Abroad