3 extraordinary Amazon books on Cuban childhood that go hand in hand with the recent Cubacel Cuba bonus
Right at the beginning of the pandemic, January 2020, a new Cuban story was launched in the US. Oliva Espín's book "My Native Land is Memory: Stories of a Cuban Childhood". The topic? The life memories of a California-based Professor of Women's Studies, who, like many Cuban expats we know from MobileRecharge.com, moved between Cuba and the US, leaving a good mark on both continents. Which made us think about 3 Amazon stories on Cuban childhood and later life. But, we would not talk about any of this if it weren't for the recent TRIPLE Bono+ from abroad to Cubacel Cuba numbers, running May 24-29, 2021. Because we recommend these books to our fans, the Cubans worldwide, as well as Cuba friends or fans.
"

Under the Royal Palms: A Childhood in Cuba

"

by Alma Flor Ada
First it was Alma Flor Ada's Where the Flame Trees Bloom. Next the companion volume in November 1998: Under the Royal Palms: A Childhood in Cuba. The author shares inspiring stories and reminiscences drawn from her childhood on the island of Cuba. We see how the events and relationships she had with real characters helped shape who she is today.
For example, the deep friendship with a beloved dance teacher, her mysterious Uncle Manolo, who dedicated his life to healing lepers, a second uncle in love with flying, yet dying in a plane crash. The recollections are tragic and humorous, poignant and deep, just like a Cuban soul. Very encouraging for kids, in the sense that it gives that boost to discover your own stories, in one's own life, and celebrate personal values and familiarity while struggling to grow up wisely.
"

My Native Land is Memory: Stories of a Cuban Childhood

"

by Oliva Espín
In January 2020 on the pandemic eve within the USA, the Cuban story of Oliva Espín was out of the print house and right on Amazon. The book's name: My Native Land is Memory: Stories of a Cuban Childhood. It covered life memories of a California-based feminist professor, traveling a lot between Cuba and the US, and having a significant impact in both countries. Again, available on Amazon, where we also found these nice reviews.
Reading My Native Land is Memory: Stories of a Cuban Childhood, through my own memories of my teacher, allowed me to discover a new story, something different from the person I knew as a teenager and her student, but fascinating and enriching at the same time. This book helped me discover the brave nakedness of her soul. It made me understand again that each human being can be a source of enlightenment for others if that person is able to write down dreams, losses, weaknesses, and triumph. In reading this book I discovered my own life anew, the life I left behind when I left Cuba and I understand." (Virginia Aponte | Theater Director and Professor Emerita | Universidad Católica | Andrés Bello, Caracas, Venezuela)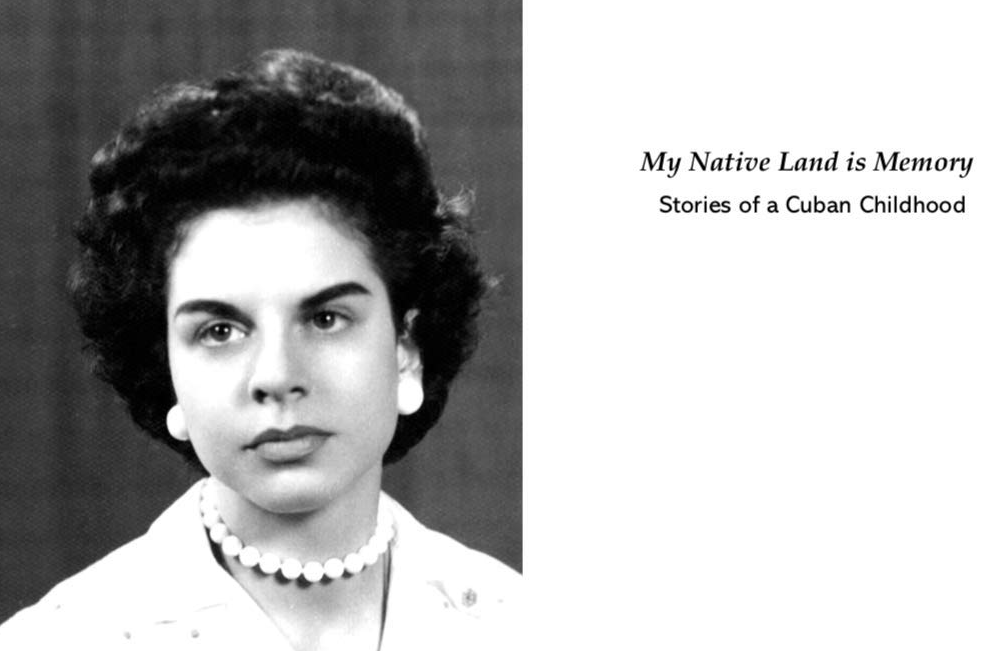 Right from the beginning, My Native Land is a raw, compelling journey to a Cuba about to be changed forever. Oliva Espín's unique perspective and powerful writing emotionally captures an immigrant's story that resonates across countries and is relevant today. (Ronnie Ramos | Executive Editor – The Daily Memphian)
Oliva Espín gives us a personal and moving view of her life as a girl looking for her identity and independence in those difficult days in Cuba. Beautifully written. (Teresita Yániz de Arias Movimiento de Mujeres | Secretaria Nacional del Plan Alimentario Nutricional Diputada de la República 1999-O4. 2004-O9 | Panama)
"

Cuba. Another Side of the Story: Memoirs of a Cuban Childhood

"

by Iris M. Diaz
Most opinions about the book wow. The point of view of the Cuban child explaining a historical time… that is most striking. The book is a volume of short stories but has the bones of a coherent memoir. You can imagine, that offers a pretty unique perspective of Cuba's dazzling past.
As promised… 3 extraordinary things about the BONUS in May for Cubacel Cuba numbers
If you have your own Cuban childhood memories, you most probably find it useful to bring up the "Cubacel Cuba promo" in May. So, here it is…
Anyone sending Cubacel Cuba numbers recharges in may get a BONUS automatically if the top up ranges CUP 500 – 1250, which would be $24,2 – $60,45. Yes, there are some differences from the exchange you'd get with your bank since Mobile recharge is a transfer of goods service that abides by other rules and cover several international transactions. So what's great about this Cubacel Cuba promo besides instant delivery, 1 minute ordering and the BONUS itself?
The bonus itself: more than TRIPLE BONO, amigos!
For instance, if you send the minimum 500 CUP, the relative in Cuba gets 500 CUP + 1250 CUP bonus = 1750 CUP
You send 650 CUP, they get 650 CUP + 1250 CUP bonus = 1900 CUP
Order 750 CUP, and send  750 CUP + 1250 CUP bonus = 2000 CUP
You pay 1000 CUP, and send 1000 CUP + 2500 CUP bonus = 3500 CUP
Your order is 1125 CUP, and you send 1125 CUP + 2500 CUP bonus = 3625 CUP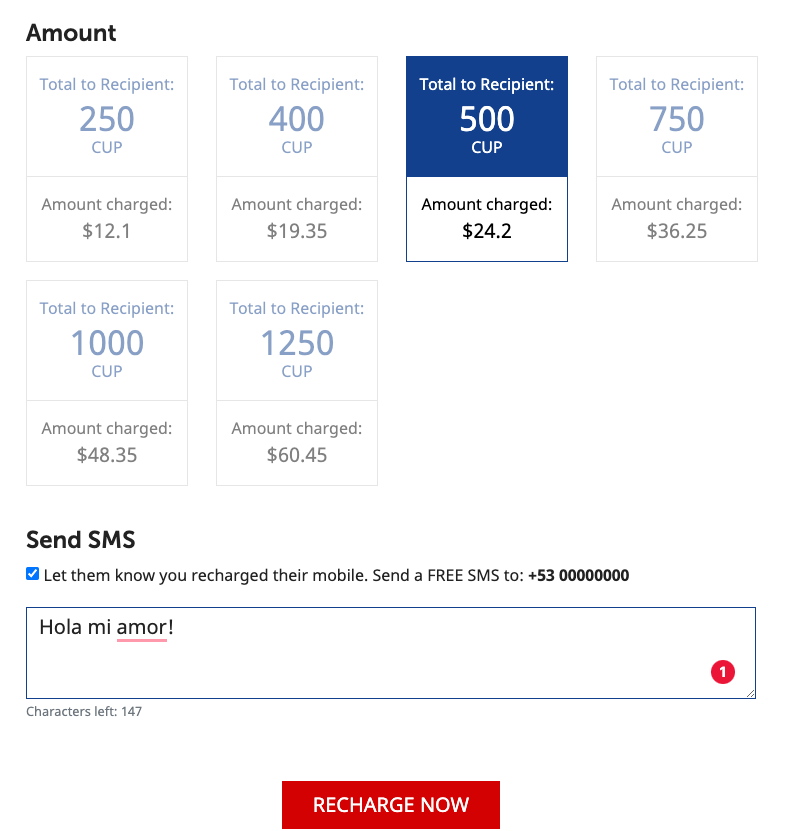 Bonus valid for 30 days
From the date the top up has left "the building" until you're fed up with phone Spanish. :) Kidding! Yes, 30 days to count. Buuuut, the main balance will keep a 330 day validity, no worries. Say, you will send 500 CUP to a Cubacel Cuba number. That amount will be valid for 330 days. But the bonus of 1250 CUP we add to that, will be valid for 30 days. Anyway, pretty generous for a talkative Latino, right? :) Oh, and the relative in Cuba that owns the Cubacel Cuba number can transfer the main balance you send. So, they can split it with a friend or their spouse or else.
50% discount for International calls for those with Dinero Bonus
So, your Cuban fellows will also receive the benefit of 50% discount on International calls if the Cubacel Cuba number is prepaid and they have Dinero Bonus. Once Bono Dinero is consumed the main balance will be deducted but keeping active the 50% discount. Does it make sense?