There are 3 types of people when it comes to Easter, but only one category when it comes to whatever online Easter gift you can find out there. You're whether a Christian celebrating Easter since childhood, or you've got Christian friends who have the holiday in their cultural blood. Or an eccentric ethnologist ready to sacrifice their time celebrating all worldwide traditions possible. :) Kidding, it's pretty unlikely to spend personal time on ethnic affairs and throwing money down the drain with all the preparations. :) Talking of money, let's make it clear from the beginning: online gifts are cheaper and faster than airplane, couch or train mailing. Hope you know that by now. :)
One thing reunites us all: an online Easter gift didn't kill the cat, on the contrary. Anyone is happy to get a gift, whatever the occasion. So, here are our giveaways this Easter time.
The keyword of the week and also the name of the online Easter gift coupon for your top up online is EGGCEPTIONAL5 .
Tattoo it :) in the coupon field when you get to the checkout. Then take a breath, leave it settle for a sec to work its magic on your order. Make sure it applied in the summary (left section) of your invoice. If you doubled checked the rest of the details of your international or local mobile recharge, tap the last button with no remorse.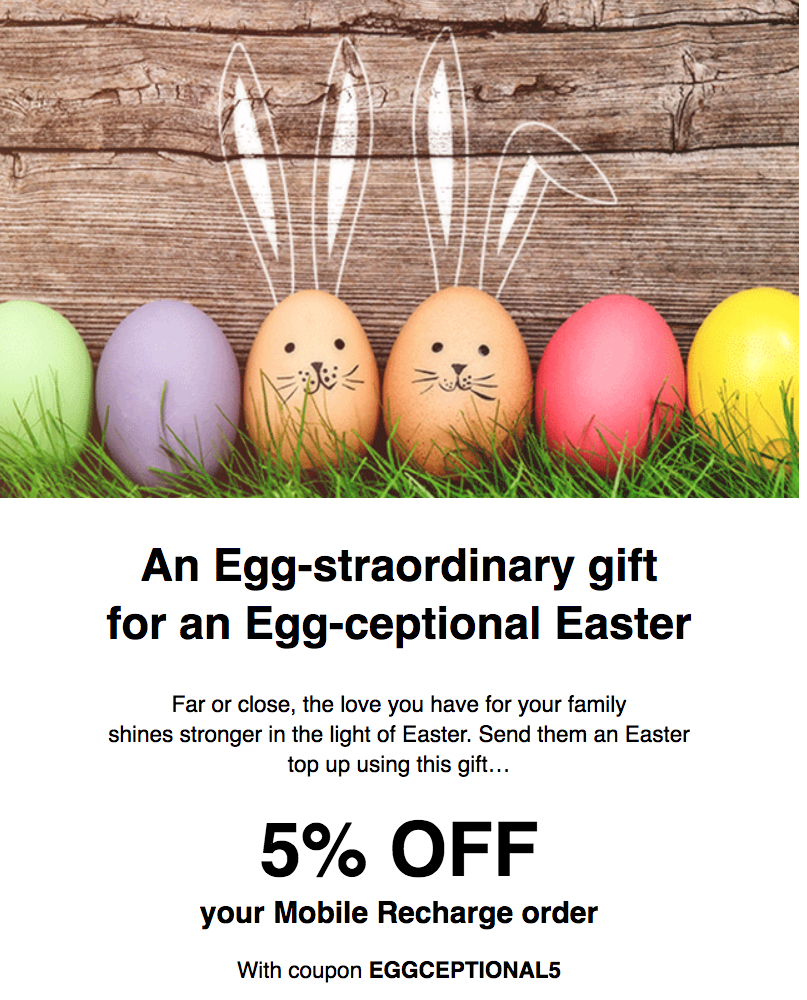 Keep track of your top up in your online account, the Activity tab. Transactions are usually instant, but you never know… If it's Pending for some reason, don't panic as if you had a sugar rush. Your online Easter gift is on the way. If you panic for pleasure, you may get in touch with us to see how long it takes to have your online Easter gift delivered.
The coupon should cut off 5% of your order value. Did it work? If it doesn't work make sure you've entered the right code, you didn't use it the other day and forgot about that. It only applies once. Or that April 20 (end date) is not a day in the past… You know what we mean!
3 FREE top ups out for grabs
You've got all the details you need to get your online Easter gift and have some Facebook quality time. ;)
I'm Cuban, what's in for me?
Oh, you're lucky. We don't know about the rest of your life, but you are when it comes to airtime and Bonuses + Discounts on your online Easter gift. You've got them all!
If you use coupon EGGCEPTIONAL5 by April 20, 2019 you get 5% OFF your recharge to Cuba or elsewhere.
At the same time you've got the Cubacel & Nauta promos running.
Nauta is doubling the data you send. Check more »
The deals are very good: Cubacel doubling (Doble Bono Cubacel) the recharges or adding even more than double.

20 CUC + 30 CUC Bonus = 50 CUC to your folks in Cuba
25 CUC + 30 CUC Bonus = 55 CUC to your family Cuba
30 CUC + 30 CUC Bonus = 60 CUC to your people in Cuba
40 CUC + 60 CUC Bonus = 100 CUC to your friends in Cuba
50 CUC + 60 CUC Bonus = 110 CUC to your buddies in Cuba
60 CUC + 90 CUC Bonus = 150 CUC to your relatives in Cuba
Making a coffee or dying eggs is harder than sending credit miles away
Warm up with a coffee or a thought and take these steps.
Set up your budget & make a list of people in Cuba you want to send Cubacel or Nauta credit.
Go to the online form on MobileRecharge.com or use MobileRecharge app. Do you have a free account? If you do, that's cool, just move on. If you don't go on and open an account on your way, before you complete the order.
Enter the details of the top up: country, operator, phone number, amount, payment method. In the checkout also the coupon (if you need to).