6 things you should know about the NEW Cubacel Super Bonus in February
"Cubacel Super Bonus" is for Cubans abroad like the Apollo space flights for Americans living in the 1960s. And those who find it an exaggeration are probably not aware of the benefits and the grandeur of the phenomenon… Anyhow, the idea is that Cubacel launches a NEW promotion this February and MobileRecharge.com is hosting it starting February 19 until February 23, 2018. So, let's see what this Cubacel Super Bonus has in store for its senders and beneficiaries in Cuba.
#1 Higher free bonus balance
Compared to last Cubacel Super Bonus, this month there are no bonus minutes and SMS, yet the value of the bonus balance increases majorly. The minim Bonus is 30 CUC, while the maximum is 130 CUC. In between, we have 40 CUC Bonus, 70 CUC and 100 CUC.
#2 The order value grows to 85 CUC
It grows just like our hearts when dancing!
60 CUC was the maximum that Cubans abroad could send so far to get the Cubacel Super Bonus. Things change a bit, and now 85 CUC is the maximum amount to send your Cuban relative or friend. The minimum amount stays the same for moderate budgets or moderate gift-givers.
Going the aisle of Cubacel, the mobile credit a Cuban abroad or a Cuba fan can top up a Cubacel number are: 20 CUC, 35 CUC, 45 CUC, 65 CUC or 85 CUC.
#3 The maximum someone can receive is 215 CUC. Wow!
We call it the wow number! Because the newly maximum order of 85 CUC, brings 130 CUC Cubacel Super Bonus to the person in Cuba, who finally receives a total of 215 CUC. Drawing the line and doing the math is 100% worth it.
Yet, the Cubacel Super Bonus varies according to the order placed, as you could imagine…
Bonus is 30 CUC when you top up 20 CUC. Your Cuban relative or friend receives 50 CUC.
40 CUC is added automatically when you top up 25 CUC or 35 CUC, depending on your budget. So, the Receiver in Cuba gets a total of 65 CUC, respectively 75 CUC. Sounds even better already, right?
If you send 45 CUC, the Beneficiary gets 70 CUC Cubacel Super Bonus, so that is a total of 115 CUC. Wow no.1! 
Get ready for Wow no.2! If you top up 65 CUC, the person in Cuba gets a Cubacel Super Bonus of 100 CUC, so in total: 165 CUC!
For the NEW maximum order of 85 CUC, your friend or relative in Cuba gets a total of 215 CUC. So, we can figure it out… the Cubacel Super Bonus is 130 CUC. Wow no.3 by all means!
#4 Domestic and international calls, SMS, MMS & Nauta…
Promotional balance fits everyone!
This is no new thing about the February promotion launched by Cubacel, but it's worth remembering how comprehensive it is.
Not everyone is an SMS fan or a Nauta browse driver. So, all balance can be used for calls. An in case your friend in Cuba is an Internet surfer, he's got his share. No restrictions, all happy!
#5 We split top ups of 45 CUC to get you the best Bonuses. Effect: amounts will arrive in cascade!
If you send a top up 45 CUC or more, don't be surprised it if Bonuses get to the destination one after the other, instead of the same time! Each will be divided into 2 or 3 separate top ups by MobileRecharghe.com team, for your people in Cuba to receive as much Cubacel Super Bonus as possible.
This is not some Cubacel engineering, but the hand of MobileRecharge.com team, who do their best to get you the best. Does it make sense?
So again… Since we split the lower values, this processing may delay a bit the arrival of the Bonuses. No worries, it will get there! In case you have doubts and need to talk to someone about the status of your transactions, please don't hesitate to get in touch with us directly, in seconds.
 #6 It takes seconds to recharge a Cubacel number in Cuba
If you're a veteran of such long distance top ups, you definitely know the drill, so excuse our French, and skip this! :) Enjoy the new Cubacel Super Bonus!
But if you are NEW yourself, just like this offer on the market, here are the 3 simple steps to take carefully:
Open a free account in seconds, or just go for the online form that will eventually take you to open an account. You choose!
Say you opened an account, here is the ONLINE FORM to fill in. You don't need to sign any contract.
Enter the Cubacel number and select the amount you want. Make sure you pick 20 CUC – 85 CUC to get the BONSUS. Double check and proceed to payment!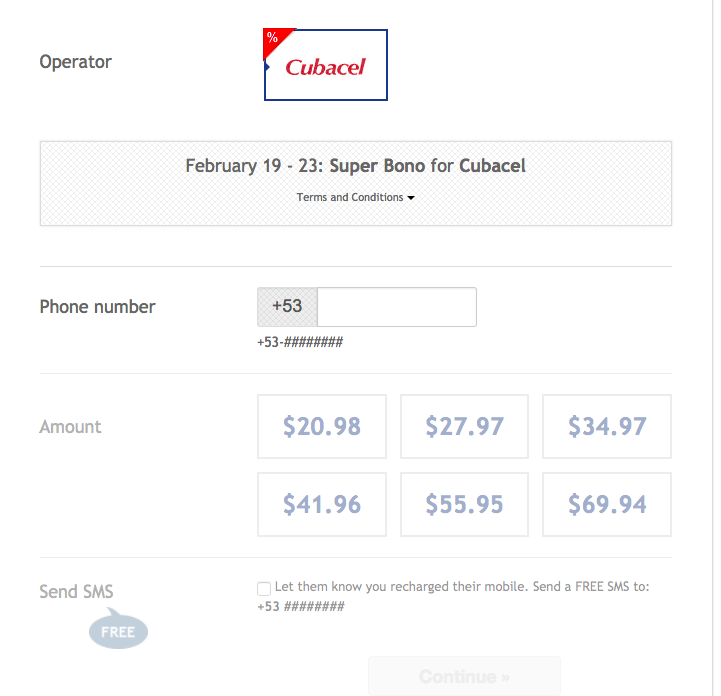 Please feel free to drop a question or  comment if you need to! :) We're all ears!
https://blog.mobilerecharge.com/wp-content/uploads/2018/02/hannah-cauhepe-271279.jpg
1576
2361
Aura Badiu
https://blog.mobilerecharge.com/wp-content/uploads/2013/11/blog.mr_.logo_.png
Aura Badiu
2018-02-14 18:26:11
2018-04-26 12:07:45
6 things you should know about the NEW Cubacel Super Bonus in February