6 Ways you never thought you'd be just like Santa this Christmas
Did you ever thought YOU look a lot more like Santa Claus than Snow White or Superman when it comes to your Christmas habits? Several scenarios came to our mind, so it was inevitable not to share the with you this Christmas… You are more like Santa this Christmas, in more ways than you could imagine, especially if you're an expat. Hope you'll find it funny just the way we did…
#1 YOU & Santa got little time to run around for gifts
If theoretically Santa has 31 working hours this Christmas to make 822.6 visits per second according to old statistics in the story and physical laws, you definitely got less. With all the work and stuff to do at home, you'll be more like a part time Santa this Christmas. If you say no, you may be in denial, which is part of the pre-Christmas spirit.
Don't waste your coffee breaks or morning coffee on Facebook rides this Christmas, or at least the time before… Setting a list with gifts you can buy for each family member of friend can be a time saviour. Over coffee or tea, the mind is relaxed and can see clearly. Otherwise you may find yourself running around the store with a bunch of ideas buzzing around.
It would be no surprise if you picked to send mobile credit to your family back home in your motherland. The truth is it's the easiest expat way to fill in your list of long-distance gifts. MobileRecharge.com is here to help, as usually! You only need to spare 1 minute.
#2 YOU & Santa cut off the budget for buying Christmas gifts
Did you ever thought how much you spend with Christmas gifts? Well, according to Investopedia the average American spent $900 on holiday gifts for friends and loved ones, about the average income per week. That's a lot, right?
This year, MobileRecharge. com also offers an early gift of 5% DISCOUNT on all mobile top ups abroad to relatives and friends sent between December 8-10, 2017. We lined up to everyone's habits this Christmas and saved for gifts. Hope you enjoy it!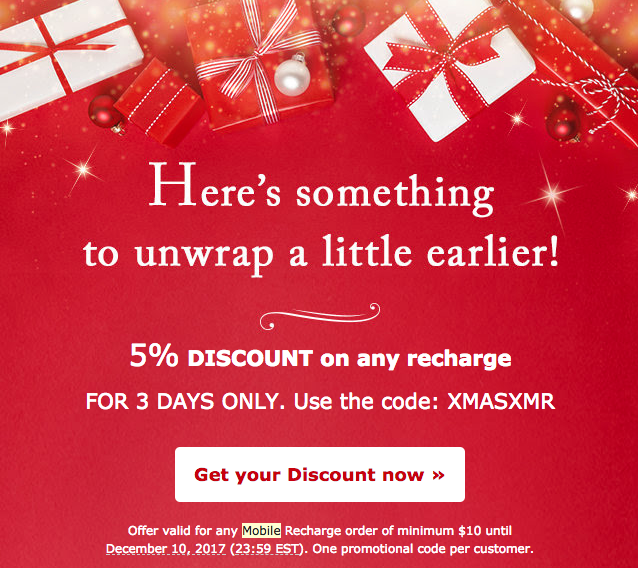 #3 YOU are too generous to be true
Adults and even kids cannot explain the Christmas drive generosity. It is a miracle, or a social phenomenon that make us see the generous nature we all have. The human trait so much exploited by Sci-Fi movies.
Santa is the embodiment of generosity, although he theoretically labels kids naughty or nice.
For us, the MobileRecharge team it is amazing to see so many generous expats in the world. We translate the traffic we see, all your orders into what they are, and if we draw a line, we see a good gesture every 2 seconds. Because every 2 seconds someone on MobileRecharge.com top ups a mobile in some other part of the world. That is smashing generous.
#4 YOU also label people naughty or nice :)
Who would have thought we have this in common with Santa!
But just like Santa it's an innocent drive to label people. A working of the human mind that labels situations and gestures. Which makes both Santa and us all sooooo Human!
#5 YOU also know the feeling of traveling up high in the sky
Sounds familiar, right? When was the last time you visited your folks back home? When was the last time you took the plane? Will you do it this Christmas too?
Whether flying home is on your Christmas agenda, your New Year wish list or among your memories of the past… can you remember what it feels like to be flying up above waters or cities? We also have that in common with Santa.
#6 You also wear your best season outfit and love lights like never before
What sweater to wear on Christmas eve? What colour shall we decorate the fir tree this Christmas? When to put the Christmas lights on? All these questions turn into "blue and red" or "silver and blue", "put the light on as soon as possible" or "let's go for the best outfit"… although not everyone affords the red costume, since not everyone gets the chance to fill in for Santa for the kids in the family…
https://blog.mobilerecharge.com/wp-content/uploads/2017/12/cover_santa-1.jpg
486
1000
Aura Badiu
https://blog.mobilerecharge.com/wp-content/uploads/2013/11/blog.mr_.logo_.png
Aura Badiu
2017-12-08 17:36:24
2018-04-26 12:07:47
6 Ways you never thought you'd be just like Santa this Christmas