EXTRA mobile credit for Digicel Jamaica phones from Jamaicans abroad
How to grab the $5 Digicel bonus for my Jamaican folks
Good question! The $5 bonus applies instantly for every $30 plan top up you make to Digicel Jamaica phones. Another cool thing about the bonus is that it has the same validity limits as the plan itself. Cooool!
Also, the promo is available between November 26 – 30, 2020, Jamaica time.
What the Digicel plan brings your folks
The $5 Bonus in November 2020 applies only when you top up the $30 Digicel plan on MobileRecharge.com or from MobileRecharge app.
The $30 Digicel plan is a crazy good yummy mix. Plenty of domestic calls and unlimited (yes, you heard it well) international minutes to a number in the USA / Canada / UK, 16 GB of data, and also unlimited WhatsApp. Cool, right? Here's the big picture.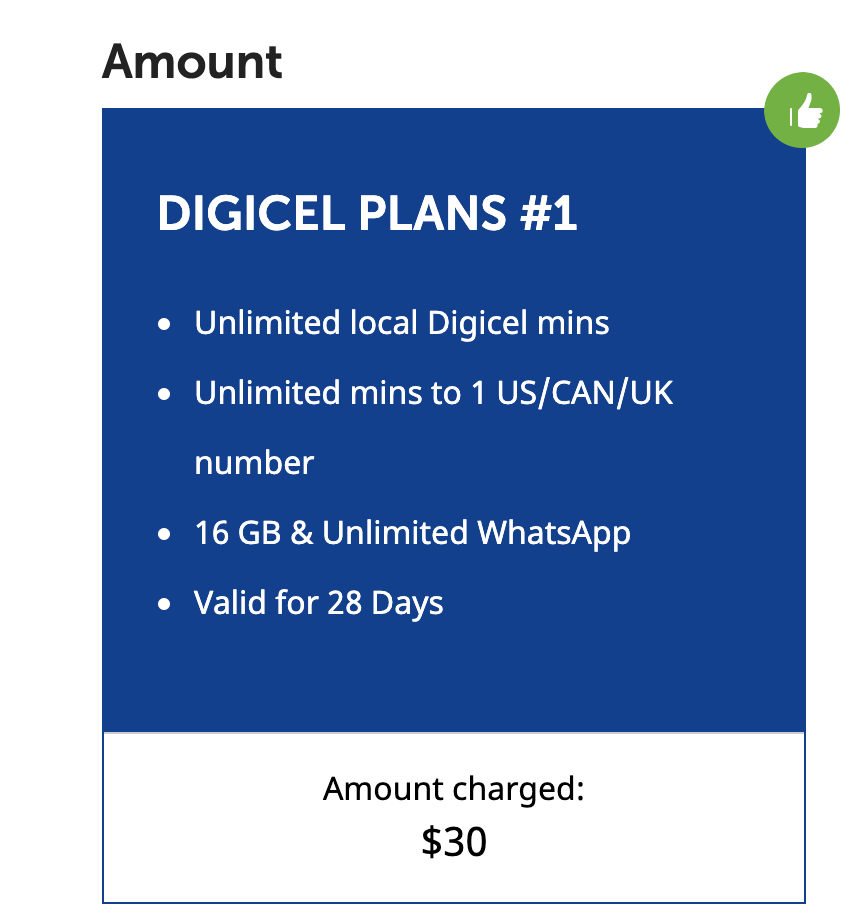 The promo is most useful for people in Jamaica using Digicel Jamaica phones for more than simply making local calls. Besides the Digicel to Digicel credit, the $30 Digicel plan includes 16 GB and unlimited WhatsApp. But also unlimited international calls to the USA, Canada or the UK, which makes it most useful for Jamaicans having relatives abroad.
Who can send the $30 Digicel plan + Bonus?
The answer is Jamaicans in New York, and other US states, as well as Jamaicans in UK and Jamaicans in Canada.
But not only. Jamaicans overseas in general, who still support their family back home with Digicel credit. And we know they are so many; back in 2018 we've written an article about Jamaicans ranking number 3 in top 10 most generous ethnic groups. So, back to our stuff, consider $5 worth bonus, but one can pay in any currency he or she's got available.
So, if you're one of them, here's your chance to top up the Digicel Jamaica phones in your family or the party of friends back home, and pay zero for the extra $5 credit. Take it as a way to save on your solidarity budget too…
Since the $30 Digicel plan offers unlimited international minutes to UK, USA or Canada, that points to Jamaicans in New York or other American states, Jamaicans in UK and Canada too. Because by recharging their families' Digicel Jamaica phones, they support with credit that will also benefit them when people in Jamaica call them back.
But Jamaican expats living in Europe and other parts of the world can also make a great impression with this promo. The bonus and the order amount are great for relatives in Jamaica who use the internet extensively, as well as communicate via WhatsApp. The plan offers 16 GB of data and unlimited WhatsApp. Also, plenty of local minutes.
Don't worry about a thing ;)
The bonus applies automatically. As the song goes "Don't worry about a thing". Just make sure you've got the right Digicel number to fill in. No contract needed. 
The purchase takes 1 minute, you need no contract, except for a free account on MobileRecharge.com. 
Open an account now >>
You can recharge the $30 Digicel Jamaica plan using the website or MobileRecharge app, which is free to install on any Android or iOS device.
Pay with any Visa, Mastercard, PayPay, in the most secure environment. And that matters a lot these days online is full of scams. Just saying, take some extra measures, by picking a safe service. The security gate is so strong that MobileRecharge.com got certified for its security system. If you need more data about that, check out the labels in the footer of the website. ;)
If you want to keep up with all promos for Digicel or other destinations and operators worldwide, we recommend you subscribe to GET OFFERS  by email. No spamification :) Promise!
PROMO for Digicel Jamaica phones… in a nutshell
Jamaican expats worldwide get a super cool chance to support their folks back home with extra mobile credit.
The latest promo offers $5 BONUS for every top up made to Digicel Jamaica phones. Specifically, the Digicel Plan #1. Availability: November 26-30.
The  bonus is valid for top ups to the $30 Digicel plan, which includes local calls, international minutes to USA, Canada and United Kingdom, unlimited WhatsApp and 16 GB of data.
The plan is valid for 28 days. The bonus applies immediately.
No contract for Jamaicans willing to send credit to Digicel Jamaica phones.
You can top up using MobileRecharge.com or the free-to-install MobileRecharge app.
The process of purchase takes seconds only, within the safest system out there.
Payment is available with Mastercard, Visa, PayPal.
Also AVAILABALE this November: 200% BONUS on Digicel Prepaid Credit top ups until the end of the month. Cool, right?