How to buy PVR gift card for your relatives and friends in India
Indians like you have a great appetite for cinema. On MobileRecharge.com, Indians abroad have the option to add PVR and Sony LIV balance to relatives in India.  Great for those helping folks back home, or in case you have Indian friends and want to send a last-minute gift with minimum effort? Here's how to buy PVR gift cards or Sony Liv balance for someone in India. Also, you'll find information on how they will be able to redeem the gift cards in seconds, right there in India.
Obviously, if you're working abroad and are not in India, retail stores in India are not an option. So, your only choice is an online platform like MobileRecharge.com. It takes less than 1 minute to send PVR or Sony Liv credit to India.
Send to India from abroad: movie tickes, cinema food and streaming access
Say you've heard about the option to buy PVR gift cards but you're not that familiar with PVR… Well, there are options to top up PVR balance when you're away, not living in India. PVR is one of the largest cinema chains in India, offering gift cards that can be used to buy movie tickets and food at their theaters.
Also, you've got the option to top up Sony LIV. This is is a popular Indian streaming platform. It is owned by Sony Pictures Networks since 2013. The streaming service offers a wide range of content: TV shows, movies, sports, original web series, Live TV, kids' content, and more. The platform is available both as a website and a mobile app, allowing users to access their favorite content on various devices. It also supports multiple languages, which makes it interesting for expats in India too.
How to add PVR gift card for someone in India
It's easier than you imagine.
Create a free account on MobileRecharge.com or the MobileRecharge app (which is free to install).
Buy PVR gift card by tapping the logo and entering the value you want to send.
Tap Recharge to send the gift card based on the number you've entered.
Pay safely with a credit card or your PayPal account.
The person in India receives an SMS immediately and needs to redeem the credit following the simple instructions.
No big deal! Maximum satisfaction.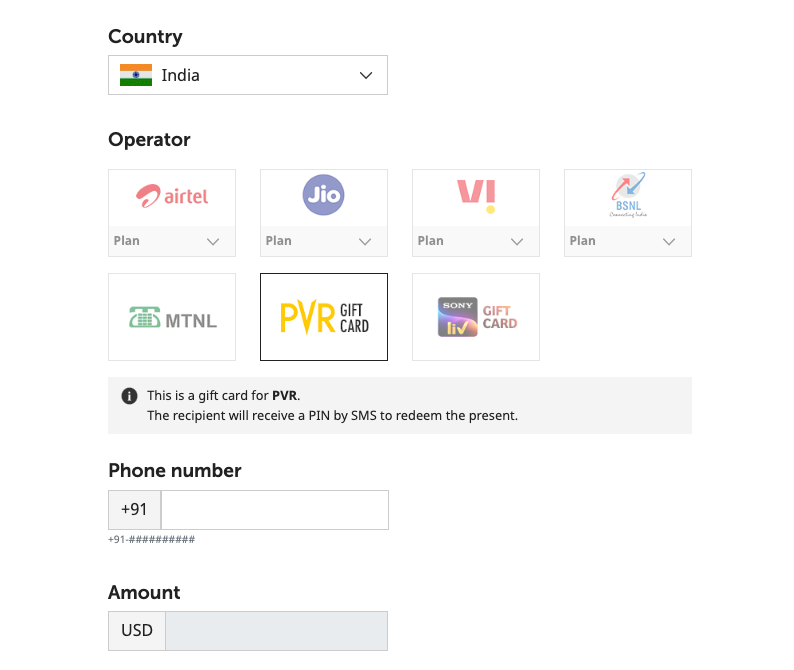 How to redeem PVR gift card in India
Here's the scoop: once you've worked your magic on MobileRecharge.com, they'll get a super-secret PIN and a "ping!" in their SMS. All they need to do is follow the fun-filled instructions in that SMS to unlock the treasure. Piece of cake, right?
No need to send your buddy a secret agent message about the gift card – let's keep the excitement on your end.