How to recharge Canada mobile numbers online and super fast
Whether you are a Canadian living in Canada or a Canadian abroad, you can do yourself and others a favor by choosing online mobile top-ups to Canada. When you recharge Canada mobile phones in seconds online you avoid mobile stores and faraway shops or spare your relatives of this hassle. So,  the service is available on MobileRecharge.com from anywhere in the world.
What we've noticed is that Canadians use this method to save time and spare themselves or others in the family from running around, wasting gas and time. But also to ease the tasks of their family's in Canada from abroad.
How is this possible? Well, there are some protocols or conventions between worldwide providers to facilitate domestic or international top-ups to Canada or within Canada. It's not only the pandemic or the impressive distance in Canada,  from A to B, but it's more about simplifying the boring tasks of our daily lives. It thus saves time for much more important stuff, whatever that means for you.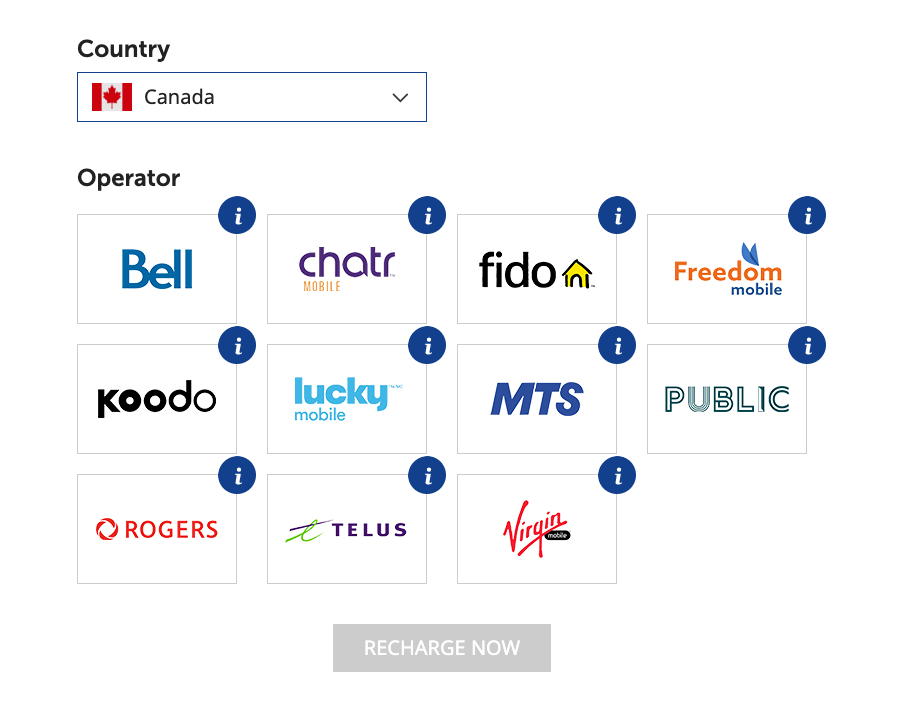 No matter where you live in the world, you can now recharge Canada mobile numbers in seconds via platforms like MobileRecharge.com or SendMoney.com. We'll stick to MobileRecharge.com in this article, as well as the free-to-install app that's available.
Whatever the local operator you or your family are using, you can simply open a free account (no contract, our friend), and get it done. Even while you're communicating if you have WiFi or cellular data access. ChatR plans are available to top up Chatr, as well as Fido plans, Telus Canada plans, Bell Canada, and many more.
These are all PIN products, which means that when you recharge Canada mobile, the recipient (whether that's you or someone in your family) will receive an SMS with a PIN. They will need to use that PIN according to the instructions for the balance to apply. But that's super easy, no rocket science.
How do I add money to my pay-as-you-go phone in Canada?
Easy like Sunday morning!
Open an account on MobileRecharge.com.
If you're a desktop guy or lady, go to the website and fill in the details of your top-up (country, operator, amount, phone number). Double-check and use a card or PayPal to make the payment. A very small processing fee applies to all such transfer services to cover the costs of several international transactions we're handling. But we can guarantee it's among the lowest out there.
Is an app more useful to you? Cool, you can install MobileRecharge app for free on your Android or iOS device.
You or the person you're sending the credit to receives a PIN that will have to use to receive the amount.
I want to recharge Canada mobile numbers from another country
That's nice of you, and you're probably getting your folks' appreciation already. There are 4 to 6 default options on MobileRecharge.com or the MobileRecharge app you can choose from. It depends on the local provider.
Say you live in the USA and you need to top up Chatr numbers for your grandma and mom. Your grannie is a big talker, but your mom is working and is too busy to use the phone for more than on point phone calls. Then you may want to send your grandma 25 CAD and your mom 10 CAD. The 2 purchases will cost you a bit over $30.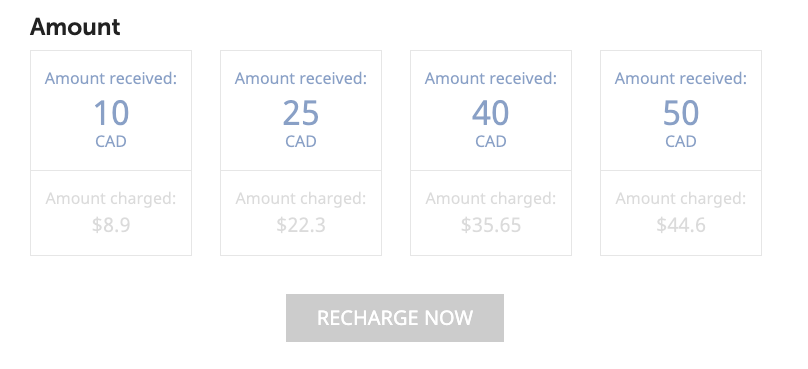 The online recharge to Canada is ready in seconds if you or your folks who benefit from it are using:
Bell

ChatR

Fido

Virgin

Koodo

Lucky 

MTS 

Public Mobile 

Rogers

Telus Mobility 

Freedom