How to send minutes to Haiti Digicel and get 400% more minutes and 5GB for free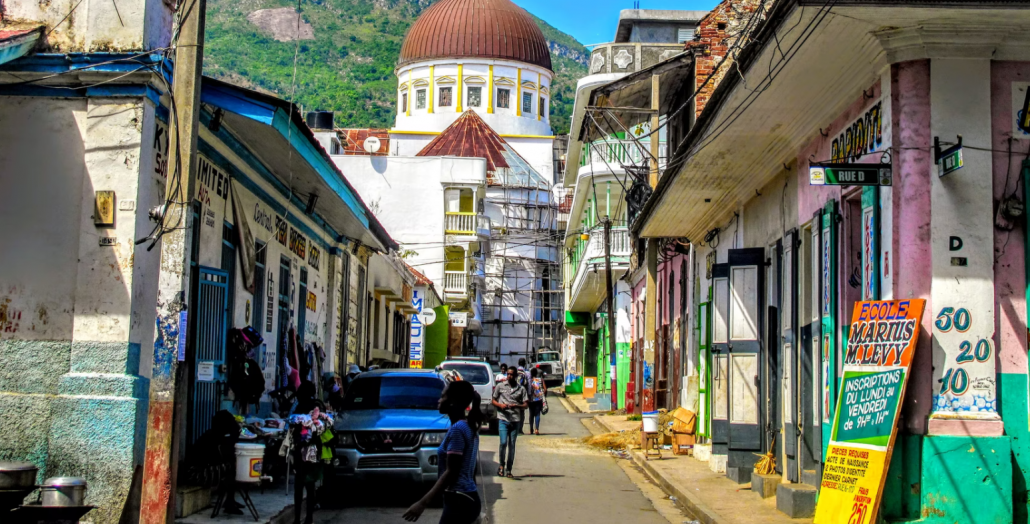 Haitian expats are among the ethnic groups that prove super generous with folks back home. Full stop! All services facilitating money transfers, gifts, mobile credit top-ups to Haiti can come to the public court and testify. And since the situation has been tough in Haiti for years, any help from relatives working overseas in the USA, Canada, Europe, and so on, is a blessing. If it sounds familiar, there's something you should know if you plan to send minutes to Haiti Digicel phone numbers online these days. MobileRecharge.com proudly hosts a new Haiti Digicel promo in January: 5x plus 5GB.
In translation, every top-up in January made via MobileRecharge.com or MobileRecharge app to Digicel Haiti gets automatically 400% EXTRA free balance plus 5GB of data.
If that's not cool to save up and get an extra smile from your folks, you may want to check out the PROMOS for mobile top-ups to the Caribbean in a glimpse. But if this is your hunting territory or piece of cake (are you a hunter or a gourmand), stick to the steps below and get that extra balance easily. Shall we?
It depends. There are some Haitians abroad who send mobile credit gifts to relatives. Mainly as last-minute gifts to Haiti. Because the top-up is done in 1 minute, and it never fails as a gift.
But most people support family and friends back in Haiti on a monthly or weekly basis. Again, one of the reasons is that the international recharge on mobileRecharge.com is super fast, the processing fee is super low and it's safe.
Others keep their Haiti Digicel number going by feeding it some credit from time to time.

No matter where you live. as long as you have a PC or laptop or phone connected to the internet, you can do it.
Continue on the website or install MobileRecharge app for free on your Android or iOS device.
Fill in the online simple form with details of your top-up: country, operator, amount (pick at least $10 to benefit from the Digicel Haiti offer), phone number.
Double-check the info and assign a name to the number for future shortcut (pick a name in your account instead of entering a phone number)
Add some text for your free SMS included in your top-up; say Hi or Hope you like it! You know best… 
Go to checkout, double-check info and proceed to payment via credit card or PayPal.
The mobile balance you've ordered reaches the destination number in Haiti instantly or immediately. We also send the 400% extra credit plus 5GB of data too you did not pay for.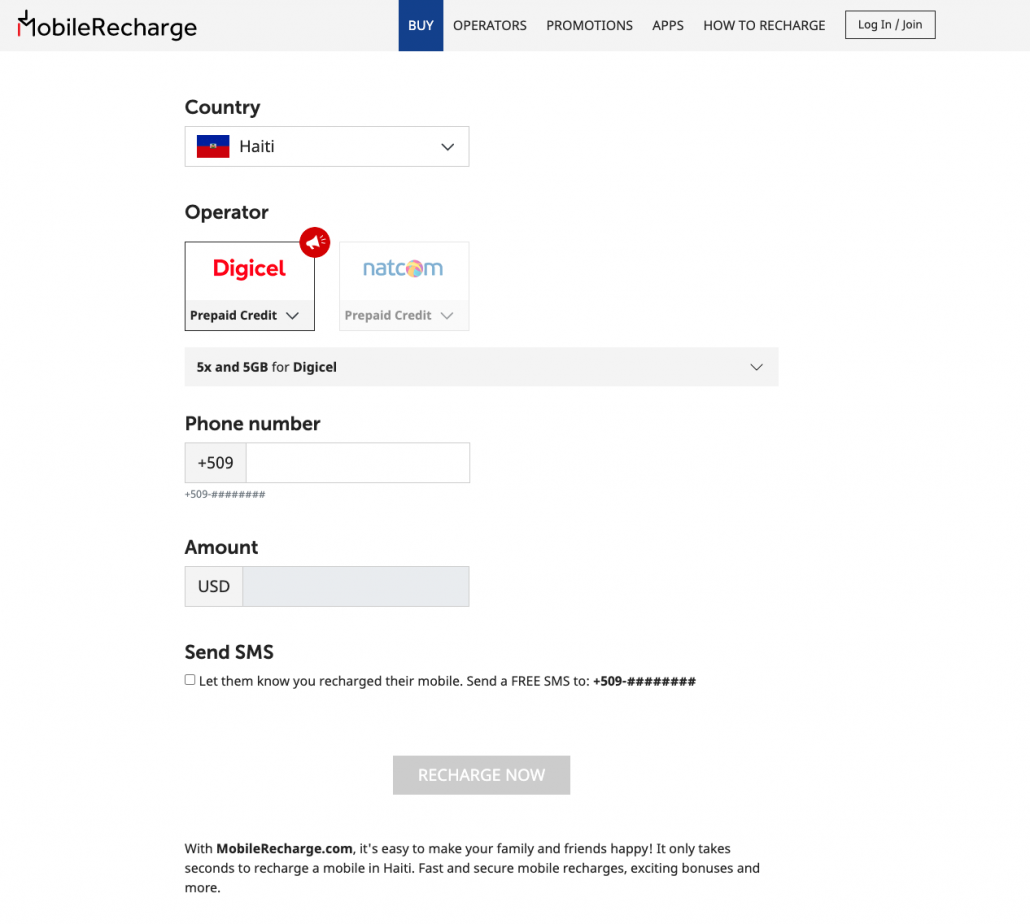 Take this example.
You plan to send minutes to Digicel Haiti. You take 1 minute to fill in and create your free account. Then go to the buy page, select Haiti, tap Digicel and pick Prepaid from the dropdown, enter the number manually or using Copy-Paste and enter the amount you want to send.  Enter $10 or more in the Amount field to get the bonus in January. That's the main balance you send. If you move on, write your free SMS, and hit the button to the checkout. You're done. If you need to be sure the transaction went through, go to your Activity tab in your account. What dies it say? "Pending"? Then it's still being processed. "Successful"? Well, done then!