Venezuelans abroad can now recharge Digitel and Movistar Venezuela mobiles online
It's official! For several days now, Venezuelans living abroad can send top-ups to mobiles in Venezuela using MobileRecharge.com or MobileRecharge app. No contract is needed, just an online form to fill in, which takes about 1 minute depending how fast you move, if you're having or not your coffee while sending the credit to Venezuela, if you're jogging or not while making the recharge. You get the point… If you haven't had the chance by now to recharge Digitel and Movistar Venezuela online, you really need to try this easy peasy app, called MobileRecharge, or to do it online on MobileRecharge.com. Cool right?
Feedback, alleluia!
If you imagine changes happen from nowhere, you must be a person of the future or the son of another planet. Kidding, don't take it personally! Changes happen for a reason, and many times someone makes some lobby for them.
Venezuelans' feedback for example, related to the possibility to top up Venezuelan phones, reached the MobileRecharge team like a skilful tourist the info point. We started looking for a solution and… voila! Right after the New Year's Eve,Venezuela was on the list with countries ready to welcome mobile top ups from abroad.
You can recharge Digitel and Movistar Venezuela right from MobileRecharge app, which by the way is free to install on Android and iPhones, or from the website, MobileRecharge.com. Same thing, more mobility or more comfort. You choose what fits you!
Get ready to recharge Digitel in seconds
If you're a Venezuelan in the USA and your friends or folks back home in Venezuela use Digitel prepaid credit on a regular basis, you can pay them a surprise or support them, just like you did in the past. No wonder! You're a Venezuelan, as generous as nature in your homeland. What can we say, Latino blood…
Getting back to "recargas Digitel" as you may call them, you have 3 options in terms of value. You can top up $7, $10 or $15.  But if you live in Canada for example, the amounts at hand are in Canadian dollars: $8.79, $12.55 or $18.83. If you live in Spain, you can send €5.77, €8.25 or €12.37 to your parent, wife, husband or friend in Venezuela with MobileRecharge.com.
Before we forget… No need to be a techie wizard to recharge Digitel online.
How to top up Movistar Venezuela phones
Get your coffee ready, it's going to take 1 minute at most to top up Movistar Venezuela phone numbers! But you can relax while doing it. :) It feels easy. It is. You only need to make sure you've got the right Movistar number of your friend or family member in Venezuela. Oh, and the right operator-number match.
You can choose the amount that suits your intention and budget. It ranges $7-$17 according to the country where you live.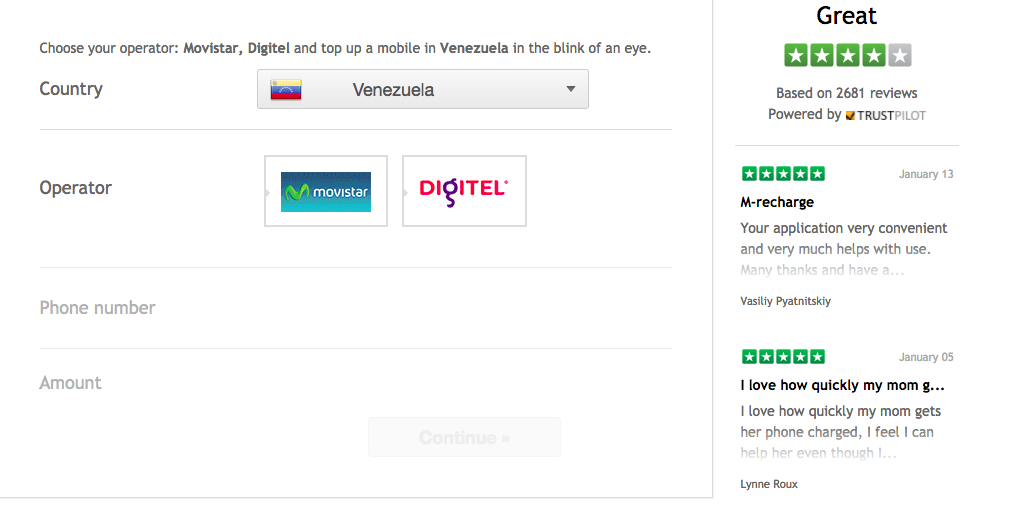 Pay in any currency
Once economic crisis spread like a pandemic in Venezuela in the 1980's, and more and more Venezuelans decided to leave the country, they picked exotic destinations in Europe, or went north to the USA and Canada. The idea is that no matter where you live today as a Venezuelan, whether you use euros or dollars, you can pay in your national currency on MobileRecharge.com. Sounds relaxing, right?
PayPal is our friend too
All major cards are accepted. But since PayPal is also a modern wallet, that's also accepted. If you prefer PayPal, you are welcome!

NO band-aids when buying online
When you recharge Venezuelans mobiles on MobileRecharge.com, please double check the number is correct, the amount is what you care to send in Venezuela, and that you have a realistic match between operator and number. Double check again before pressing or tapping "Recarga ahora" or "Recharge now" to avoid sending the top up to another number in Venezuela. Unless you want to pay a surprise to both you and someone else you don't know… yet! :)
Subscribe to "Get offers"
The MobileRecharge team will send you spam-free newsletters from time to time with Deals, real deals…  meaning Bonuses and Discounts. Look for the red button in the footer of the website. If you can't see it, it means you already subscribed when opening your FREE account on MobileRecharge.com. Good idea by the way! You won't regret a sec!
If you're using MobileRecharge app, it's at your fingertip, so no worry about it. Daily offers will roll over on your screen like runaway trains. More will get back, so don't wave! ;)
Join the Facebook Community for Offers & FREE top ups to Venezuela
The Facebook community powered by MobileRecharge.com is a multiethnic hub. No kidding! You can make new friends, meet new ideas and cultures, but most importantly, you can stay updated with deals in real time.
Plus, if it crossed your mind that you can recharge Digitel and Movistar Venezuela for free, that's possible. The community launches regular contests that give away free mobile recharges to Anywhere. ;)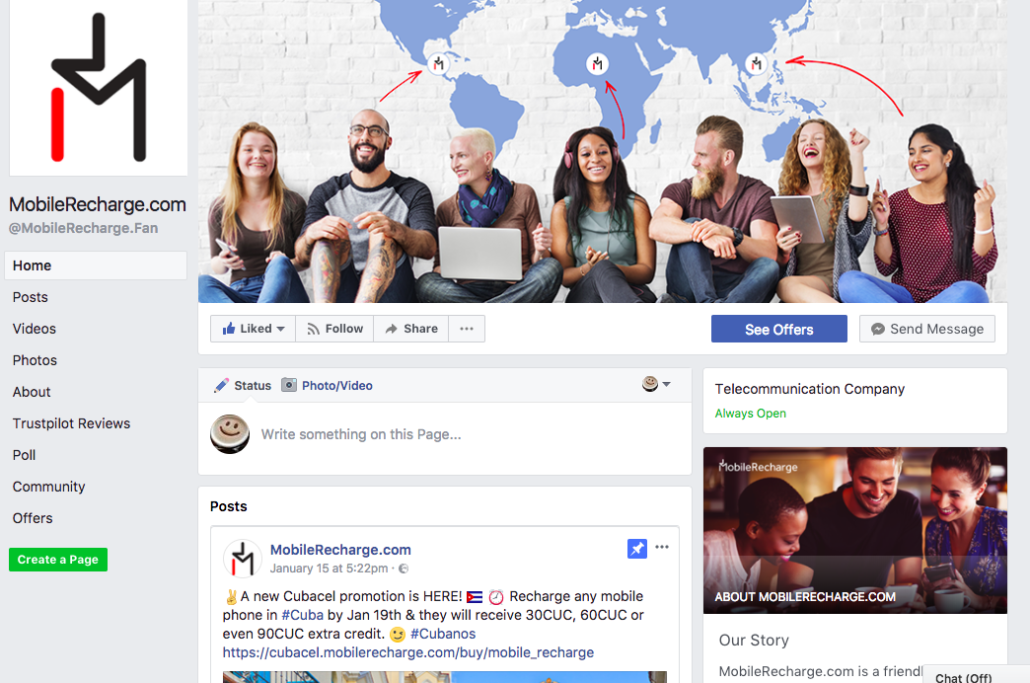 Wrap up, Venezuelan friends!
Venezuelans in the USA, Canada, Australia, Europe and even Asia can now recharge Digitel and Movistar Venezuela cellular phones online, on MobileRecharge.com or using MobileRecharge app. The app is free to install on any Android or iOS devices and is tailored for everyone. It takes seconds and requires no contract, and it is facilitated by MobileRecharge.com, the expat platform.
You can recharge Digitel and Movistar Venezuela in seconds, online. No rocket science, even the unexperienced ones can handle it right.
The online form to top up a mobile in Venezuela is simple and takes seconds to fill in.
Payment is flexible: all major cards accepted, PayPal as well.
Offers may surprise you if you subscribe to "Get Offers".
In the Facebook community you get more Deals and giveaways.
https://blog.mobilerecharge.com/wp-content/uploads/2018/01/oscar-neira-291550-1.jpg
3456
5184
Aura Badiu
https://blog.mobilerecharge.com/wp-content/uploads/2013/11/blog.mr_.logo_.png
Aura Badiu
2018-01-17 16:39:18
2018-04-26 12:07:46
Venezuelans abroad can now recharge Digitel and Movistar Venezuela mobiles online