Working overseas. Three people, same job.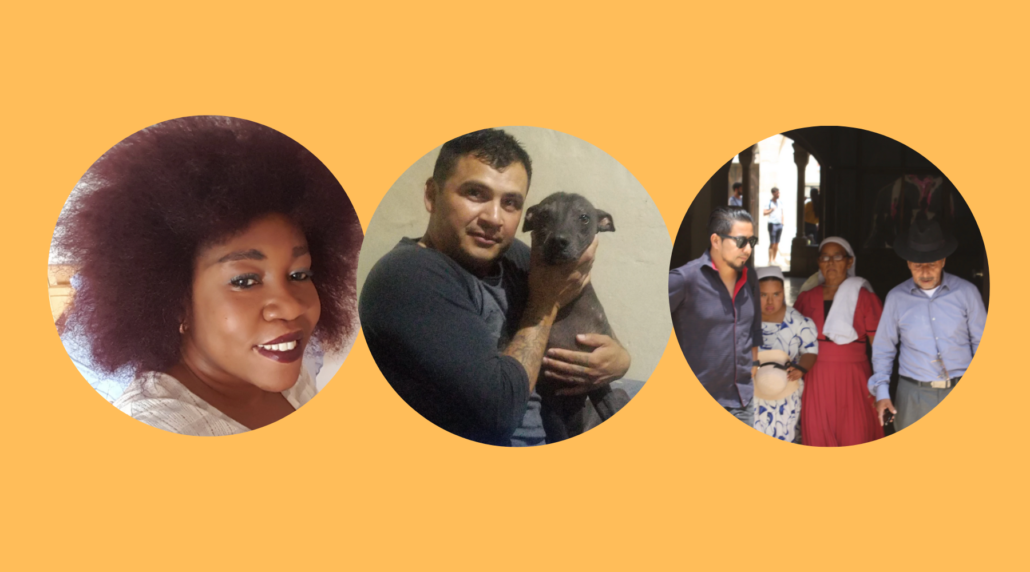 Globalization made it easier for people to move around and find a job abroad. So, today we're focusing on medical care jobs we called "same job" to keep it simple, and the stories around three beautiful people working overseas. Meet Gifty Ofori from Ghana, Moises Franquez from the USA and Obed Urquilla originally from El Salvador. All three are MobileRecharge.com fans supporting their families with mobile top ups, or loading their own phones online. We couldn't thank them enough for sharing their stories with us all.
The brave Gifty Ofori, single mom
&

genetic nurse
She's 43 now, a single mom of four, originally from Ghana. Gifty Ofori may not be a familiar name for you yet, but she definitely is for her patients and colleagues. Because Gifty is a genetic nurse in Milan, Italy. That's about 6,500 km away from home Accra, the capital city and the economical center.
We don't know how Gifty picked Italy before deciding to work overseas (literally), we forgot to ask. But one thing is sure, actually two. First, busy town is no problem. Secondly, she moved from a sea coast country like Ghana to another sea coast country like Italy. Because the metropolitan city which now makes her second home is a 3 hour drive to the sea, if you choose to go to Genoa beaches. Yet, in Accra she could reach the sea walking for 2 hours… Right, what a difference!
If you wonder how's life for Gifty… we think it's not that easy, since she's the mother of 4 kids. But the nurse profile most probably plays a huge role when it comes to patience. :) And the joy of having joyful creatures around is probably irreplaceable.
Genetic nursing?
Yes, we didn't know about it either, so we found this explanation. "Genetic nurses are nurses with either an associate's degree or bachelor's degree in nursing. In some cases, a master's degree with a concentration in genetics is required." (RegisteredNursing.org)
Thinking of Ghana…
She knows best how memories roll down the memory pipe… If you wonder what great imprint about Ghana can leave on a person, think about this. Once you're born almost at the very centre of the world, that's a good perspective on the world… "Equator" is like a Casino for someone in Las Vegas in terms of familiarity. And the Greenwich Meridian crossing your country may give you a 0° longitude view on life. ;)
Tropical childhood
Gifty knew 2 seasons and playing at 30 degrees Celsius sounds familiar to her. That can really turn you into a life soldier later. What's around? Sandy landscape, shrubby savannah, and lush rainforests. Ghana has a delta too. And national parks like Kakum National Park or Mole National Park, with jungle and herds of elephants. Yes, a beauty.
Then, why did she leave?
Gifty's honesty is plain and thus magical.
Because of poverty. (Gifty Ofori)
What is it to be away from motherland?
When you break the cradle of your emotional comfort, you make step further into personal evolution. The risk has a cost, of course. She loves her family and they miss each other. That's tough. Gifty answers in capital letters…
I LOVE MY FAMILY SO MUCH BACK HOME, THEY CARE ABOUT ME. (Gifty)
What's the great win of living and working overseas?
AT LEAST MY KIDS HAVE FREE EDUCATION IN ITALY MILAN, FOOD AND FAMILY GATHERING. (Gifty)
How is Gifty using MobileRecharge.com
She continues to help her family in Ghana with mobile credit for their local talk.
Gifty Ofori has been with MobileRecharge.com for a while now, helping her family back in Ghana with mobile credit besides other things. She confesses what her biggest motivation is…
It makes my family appreciate me a lot. (Gifty Ofori, in a MobileRecharge.com interview)
Makes sense… The need to be part of your family is even stronger when you're away. The sense of  belonging is purely and naturally human. That's all about. We call it love, like an inherent love.
It was pleasure to meet brave Gifty!
Moises Franquez, the nurse assistant and dog owner who almost died twice
Moises Franquez's story seems a Netflix drama… Yet, heroic and having a tender loving tone. He's a wise man, not because he's a dog owner, but because his tone when telling the story of his life translates that. Straight to the heart! Plus, yes, he's a nurse assistant.
He left the USA for having no documents. He moved to Mexico. He's 35 now and a nurse assistant. He seemed to have lived not a life, but the timeline of an adventurous movie. A drama, yet a very heroic one. Wow!
Departed from my kids and my family and without knowing anyone over here, in México, I struggled financially and I also got robbed several times and almost lost my life in 2 ocasiones. What can I say ? It's been pretty hard to adjust to life out here for the past several years. (Moises Franquez, in an interview with MobileRecharge.com)
What does a nurse assistant do?
Good question. Because that says a lot about someone. You draw the conclusion…
"Nursing assistants help patients with activities of daily living like eating and bathing. Nursing assistants, sometimes called nursing aides, provide basic care and help patients with activities of daily living. Orderlies transport patients and clean treatment areas." (bls.gov)
A newbie on MobileRecharge.com
He's just opened an account on MobileRecharge.com during the pandemic, in March. Why? Most probably to add credit for himself, without having to leave the house for that. It takes few seconds online to load a SIM or a number.
To better communicate with my loved ones. I've been through a lot of bad things, family hardships. It's hard out here if you don't have a family. (Moises Franquez)
Obed Urquilla, from sleeping in the park to nursing
&

the Canadian dream