How likely is it for you as an expat to support your folks back home? What a question, right! Most expats in the USA, Canada, Australia, Germany, Spain or other parts of the world with high economical standard of living DO help their family and friends with international money transfers, mobile credit and other transfer of goods.
We wrote about mailing goods back home in a previous article, so here's the moment to focus on international money transfer services and of course, international mobile credit top ups, our specialty. Pros and cons, what people like, what they would care to have extra. You know how it goes…
OFFLINE international money transfers
First don't imagine there is any service that won't apply a minimum transfer fees. If you find any, be aware! That's a scam or they're asking for a favor at some point during the ordering process. Mainly because there are many protocols behind international money transfer and that is translated as costs.
The difference between offline and online processing fee is pretty big: about 4 times more. That's why we recommend sending money online. It's hassle free, faster and cheaper. Just saying. But let's check the best options for offline international money transfers at this point. We totally understand that sending money in person has its reasons. You may be a cash person, or you have the store right next door. Otherwise, it's a bit off hand.
So, there are many offline services that facilitate international money transfers or mobile credit transfers. Western Union or MoneyGram are among the most famous ones. Consider the popular for the trust they have already build!
MoneyGram is available in many pharmacies, supermarkets, bus stations, or small businesses. They claim to have over 350,000 locations worldwide for pickup. One inconvenience is that transactions can be initiated from 200 countries (what we counted). They are available in most European countries, Canada, UK, Australia, African countries, Asia, etc. It helps you pay bills on behalf of your relatives and send money. The branch office will give you a reference number when you submit the money which you need to communicate to the recipient. So, you need to call your friend or relative, or send them a text. Again, some more money…
Let's take an example. To send money from Canada to Nigeria via one of their locations, with cash pick up at the destination in Nigeria, takes 24 hours at most. Say, you want to send 500 CAD. The person in Nigeria will receive 132,193.55 Nigerian Naira, that is about 491 CAD. But the transfer fee is 20 CAD that needs to be paid at location. Not a small amount! Almost 3 times more than 7.48 CAD processing fee for the same 500 CAD sent to Mexico with SendMoney.com.
According to CNN business Walmart started to offer money wire service in 2014: "Western Union. . . charges $5 for a money transfer of up to $50, but a transfer of $900 could cost $76." (money.cnn.com, Walmart offers less costly money wire service).
Another offline well acclaimed method to send money abroad is through a GSM handset. It's a cashless payment, that involves an SMS and having your mobile connected to your bank account. You should definitely ask your bank for more details next time you pay them a visit. ;) We haven't tried it for international transactions (only locally), so we cannot guarantee anything.
ONLINE international money transfers
SendMoney.com is specialized in money transfers. It has all the labels you need to trust it: "Verified & Secured", BBB and TRUSTe.
Worldremit, WesternUnion and TransferWise are other popular online options. The processing fee differs a bit. MoneyGram is a bit more expensive than WorldRemit according to Investopedia.com. So, you better pay attention in the checkout.
For domestic transfers, if you pay cash at a Western Union agent and the recipient picks it up in cash, the cost is $5.00. If you have the funds withdrawn from your online bank account, it costs $11.00, and if you use your debit or credit card, the cost is $49.99. Bank-to-bank transfers are only $0.99, and using a debit or credit card to pay money into the recipient's bank account is $20.00. (Investopedia.com, MoneyGram vs. Western Union: What's the Difference?, February 2019)
Talking about WesternUnion Investopedia mentions: "For international transfers, the exchange rate adds another element of uncertainty to the cost."  On the other hand SendMoney online service will show you all you need to know in the checkout.
PayPal is accepted by SendMoney (besides Visa and Master card), but it doesn't seem to be available on WorldRemit. The latter is a good options for those who want to pay with Poli, Interac, iDEAL, ACH, Sofort, Android Play, Apple Play or Trustly.
Mind other aspects too before you choose your international money transfer provider. Do they have promos or any goods for you? Do they have a reliable Customer Support team to hold on to if you need assistance or you need to fix a transaction? Are they easy to reach? Do they have a contact number or a chat? Can you pay with PayPal besides Visa or Mastercard?
No need to go to the store
On SendMoney.com, for example, it takes seconds to fill in the form. The account is free and you need no contract. The money gets immediately. 100% privacy of data since they abide by the trendy GDPR rules. And they've got promos for their subscribers.
As for the processing fee, it is much lower than all the rest! For example, if you want to send 1000 EURO to Cyprus, you pay 4.12 EURO the fast transfer fee. Now compare that to the amounts above… :)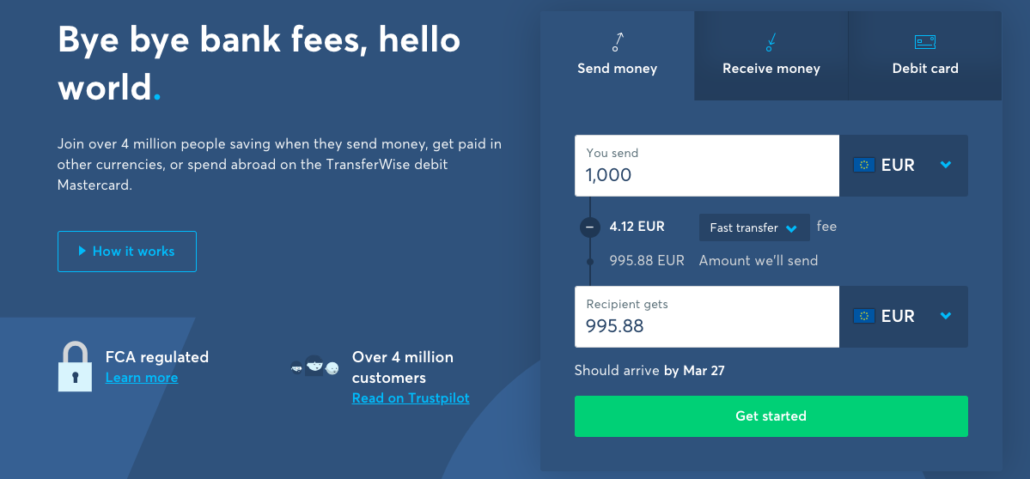 The website features about 40 countries to send money to, from all continents: USA, South Africa, Ireland, Greece, Poland, Romania, India, China, Canada, Mexico, Malta, the Philippines, Pakistan, Russia, Ukraine, India, Vietnam, Thailand, etc.
ONLINE international mobile transfers
Many prefer to send mobile credit that can be turned into money on ATM, or simply send mobile credit to be used as mobile credit as a targeted gift.
KeepCalling, TopUp and MobileRecharge are useful tools for international mobile top ups.
And all 3 services above accept PayPal, Visa or Mastercard as payment methods
All 3 have 24/7 human Support.
They are super fast.
No contract needed.
A processing fee lower than $2.5 is a great processing fee on the global market. Another thing to consider is if the processing fee differs according to the amount you're sending. Also, the time you need to fill in the online form, if the account is free or not, and how fast the international money transfers reach the destination… are some more things to consider. Mind the Privacy Policy too. ;) All the services above cover these aspects respectfully.
Those who need international minutes and  mobile credit transfers in one place, that's doable. KeepCalling.com makes it available for expats: online mobile top ups and international calling credit.
TopUp.com is another option. It works similarly with MobileRecharge.com. Yet, it has fewer promos for their customers than MobileRecharge.com for example.
MobileRecharge.com comes with extras:
MORE giveaways on Facebook
an app for Android and iOS, free to install
great reviews on Trustpilot
DAILY PROMOs for different countries
Let's go through MobileRecharge.com or MobileRecharge app steps to follow:
Log into your website account or open MobileRecharge app (free to install).
Choose the country where you want to send the amount, choose the local operator.
Enter the phone number. Double check!
Pick the amount.
Proceed to payment (order amount and processing fee) with a Visa, Mastercard or your PayPal.