How to make a BTC Bahamas fan happy in less than 1 minute
Are your friends or family living in Bahamas? Does any of them use a BTC Bahamas mobile? And top of that, are you willing to make one of them happy in less than 1 minute with no hassle? OK, you are the right person in the right place for the right people.
3 easy steps to send mobile credit abroad

Here is how it works. Even if you're far away, in less than 1 minute you can send an instant gift to someone in Bahamas who uses a BTC Bahamas prepaid SIM. They may be your friends, sister, childhood neighbor, college roommate or a 5 year smart-niece going digital.
Open a free online account on MobileRecharge.com: https://bahamas.mobilerecharge.com/account/register
Fill in the Mobile Recharge form (BTC Bahamas prepaid number, amount recharged)

on your PC: http://bahamas.mobilerecharge.com/buy/mobile_recharge
from your MobileRecharge app for Android. Download it for free from Google Play / Play Store

Double check details and proceed to easy payment.
Online top ups are the NEW trend. Save time & money!
If you need to send mobile credit abroad, make the top up yourself online. Definitely online! Some love it because they can control the money they send as a gift. Others, because it's soooo quick. And most of us love it because …
Online mobile recharges beat direct money transfers and other long-distance transfer of goods
Online is easier and saves time; it requires no papers to sign, no buses to take, no queues to stand in
MobileRecharge app is free-to-download for Android; and soon for iOS devices too.
Lowest price and best deals regarding the value purchased
24/7 Support by chat, email and Help Center, in both English and Spanish
Daily Promotions to several countries in the world: http://bahamas.mobilerecharge.com/promotions
All major cards accepted; PayPal accepted
Security and payment standards certified by: "Certified & Verified" and Trustwave
100% service fairness and correct privacy policy as certified by BBB and TRUSTe
MobileRecharge app for Android
Send your top up to BTC Bahamas easily and on the go, using the MobileRecharge app. With 1.75 Billion smartphone users worldwide, we thought you'd need an app for easier access, no matter the time or the place you find yourself at. It is free-to-download, and now available for Android, and soon for iOS too.
We've created the "Mobile Recharge" service with the purpose to help you transfer mobile credit easily, whatever the distance.
Android users can make top ups directly from the MobileRecharge app besides the PC. The app costs nothing to download, but one needs to open an account on MobileRecharge.com first. Plus, one can top up several mobiles from several networks and even countries from one account only.
Processing charges are the lowest possible. The service is 100% transparent and all costs are displayed in the checkout. Compared to other providers and the recharge value offered (price-amount sent ration), the cost is the smallest on the international market.
What customer say
On review websites like the famous Trustpilot, customers label MobileRecharge.com as "professional," "quick" and trustworthy.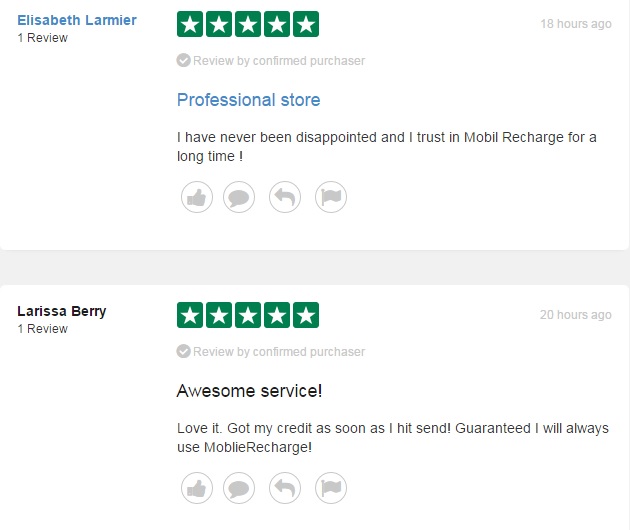 How is MobileRecharge.com different from others
It offers the best recharge value (what you pay – what they get ratio), when compared to other operators on the international market
Navigation and purchase on the website or MobileRecharge app is really easy
Navigation is possible and user-friendly from PC, tablet and mobile
MobileRecharge app for Android helps recharge on the go
Instant mobile load
Recharge history and other transaction details in the online account
High accessibility due to its language selection option
All communication by email and media news is 100% transparent, fair and honest
Rates are available in multiple currencies (USD, AUD, CAD, GBP, EUR), but customers can pay with any major credit/debit card or PayPal, no matter the currency selected.
100% transaction security and customer satisfaction guarantee.
Stay tuned for promotions and other news on:
Generous #promotion featuring +200% #free #credit on recharges to #Claro #Guatemala :http://t.co/LCB6DCicJp pic.twitter.com/yYvVV54ID3 — MobileRecharge.com (@MobileRecharges) November 12, 2014
Give it a try for $5!
BTC Bahamas or else, top up a mobile online. From your PC or MobileRecharge app, any time.


https://blog.mobilerecharge.com/wp-content/uploads/2014/12/bahamas1.jpg
905
1357
Aura Badiu
https://blog.mobilerecharge.com/wp-content/uploads/2013/11/blog.mr_.logo_.png
Aura Badiu
2014-12-02 16:02:40
2015-07-17 15:33:02
How to make a BTC Bahamas fan happy in less than 1 minute