How to send Cubacel Bonus in March the easiest way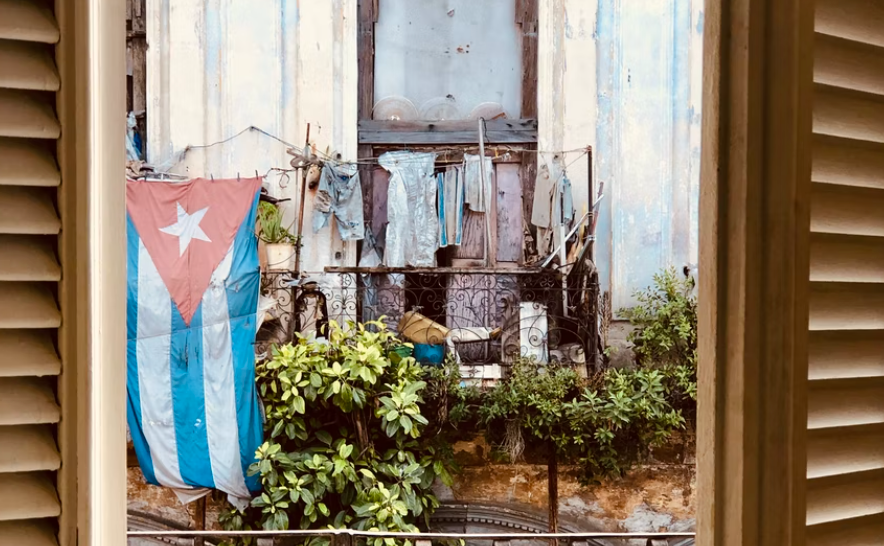 In the amid of a new Cubacel promo for Cubans abroad and their families in Cuba, we look at the details that make Cubacel bonus in March great, but especially the steps to take to do it easily and save time. This is not a promotion for Cubans in Miami or the USA overall, but Cubans worldwide interested in saving while supporting people back home in Cuba.
1. Make sure you have a free account on MobileRecharge.com
The first step to send cell phone balance to Cuba and include the current Cubacel bonus in March is to create an account, free btw, on MobileRecharge.com. If it's easier for you, you can also install the app on your Android or iOS app called MobileRecharge.
Anyway, you don't need to lift a finger to add that Cubacel bonus in March. We'll take care of it automatically. All you need to do is make a list of your Cubanos, set your budget, and mind the conditions.
2. Pick at least 500 CUP to send
The Cubacel bonus in March is 200% extra aka Triple Bono Cubacel as Cubans abroad know it. It's available for orders of a minimum 500 CUP. That's the second condition. Don't skip it.
In case you aim for more than 500 CUP, and you still don't want to miss the Cubacel bonus in March, here are the values you can top up:
500 CUP order -> beneficiary gets 1500 CUP
650 CUP order -> beneficiary gets 1950 CUP
750 CUP -> beneficiary gets 2250 CUP
1000 CUP ->beneficiary gets 3000 CUP
1125 CUP -> beneficiary gets 3375 CUP
1250 CUP -> beneficiary gets 3750 CUP
3. Take the shortcut in your account
Fill in the online form using a shortcut to the online form. Next and double-check. No contract, no worry!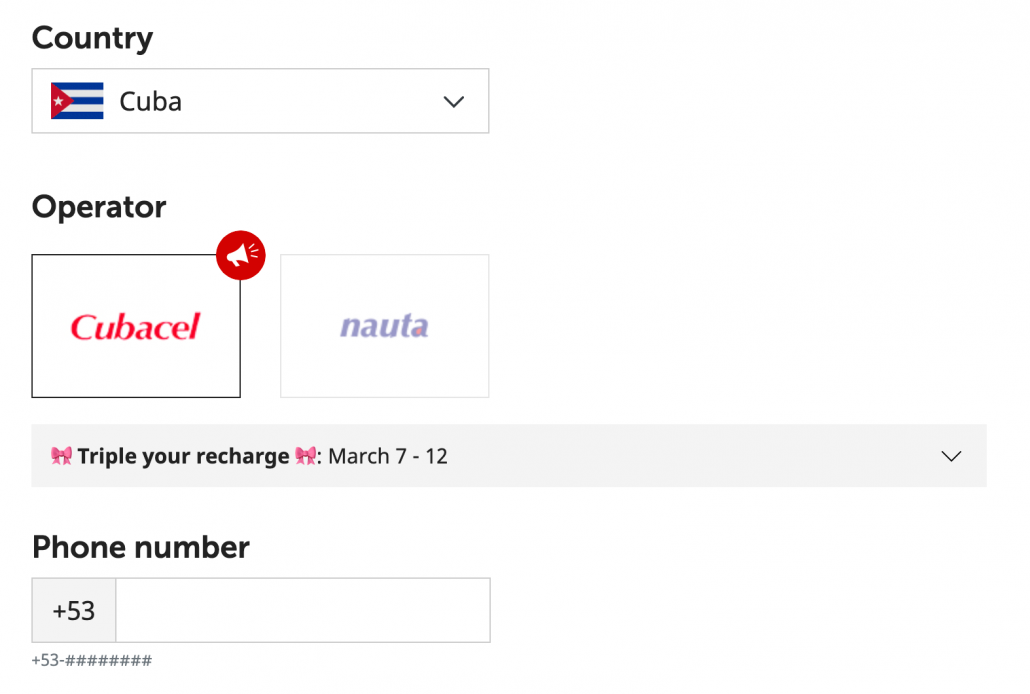 Your recent top ups to Cuba are available in your account as a list. Tap the number (or name) you want to refill during the promo. Start from there, and you don't need to fill in all the details manually once again. USe the shortcut, all the details of your previous Cubacel top ups. Buuuuut! Make sure you pick the minimum 500 CUP to get the Cubacel bonus in March for your folks in Cuba. OK?
Why double-checking is important? Well, once you've sent the Cubacel saldo and the Cubacel bonus in March along, and the transaction is Successful it is no way we can retrieve the money in case you entered a wrong number. That's why we recommend #3 below for quick and safe transaction.
4. Include the FREE SMS to skip explanations or confusion
The SMS option is free in the online form where you fill in the details of the top up. So, really, why would you waste that. There's not much room to make a confession or share a recipe, but there's plenty to say hi and sign your gift. Just saying!
That would spare your relatives or friends of any questions on who the sender is.

5. Set
"

Special offers

"

ON in your account to get a reminder
We won't spam you with weird messages, bad jokes, or false promos. We'll only announce when the first Cubacel bonus in March is available. In case you miss the offer, we'll make sure to remind you about the remaining time. No one complained, everyone said it is helpful, so we continue the tradition. That will also save you time looking for the link, the page, the form. You'll have it in your inbox, next to your morning coffee or tea.
MORE about the current Cubacel promotion:
-Running March 7-12, possible extension  (23:59, GMT-05:00).
-Main amount validity period: 330 days.
– The Cuban relative may receive several top-ups in this promotional period and this balance adds up to the main balance.
– Use of Cubacel bonus in March: national and international calls, purchase of bags, packages, Data plans, Minutes and SMS, balance transfers, Amigo plan activation.
– The friend or relative in Cuba will receive a time threshold SMS when a few days before the expiration date of the bonus.
– The balance inquiry is available at *222# and is free of charge for the customer.
MORE >>