Where to buy gift cards for Cuba?
A new trend among Cubans overseas is the gift cards for Cuba. They are a great way to save time while shopping for a present, but also a great way to make sure you offer something useful and local, despite the distance. Most Cubans outside Cuba (like you?) use gift cards to Cuba to save time and be supportive. On MobileRecharge.com, you can send gift cards for KO Mercado in Cuba. All you need is the Cubacel number of the beneficiary, and you're ready in seconds.
Gift cards are not an alternative to Cubacel DATA packs, but a complementary help.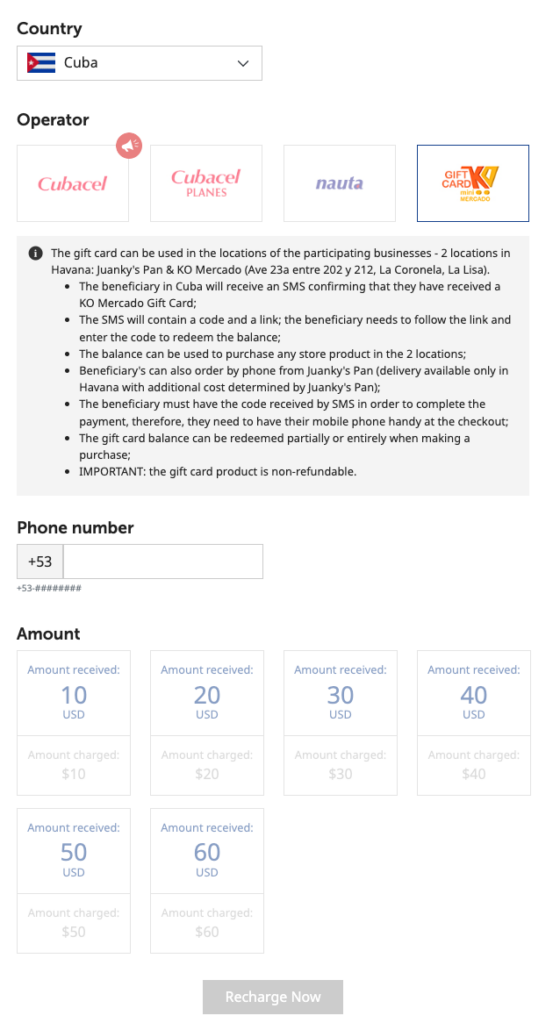 Go to MobileRecharge.com and pick the value that you want to send, enter the phone number, and proceed to payment.
Your relative or friend in Cuba gets an SMS with a code and a link.
They'll need to follow the link and enter the code to redeem the balance, partially or totally. IMPORTANT: The code received by SMS needs to be at hand when the person in Cuba makes the purchase (keep the phone close).
IMPORTANT: the gift card product is non-refundable.
If you're NEW to MobileRecharge.com enjoy 10% OFF on your first order with WELCOME5BLOG coupon. More about it here.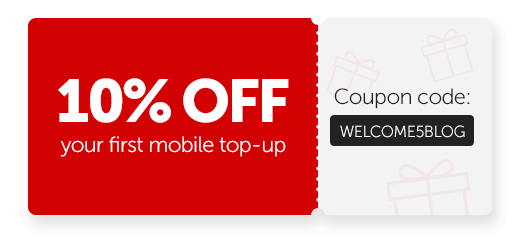 How to use the Ko Mercado gift card
Mostly food products of different origins: Cuba, Spain, Chile, Mexico, the USA, France, Turkey, Italy, and Japan.
What can they buy with a Ko Mercado gift card?
Your relative can buy any store product using the gift cards for Cuba. KO Mercado is welcome in 2 locations in Havana: Juanky's Pan & KO Mercado (Ave 23a entre 202 y 212, La Coronela, La Lisa). The beneficiary of the gift cards for Cuba can also order by phone from Juanky's Pan. The delivery is available only in Havana with the additional cost set by Juanky's Pan.
Gift cards to Cuba are now available on MobileRecharge.com and the MobileRecharge app, designed for Cuban expats and their families on the island. Sending a gift card for Ko Mercado, whether for offline or online shopping in Cuba, is quick and easy. You can choose gift card values ranging from $10 to $60. All you need to send the gift card is the phone number of the recipient.