11 reasons why the Cubacel promo in May is the jackpot for Cubans abroad
Cuban support from abroad became easier and easier in the last 2 years since Cuban demand from abroad grew in quality and quantity and the first Cubacel promo in May on MobileRecharge.com is the proof. Cubacel bonuses are more and more complex now also thanks to the availability of internet in Cuba.
Other transfers of goods services have developed too, again because of the pandemic demanded but also because Cubans abroad are willing to help those in the motherland and sent their feedback to diaspora services. The amount of good this does for a relative in Cuba may be undervalued by people who don't understand the Cuban context, but any Cuban in Canada, the USA, Europe, or any other part of the world with family in Cuba knows that blessing that the monthly Cubacel promos on MobileRecharge.com are, as well as other services facilitating long-distance support; we've written about how to send food to Cuba in this article. What does the first Cubacel promo in May bring wow?
Here are 5 top-notch aspects that make it a jackpot and also help the sender abroad save big.
Up to 2GB of data included in the Bonus
Anyone sending from 500 – 1250 CUP to Cuba gets a generous bonus automatically this Cubacel promo in May on MobileRecharge.com or the MobileRecharge app.
But while Cubacel recharges ranging 200 – 750  CUP get 1 GB plus 1000 CUP, those ranging from 1000 – 1250 CUP get double data. That is 2 GB. And that's more pretty much.
A 2GB data balance will allow a Cuban fellow to browse the internet for around 24 hours, stream 400 songs, or to watch 4 hours of standard-definition video. Of course, no one hurries to use all that credit at once. This Cubacel promo in May offers a 30-day bonus validity. This Cubacel promo in May offers a 1000 CUP bonus besides the 2GB.
So, open up a free account to send your top up plus BONUS »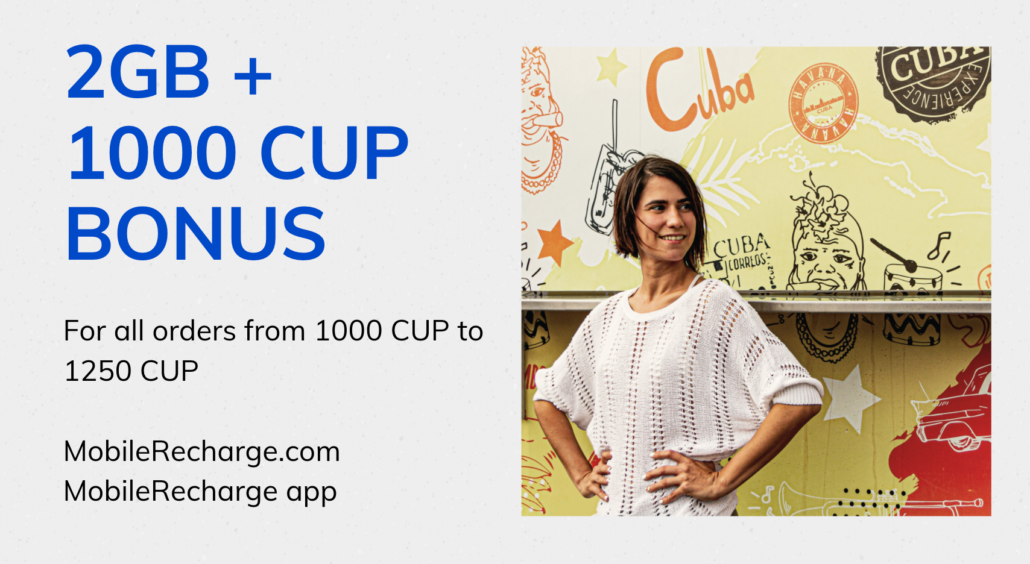 If one's list of Cuban relatives is pretty long, then an option is to send lower amounts to all. But to get the bonus the minim recharge per transaction should be 500 CUP. That will bring the Cuban family member in Cuba 1GB of data extra and for free and 1000 Bonus credit. pretty good, right? Just to give you an idea… the most popular domestic plans one gets with a local phone company are 1GB, 2GB or 5GB of mobile data allowance.
With MobileRecharge.com or the MobileRecharge app if recharge 500 – 750 CUP, you get to send 1GB plus 1000 CUP BONUS.
For example, if you send the minimum 500 CUP, the loved one in Cuba gets 1500 CUP plus 1GB of data, available for 30 days. That's very good value for money.
If you send 650 CUP, your relative in Cuba gets 1650 CUp plus 1GB.
And if you send 750 CUP, they get 1750 CUP plus 1GB of data.
Instant Cubacel top up, no matter the distance
A very important aspect we call the jackpot is the fast transaction. And not only the minute transaction itself that includes filling in the online form but the delivery of the credit and the bonus too. And the Cubacel promo in May has no other settings.
Here are some reviews from Trustpilot.com.



Hard to miss, it runs for 6 days
If this week is busy for you, you can make your top ups to Cuba on Saturday. Or you can split the list while commuting or having your morning coffee since it only takes seconds per transaction. Pretty flexible. Oh, but be careful, if you do it on Saturday, consider the deadline is 23:59 Cuba time. Of course, that's no problem if you live in the USA, but if you live in other countries consider the time difference.
Anyway, the first Cubacel promo in May runs from Monday, May 3 to Saturday, May 8 2021.
30 day and 330 day validity
The main balance you send is 330 days from the recharge date. The bonus is valid for 30 days, which is pretty generous, right?
50% discount for international calls
Now, considering most of the Cubans who will receive this Cubacel support from abroad would call their relatives abroad from time to time if they had the means, this is a jackpot of this Cubacel promo in May.
Your Cuban fellows will also receive the benefit of a 50% discount for international calls. It applies to all prepaid customers who have Dinero Bonus. Once Bono Dinero is consumed, the main balance will cover the rest of the calls, but keeping active the 50% discount.
Bonus for local and international calls and SMS
Again, an aspect we most love, very useful. The promotional bonus can help make local and international calls and send international or domestic SMS (including SMS entúmovil).
There's an exception though. It does not apply for usage on Bolsa de Correo and Mobile Internet (Data Packs). Something to consider.
Your Cuban relative can transfer the main balance to someone else
While the promotional CUP bonus can not be transferred to other mobile lines, the main balance can. Say, for example, that you send 500 CUP to your dad in Cuba. He receives your 500 CUP plus 1 GB and 1000 CUP bonus. He cannot transfer the data to your little brother, but he can transfer him 500 CUP.
Those who still have some bonus left get extended validity
Customers who have active Data (GB) Bonus and Dinero Bonus balance from previous promotions and they receive a new top up during this second Cubacel promo in May can benefit from a new expiration date of 30 days.
Also, Cubacel subscribers using Data plans (all networks and LTE) and their corresponding bonuses (LTE and local navigation) will extend the validity period to 30 days if they receive a valid top up during May 3-8, 2021.
We split the top ups for you to get the best bonus
MobileRecharge.com and MobileRexharge app (Spanish & English versions) engineered the delivery so that you make the best of this Cubacel promo in May. How? Top ups of 1000 CUP or more will be divided into separate top ups, so that you get to send the maximum bonus possible. The recharges may arrive several minutes apart, but no worries, they do arrive immediately.
FREE SMS along your transaction