Cuban decor ideas for your foreign apartment if you're nostalgic
Just as the Swedish have their unmistakable style of home design, the Cuban home decor has a unique imprint on a Cuban's aesthetic sense. This also happens when you visit Cuba and return with a bunch of great impressions. So, how to recreate that style in your foreign apartment? Useful for our friends in the Cuban diaspora as well as the nostalgic tourists out there missing the Cuban vibe. ;) Oh, and before we get green, vintage, and blue with enthusiasm… Remember a NEW CUBACEL PROMO is coming up between February 2 and Saturday 27, 2021, 23:59 Cuba time. MORE details below.
Choose the Cuban color mix
Say, it's not that easy for you to find any Cuba-like furniture items. Not even in the thrift shop. So, then what? Forget about the shape and focus on the color mix in Cuba. Cream and strong color, or even two strong colors: violet and yellow, yellow and green, turquoise and cream or yellow, red and blue. Cuban decor is about making a daring choice and bold contrast like a Cuban soul. The setting needs to impress and not to calm down. Remember the streets and the mix of colors, pick what you liked.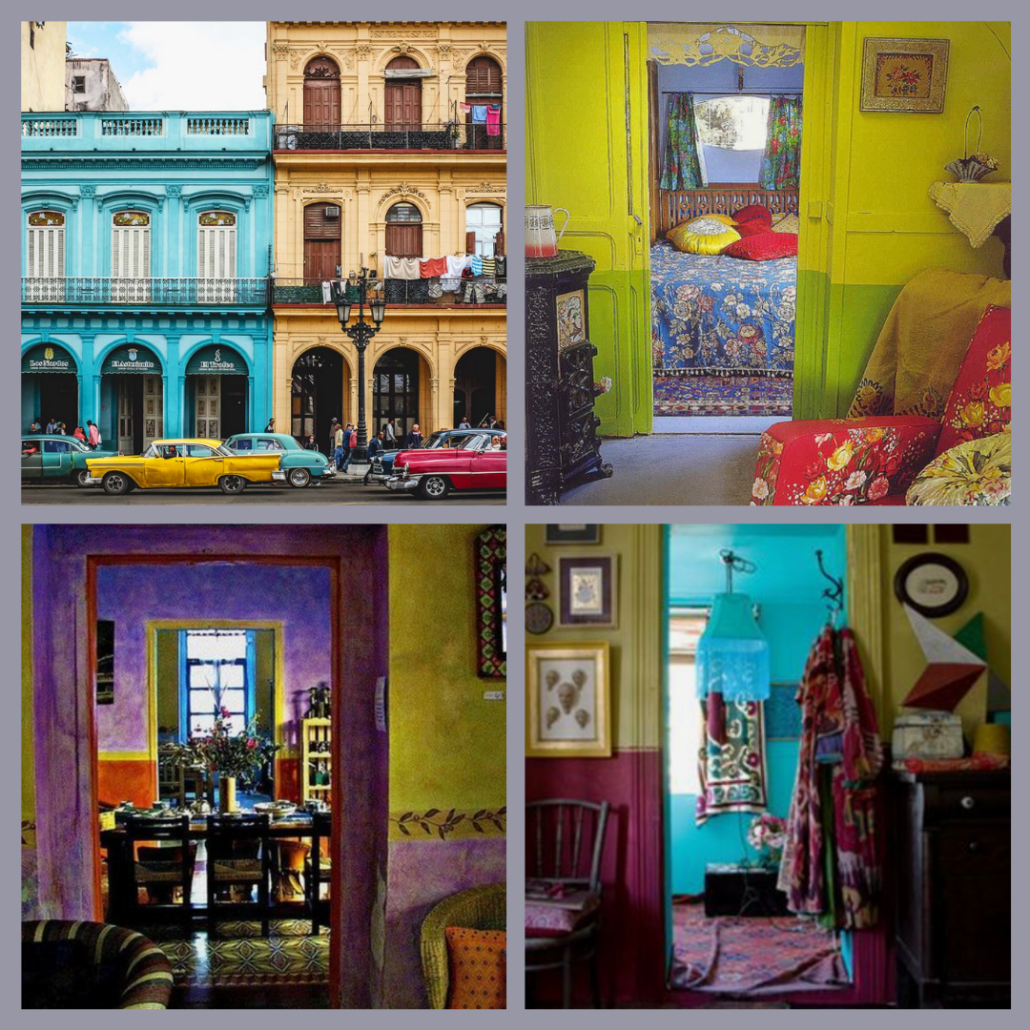 Spectacular lamps
&

mosaic tiles
One way to recreate the Cuban decor is to mix black and white and strong colors. Or mosaic tiles and colors. A cherry on top is to go for a long ceiling lamp, a spectacular one, a vintage one instead of something modest that would go unnoticed. Light is more than light in Cuba, it's an aesthetic element. We've been told by fans on MobileRecharge.com, in the Cuban diaspora. ;)
Also, vintage paint instead of neat painting would give that vintage aspect you can find in Cuba. Of course, that is a natural look, but you can bring it into your home. That could also save you some good money since the technique is about using a sponge instead of a brush. There are many tutorials out there on YouTube that can turn you from a Cuban nostalgic or a nostalgic tourist into a Cuban decor specialist. :)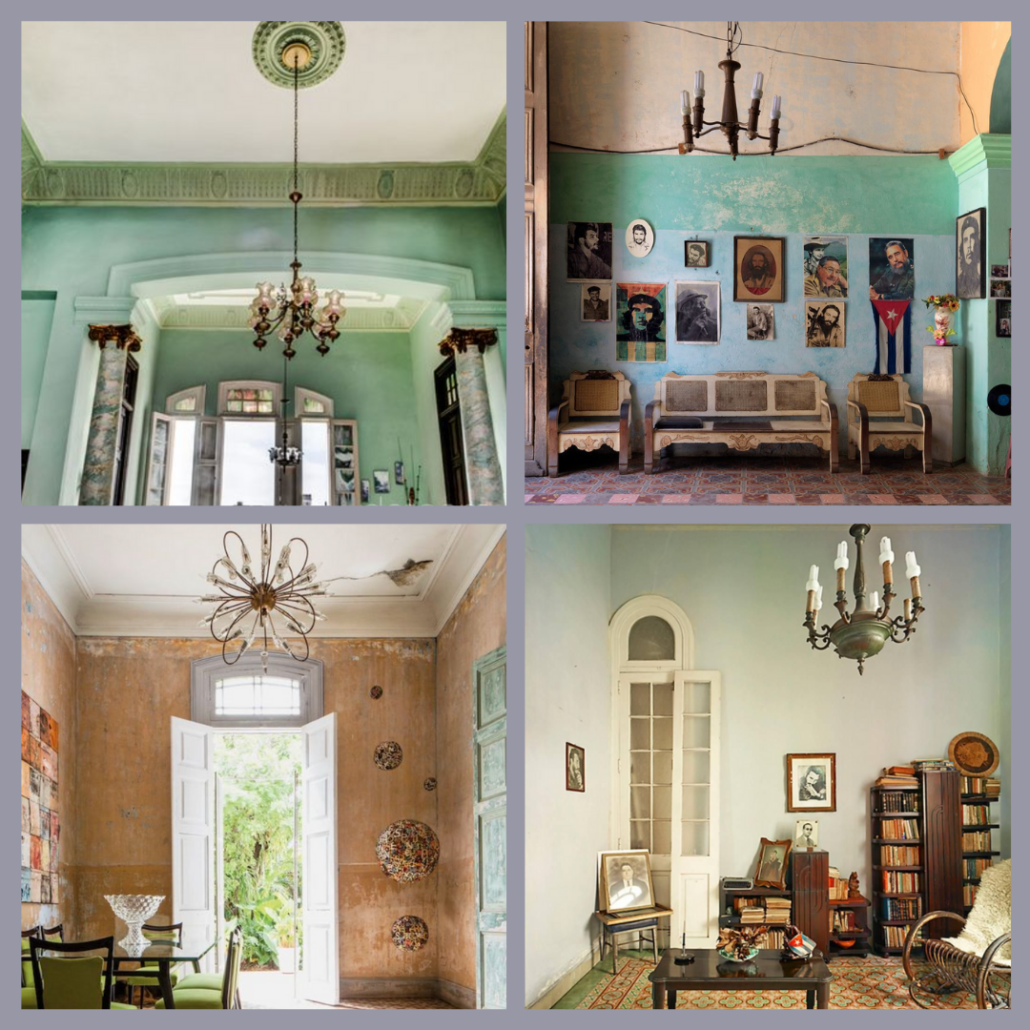 Surround yourself with big green plants… and vintage mirrors
Thrift stores, whether online or offline. That's where we'd look for a vintage mirror. We know that a Cuban would say "there's no better mirror than the face of an old friend", but these days when traveling is not really a commodity, old friends are hard to find in the same room. So, get yourself a mirror and treat yourself with a glance or two.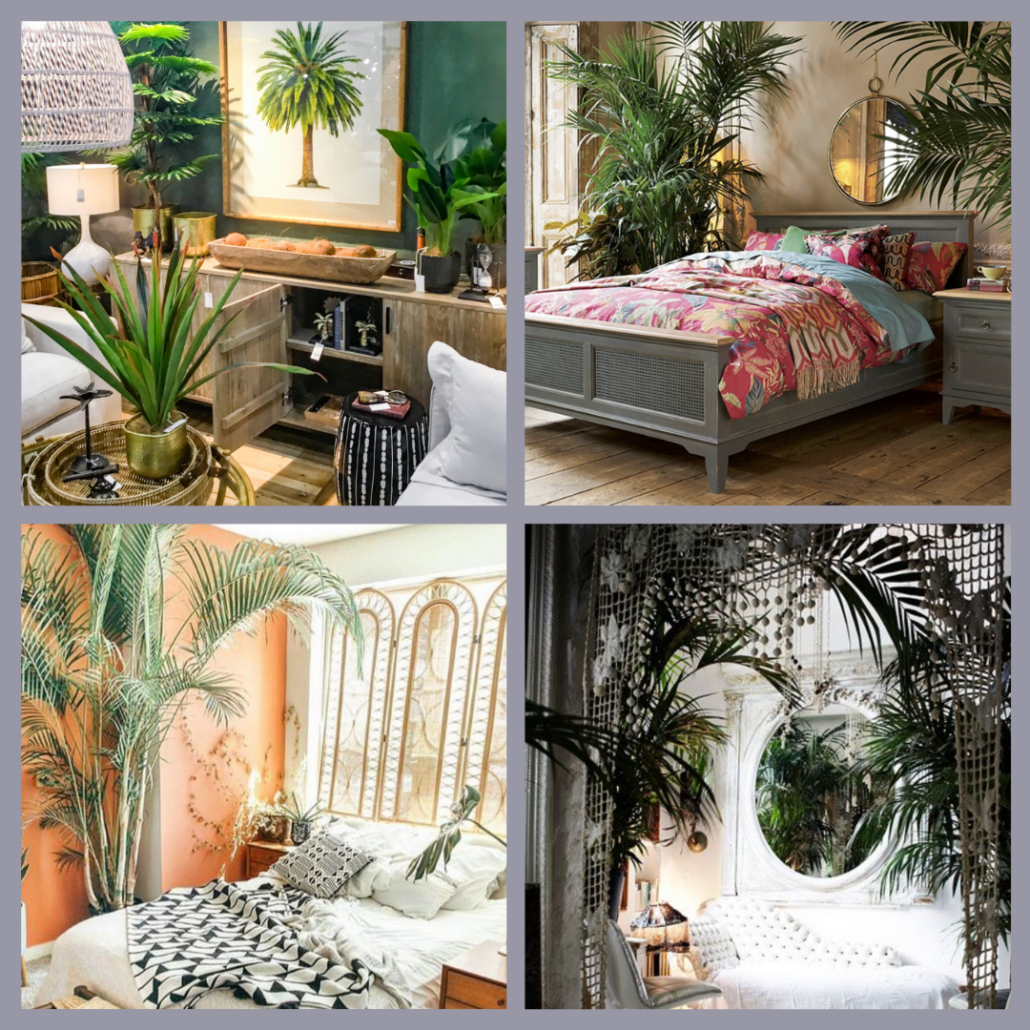 And yes, large green plants will lead way for a fresh exotic breeze even in wintertime.
Paintings, the flag, souvenirs from home or from your visit to Cuba. You name it. A cigar next to a book or a set of glasses, why not? Big colorful paintings you can DIY, or buy from a friend or a store. Curvy shapes or arcades can be added from plaster. Or you can paint them directly on the wall. The impression may not be the same, but the vibe will help the Cuban decor you're trying to reiterate.
And above all, if you have wooden doors you can paint them differently, and make new use of the Cuban palette.
Any patterns aside go hand in hand when it comes to Cuban decor, which already breaks the rules of many design houses. But Cubans are Cubans, creative and bold! For example, you can have geometric patterns on the floor, a flowery sofa, uni curtains, and a pattern-like painting or chair cover, or a table cloth. Yep, it's even in fashion nowadays to mix up patterns that would otherwise "hate" each other. Something that Cuban grannies always dared to do, bring patterns at peace.  :)
Old furniture and a swing chairs
Of course not any furniture. You don't need an expert eye to pick the elegant curvy items. Some memories from Cuba may be enough. Online dealers are also an option but take all measures to avoid scams. We did it too, when building this website for international mobile top ups. Think back about restaurants and Cuban homes, the swing chair is hardly missing. :) Because talking, having a drink requires comfort.
Is this TRIPLE CUBACEL BONUS?
So, February 22-27, Cubans interested in the second Cubacel promo in February 2021 can send more than Doble. And even triple back home. The bonus applies for all denominations ranging CUP 500 – 1250. Order one of the values below on MobileRecharge.com or the MobileRecharge app and your fellows in Cuba will get:
500 CUP  order -> They receive: 1500 CUP
650 CUP order – > They receive: 1650 bonus
750 CUP order -> They receive:  1750 bonus
1000 CUP order – > They receive: 3000 bonus
1125 CUP order – > They receive: 3125 bonus
1250 CUP -> They receive: 3250 bonus
More details…
– The promotion will run from Monday to Saturday, February 27, 2021, 23:59 Cuba time.
– This Promotion does not apply for 50% discount on international calls.
– Customers can receive multiple top ups (up to CUP 175,000 for main account and CUP 125,000 for bono dinero).
– Customers can check their promotional balance via USSD (*222*266#) and main balance to *222# for free.
– Top ups of 1000 CUC or more will be divided into separate top ups, so that you receive the maximum bonus possible. The recharges may arrive several minutes apart.
And since elegance is g=histrically bound to Cuban decor, you may also like the article about the Cuban queen in Europe. Or maybe you miss Cuba, and then there are some movies that will take you on tour throughout Cuba.