How Ghanaians abroad send airtime to Ghana in seconds
Did you know there are over 440 Ghanaians soccer players abroad and 4 million people in the world born in Ghana or of Ghanaian descent? You may know someone yourself, or your may be one of them. Then this article is for you. We've "met" some Ghanaians in Germany, USA, Canada, UK and other parts of the world, because they send airtime to Ghana via MobileRecharge.com. Mainly because it takes 1 minute at most, and this way they manage to support their families back home.
If this may be a bit new to you or you're still looking for the best way to send airtime to Ghana for your folks' mobile phones, here are some technical details that will save you time and effort.
Why do so many Ghanaians living abroad top up mobiles back home?
The differences in the motherland economic system and the new expat countries for Ghanaian expatriates are huge. Unfortunately or fortunately. That's a weird aka ethical and political topic to tackle, we won't have the time and space to talk about it now. Innovation-interest and Prices may be lower in Ghana, but the income is vulnerable, birth rate 3 times more than the USA for example with limited resources, state health expenditure reaching 6% compared to 21% in the USA for example, according to CountryEconomy.com.
The top 5 countries Ghanaians moved to for work or studies are the United States, Saudi Arabia, Germany, United Kingdom, Russia. All these states offer more work options and liberties than Ghana does.
How much mobile credit do Ghanaians send home?
Ghanaians abroad using MobileRecharge.com do at least 2 top ups a month for people back home in Ghana. Is that much, is that little? The senders know better, the beneficiaries have their own answers.
 But what we can say is that they rank among the most generous expats in the world if we judge by this aspect only. But it's probably a matter of family bond and community habit to help.
What networks are there available for top ups to Ghana?
MTN Ghana is the largest network in Ghana, right? Most of the people Ghanaians abroad top up mobiles for online use MTN credit. The operator is also available on MobileRecharge.com.
MTN Bundles are also available. They add domestic minutes, texts and data to your parent or cousin or friend in Ghana.
For 50 GHS, the person in Ghana gets 400 MTN min, 100 Non-MTN min, 60 MTN SMS, 40 Non-MTN SMS, 2GB
If you order 150 GHS, they get 1000 MTN min, 500 Non-MTN min, 150 MTN SMS, 50 Non-MTN SMS, 6GB
Or you can get them only Data.
Choose 20 GHS on MobileRecharge.com, and the person in Ghana gets 1 GB.
The range of options can go as high as 15 GB for 150 GHS.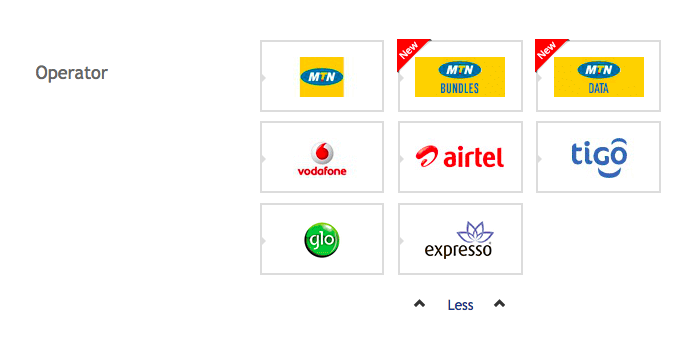 If your beloved people in Ghana use Vodafone, Airtel, Tigo, Glo or Expresso, welcome on board! You can send airtime to Ghana anytime. 24/7 more precisely. :) It takes seconds to support people in Ghana with Vodafone credit, or Airtel balance, Tigo, Glo and Expresso Ghana. It's instant! To see how you can handle it the easiest way possible, and what suits you best, please read on.
Send airtime to Ghana fast using MobileRecharge app
The app is ranking wow on the expat app market. The truth is it has been optimised per expats' feedback. Great feedback to have and to hold!
MobileRecharge app is free to install on any Android or iOS device, it's free and it takes seconds to complete the process. It's best when commuting or when you prefer pocket-size technology for your everyday activities.
Send airtime to Ghana from your laptop in seconds
You'll get the drill from the first time you get in touch with the website MobileRecharge.com. It's simple and it will guide you through.
Pick the country and operator the phone you want to recharge belongs to.
Enter the details: phone number in international format and amount. Make sure the number is prepaid and correct. If you have any doubts you may get in touch with us easily: https://mobilerecharge.com/contact
Proceed to payment. It's easy. You can use any Visa or Master card, or your PayPal account. No worries, MobileRecharge.com is the safest website out there. Check the labels down the homepage. ;)
Don't miss the PROMOS
If you are subscribed to the Newsletter or you're using MobileRecharge app, you'll get notified about the best offers running on MobileRecharge. There are daily promos, so you may also drop an eye before you visit the website or app to make your top up.
Tip: WIN a FREE recharge to Ghana while having fun
Join the Facebook expat community for news and giveaways. There are monthly contests and competition is not high at all, so chances of winning a FREE RECHARGE to Ghana is at hand. The contests are more like fun or touchy challenges, and work very simple.
The community is also enthusiastic about expat news, world culture and ethnic stuff, plus tech. You can also benefit of instant support if case. You'll definitely find it fun and useful.
No contract. Did we mention it?
MobileRecharge users and fans need no contract or other limitations. The process is simple… Get the app or go to the website, make your order in seconds, pay in a flexible way and the credit gets to Ghana or other destinations immediately. Promos are there to help yourself with bonuses, the Newsletter is spam-free (only offers), and everyone behind the service is relaxed and focused to help expats help their folks back home above all. Wish you feel the same!
https://blog.mobilerecharge.com/wp-content/uploads/2018/08/slim-emcee-ug-the-poet-truth_from_africa_photography-606609-unsplash.jpg
3744
5616
Aura Badiu
https://blog.mobilerecharge.com/wp-content/uploads/2013/11/blog.mr_.logo_.png
Aura Badiu
2018-10-10 17:39:17
2018-10-11 12:36:49
How Ghanaians abroad send airtime to Ghana in seconds