Why and how to make a mobile top-up to South Korea in seconds
It may sound quirky, but the American dream, the Canadian dream or you-name-it expat ideal goes hand in hand with a pragmatic habit accessory of all expats: long distance support for those back home. Some of the South Koreans in the USA, for example, got in touch with MobileRecharge.com team in the recent years asking us to provide mobile recharge tools for them to make a mobile top-up to South Korea. We wondered why…  before we understood the necessity of a mobile top-up tool for South Koreans abroad, and arrange all the modalities.
Understanding why…
In South Korea, the emigration rate is pretty over 4.6%, while in the USA below 1%. Does this say a lot about the economical and political situation of a country? Yes! Although considered a rich country, the economic challenges in South Korea are still strong. Countryeconomy.com compares South Korea and the USA. Curious analytical people can go deeper, we're going to stay with the expats stories. ;)
Do you know Juju Chang? If you're a Korean in the USA or elsewhere in the world, you probably do. In an interview for Kore Asian Media from 2010, the famous American Korean journalist remembered coming to America, a story that many South Korean expats will relate to.
I remember the day we got on the airplane and came to America. I remember wearing my favorite red dress and getting airsick on it, somewhere over Hawaii ( laughs). Growing up, I didn't realize that we had economic challenges. It didn't occur to me that [my parents] were working hard to make  ends meet. I just thought we had everything we needed because we had each other. But it was hard, and I had three sisters growing up, so a lot of estrogen in my life.
So, we have Juju Chang on the one hand, and Jasmin Sohn, on the other. She's a young lady in Seoul working for Sofar Sounds interviewed by GrazieDaily. It seems the locals are more preoccupied with the economy than the situation in North Korea. Although a fast growing country with a young population, we're talking about a busy density of  300 people/square meter. Wooow, imagine so many people in your living room!
When looking at the shopping list, things go even clearer why there are over 2 million South Koreans in America and over 200,000 in Canada, to mention only 2 popular destinations. renting an apartment is more expensive in South Korea than Toroto Canada. really?! Yep! Then there are electronics. You'd think they are accessible in the land of Samsung and LG. The cheapest electronics you can get are from North America anyway. Weird, right? And we could go on. Or you WATCH this video!
How to help your South Korean folks via MobileRecharge.com
Meanwhile, South Koreans abroad try to support local efforts to keep economy up and people light-hearted, hassle-free… to the best extend. There are many ways for all South Koreans in the USA, Canada and other parts of the world, and online mobile recharges is one of the fastest, safer and easiest. 3 steps to make a top-up to South Korea, for someone's mobile phone.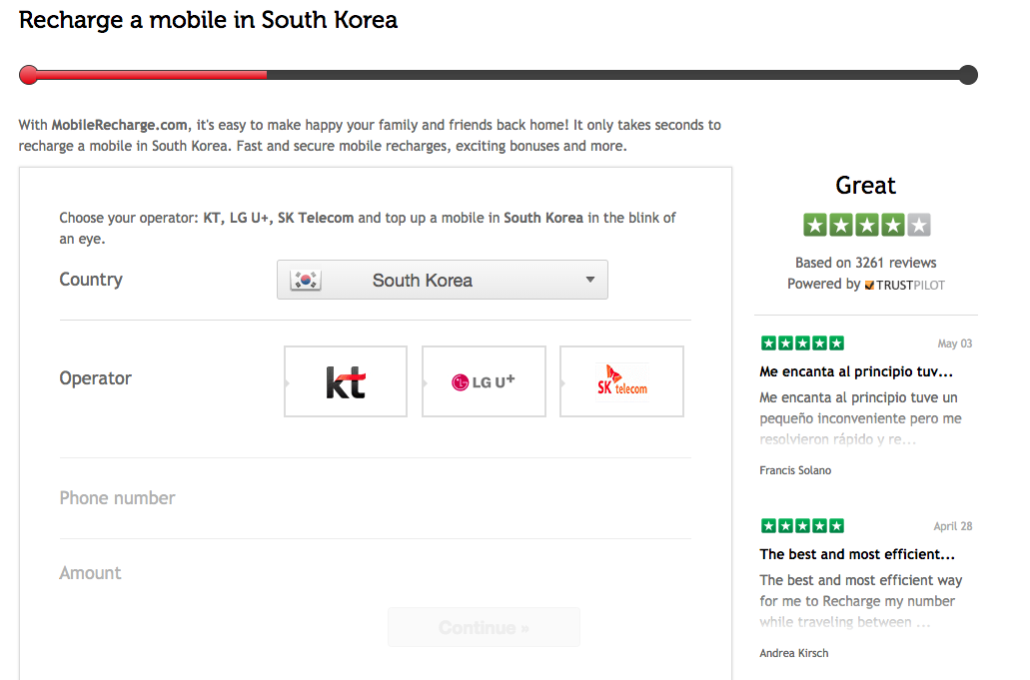 The flow has already started, and it is going smoothly. We didn't expect to meet so many South Koreans on Mobilerecharge.com. No wonder if you look at plane-view numbers!
According to Wikipedia, the Korean American community comprises about 0.6% of the United States population, or about 1.8 million people, and is the fifth largest Asian American subgroup, after the Chinese American, Filipino American, Indian American, and Vietnamese American communities.
For a bath of South Korean mood and talk, changes are you meet your South Korean fellows in the their expat communities in Los Angeles metropolitan area, New York City, Washington D.C. and most probably New Jersey.
https://blog.mobilerecharge.com/wp-content/uploads/2018/05/saveliy-bobov-535623-unsplash.jpg
3395
5092
Aura Badiu
https://blog.mobilerecharge.com/wp-content/uploads/2013/11/blog.mr_.logo_.png
Aura Badiu
2018-05-07 11:23:55
2018-05-07 13:15:19
Why and how to make a mobile top-up to South Korea in seconds