What expats taught us all in the past 7 years and World Top Up Day 2022
World Top Up Day 2022 is coming soon for expats worldwide, so we took the time to go back in time to the previous editions. Who would have thought that an online expat event can reveal so much about expat lifestyle and beliefs? What did expats teach us in the past 7 years of World top Up Day? MobileRecharge takes the time to review.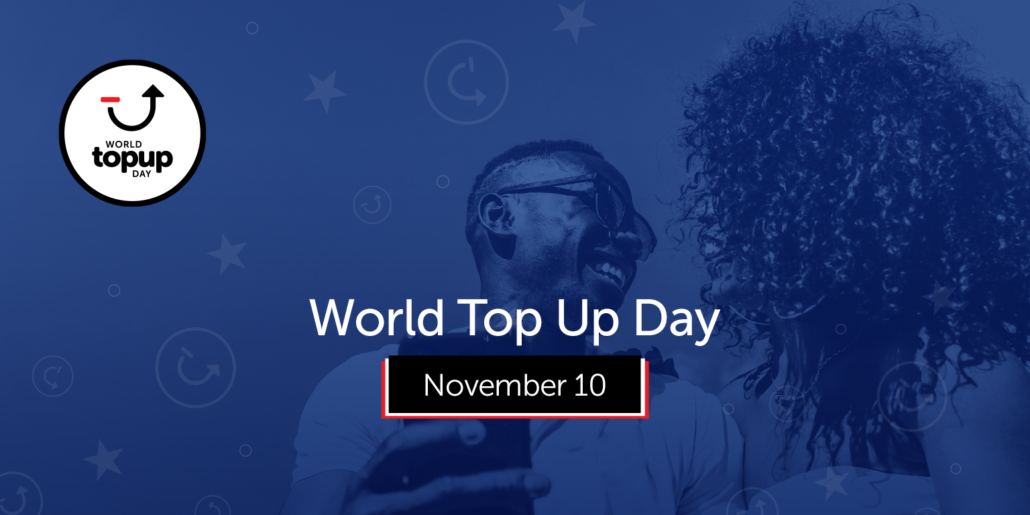 If you haven't heard of World Top Up day by now, we owe you some details. World Top Up Day is an online event powered by MobileRecharge (international mobile top-ups). The first edition was in 2015. Its purpose from the get-go was to start a public conversation about expats as Givers, in a time when generosity was mainly exposed as "charity". It was the first time a brand stubbornly insisted to celebrate expats as a generous minority.
Since then, it became a world buzz in the expat community. Plus a moment to save up on international top-ups for expats.  But hey, let's get back to the expat lessons we promised.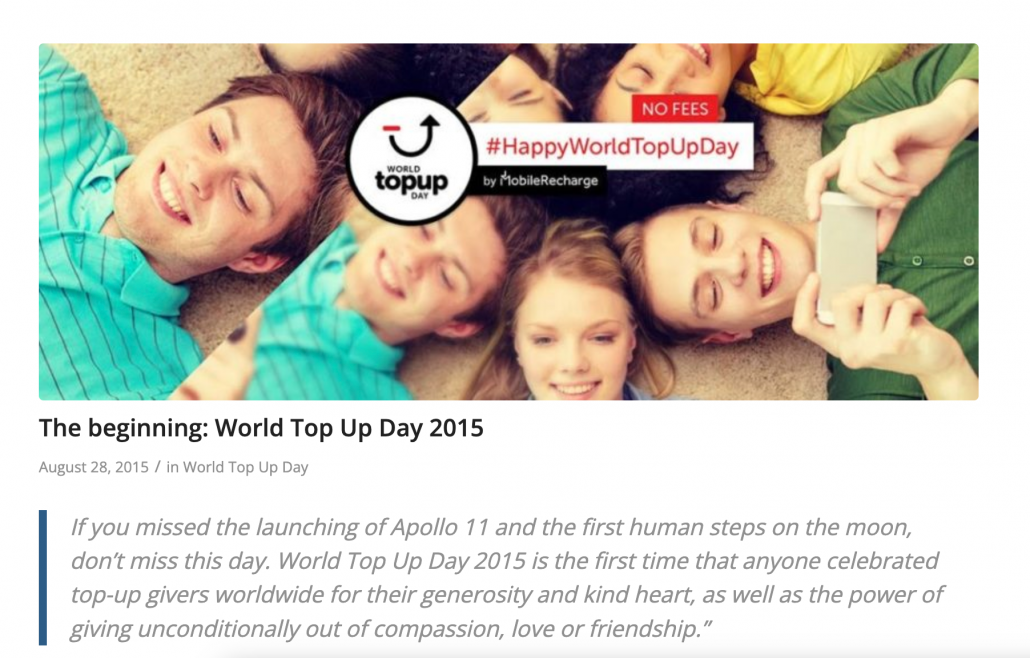 Lesson 1: help your family smile
In 2015, World Top Up Day focused on expats as family heroes. Especially the economic and social impact of their constant support for people back home. It was not enough to balance a pop culture of Batmen and other fantasy superheroes, but it was a start. The idea was to switch from TV screen to everyday reality.
MobileRecharge, the witness
Every 2 minutes an expat was sending mobile credit to someone back home. Thus, a brand like MobileRecharge which facilitated these top-ups made by immigrants was the perfect witness of their generosity. And that had and still has a huge impact on a larger scale. Just imagine!
A simple example is Cuba. Cubans whose income was about $30 could hardly afford the mobile credit luxury. Their relatives in the USA or Canada or Spain were fueling the credit regularly. That was a huge help!
When you witness this, you realize as a brand that you have the moral duty to give something back to the community you serve. To support the supporters too. So, in 2015, just before November 10, expats received a wave of discounts and bonuses.
We dropped the fees
Then, on November 10, they could send top-ups without paying any processing fees, which was a new thing on the market. And World Top Up Day become the best shopping time for expats when it comes to mobile credit.
OK, so we talked about the impact of giving in 2015. In 2016 it was time to model it for other communities. Therefore, the expat community around MobileRecharge.com started talking about kindness as being viral. And the message was to make small gestures and pass it on.
Kindness connects us all. Giving and receiving makes us live in communities and not isolated. 
Gifts sent manually by the team
It was the MobileRecharge team who started the chain of events. They spent World Top Up Day making 100 customers from different countries a surprise: a top-up for their own use. And the incentives on November 10 were again budget-saviors.
Lesson 3: whatever your job, you're giving something to somone
While getting ready for World Top Up Day 2022, we bumped into the archives of 2017. That year was about a Morgan Freeman-like narrator who united us all.
No matter what we do for a living, we're giving something to someone.
The impact we have via our everyday job tells a story of generosity. It was time to consider the impact we have through what we do.
Already a tradition, on November 10, MobileRecharge dropped all processing fees, and started a giveaway party on social media and email.
If you want to be part of it in World Top Up Day 2022, make sure you SUBSCRIBE TO GET OFFERS >> and oh, Follow us on Facebook and Instagram.
Lesson 4: it takes risk, courage and adventure to make it big
2018 was a mass giveaway. Free top-ups on social media, more discounts, and bonuses for expats, and free of processing charge top-ups on November 10. But most importantly, we all talked about expats as the #1 category recharging mobile credit for other people, and their adventurous spirit who took them all the way to their new home country.
Lesson 5: community effort can change lives
OMG, World Top Up Day 2019 expanded outside the MobileRecharge expat community. Expats made an impact on struggling communities in other parts of the world via their Kiva support. Expats choose November 10 for an extra reason besides no fees for their own top-ups. By making a top-up on that day, they contributed to a big donation to Kiva projects.
Lesson 6: minority power can be really… empowering
The partnership with Kiva continues in 2020. Guess what. expat solidarity for developing communities had a big impact again. Read more about it here.
In conclusion, immigrants worldwide helped local communities in different parts of the world: from Haiti to Vietnam. And of course, they got their share of Thank You, by recharging their folks' cell phones without any fees attached on November 10.
Since we started together with gestures of community support, World Top Up Day 2022 will focus more on personal stories and getting to know each other.
Lesson 7: sharing your experience is a great way to help
World Top Up Day 2022, the 8th EDITION
Yes, we'll hit milestone 8. Eight years of expat celebration. This year's theme is Proud Expat, so you're welcome to join the online fest and share what you're proud of as an expat.
Indeed, World Top Up Day 2022 is giveaway-wiser and will be full of surprises. So, make sure you: