How to send credit to Jamaica using your phone
Mobile phones have become an essential part of our daily lives. And if you're a Jamaican abroad with family back home, you want to use your smartphone for more than instant communication. Long-distance services, for example.  Here's how to send credit to Jamaica in less than 1 minute using your phone. You can install an app called MobileRecharge for free. Or you can go directly to MobileRecharge.com on your smartphone. It's a user-friendly platform for expats that allows you to send credit to Jamaica prepaid cell phones in a super safe environment and super easy. Plus, MobileRecharge runs regular promos for their subscribers and visitors.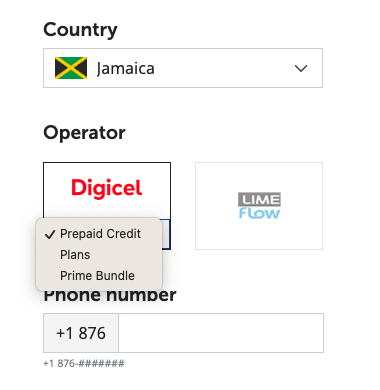 Jamaicans who live abroad and want to help their relatives
It takes 1 minute to go to MobileRecharge.com, fill in the form and send credit to Jamaica Digicel or Lime Flow prepaid numbers. The recharge is instant for relatives in Jamaica. And one can choose from Digicel Prepaid, Plans or Bundles, or Lime Flow, depending on the type of user the beneficiary is.
Jamaican from the diaspora who want to keep their home number active
Are you one of the Jamaicans abroad still having a Jamaican number? Cool, it makes sense. You can use MobileRecharge to keep it active.
Basically, you can top up your Jamaican number using MobileRecharge app or MobileRecharge.com in advance, before you reach your home country. Or, you can keep your number active from a distance by making regular top-ups via MobileRecharge.com. These platforms are secure and user-friendly, providing a convenient way to recharge your phone balance from the comfort of your own home or while on the go. Keep reading to discover more options and methods for topping up your mobile phone in Jamaica.
Tourists in Jamaica
One of the primary ways to top up the phone balance in Jamaica is through the use of prepaid cards, commonly known as "scratch cards." These cards can be purchased at various locations, such as convenience stores, supermarkets, and mobile phone service providers' outlets. Simply scratch off the silver panel on the card to reveal a unique code, and then follow the instructions provided by your mobile service provider to enter the code and activate your number.
When you're a tourist visiting the country, keeping your phone credit topped up is crucial to staying connected. So, next time you want to top up you can simply log in on MobileRecharge.com and get the credit you need in seconds.
Recharging your mobile credit in Jamaica is a simple and convenient process, with several options available to suit your preferences. We recommend the online platform MobileRecharge.com to save time when you recharge a Jamaican phone number.
Local residents
Why not. It's hassle free.
Jamaican mobile users have access to a range of convenient and efficient options when it comes to topping up their phone credit. These options ensure that users can easily recharge their devices, stay connected, and maintain seamless communication with friends and family. But some require offline effort, time, transportation, and hassle (supermarkets, retailers, etc). A great alternative is MobileRecharge.com, which can be accessed from anywhere in Jamaica, as long as you have cellular data or a Wi-Fi connection. The transaction is fast and easy, and you get any amount you need in less than 1 minute on the go. You thus avoid all the hassle and save time.
Why it's better to send credit to Jamaica via MobileRecharge.com
It takes about 1 minute.
MobileRecharge.com is a facilitator when you live abroad and your family is in Jamaica. It's a great and easy-to-use tool for long-distance transactions.
Great reviews on Trustpilot.com
They've been on the market for more than 10 years.
The website and app run regular promos (bonuses and discounts) for subscribers, but not only.
If you are a tourist or a local, you can avoid going through the town looking for authorized retailers to top up your Jamaican number. Therefore, you skip going to convenience stores, supermarkets, and mobile phone shops. Simply visit the website MobileRecharge.com and grab the amount you need.
In Jamaica, you can also recharge your phone credit through bank ATMs and online banking services offered by local financial institutions. But it's easier to find a Wi-Fi and log into your MobileRecharge.com account while having a coffee at a local bar or at home. The platform provides a secure and convenient way to top up your mobile credit and an easy process that doesn't take longer than 1 minute on the go.
How it's done: send credit to Jamaica the easiest way possible
Make sure you have a free account. Or open one in seconds.
Subscribe to get the best deals only in your inbox.
Fill in the simple form online and pay using PayPal or any major card in a secure environment.
Newcomers to MobileRecharge.com have coupon WELCOME5BLOG available to try the service. So, on your first order, you get 10% OFF from the get-go. Here are more details about the coupon.