8 Super Top Up Promotions running on MobileRecharge.com in June and July
Why people love promotions, including extra credit on top ups, is self-understood… Because we love free stuff, we love free attention, getting presents, bonuses. There is an interesting aspect underlying it: we love unconditional generosity or witnessing that someone else cares for us.
Some turn promotions or special offers into courageous campaigns or holidays. MobileRecharge.com gathered them all on its website page called "Promotions." Immigrants worldwide stay tuned for their favorite destination or operator, or follow MobileRecharge.com Facebook page for top up Bonus updates.
There is no day without promotions or free Bonus credit on the MobileRecharge.com Promotions page. Here are a few below: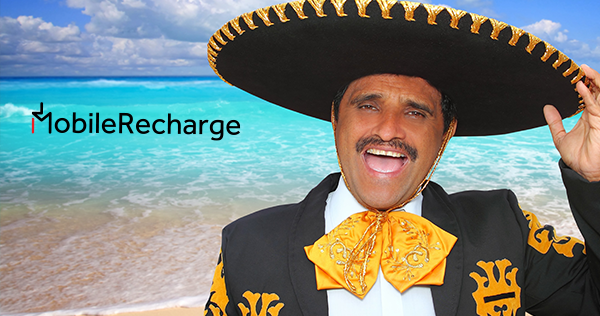 Bonuses on top ups to Mexico
#1 Free international minutes for Mexicans' family in Mexico
Movistar mobiles are ready for it! We're talking about a Super Bonus like a Super Coffee in the morning or Superman when you most need his help. More precisely, when you send credit to a prepaid-plan mobile in Mexico, we automatically add 50 minutes for calls to the USA and Canada, plus 100 SMS. This is possible on MobileRecharge.com until June 22, 2015. Bonus applies for refills over $5.
#2 Saldo Regalo! Free text messages & Internet browsing for Telcel mobiles in Mexico!
Telcel mobiles in Mexico are also welcoming extra credit. Refills of $10 USD double the amount. Refills of $15 USD turn into $40 MXN, and so on up to $400 MXN. The initial amount can be used for local calls, while the bonus balance for free browsing and SMS.
The maximum refill value is $50 USD.  In this case, the person in Mexico gets $400 MXN. Whatever the Bonus, the amount expires in 60 days, which means there is plenty of time to use the free extra credit.
Lifetime Bonus for Uninor mobiles in India
By July 31, Indian expats who send more than INR 500 mobile credit to Uninor mobiles in India get automatically free extra credit. More details here: http://india.mobilerecharge.com
30% extra credit for Orange mobiles in Madagascar
The 30% bonus applies for refills of 20000 MGA. The offer is valid until the end of June, 2015.
200% free extra credit on top ups to Tigo Honduras
As shown above, the top ups to Tigo are available on different days  for different numbers. So, the Tigo numbers in Honduras ending in 0 or 1 can only benefit of the 200% Bonus on Mondays only.
100% free extra credit on top ups of Movistar mobiles in Colombia
The offer is rather new. It's a no-name promotion, but the value is great. Actually, whatever the initial amount sent to Colombia, it doubles between June 15-21 without paying for the extra credit. It is only valid for prepaid plans and for order-amounts higher than $5.
100% free Ufone credit for mobiles in Pakistan
The offer was launched on June 16 and lasts for one month, until July 16. For every mobile top up on MobileRecharge.com, no matter the value, the recipient gets 100% free credit for Ufone calls as on-net calls, plus SMS. Pay attention, once you sent the credit or credited your own Ufone mobile, make sure the Promotional balance is used in the following 3 days.
100% calling credit for Movistar & Claro mobiles in Ecuador
Extra credit on top ups to Ecuador are available for Claro and Movistar. Claro offers 100% Bonus for refills of $5, $6 and $10. The promotion is running till July 31, 2015.
Extra credit for Movistar top ups is available till June 21 on orders above $5. Check details in the picture below.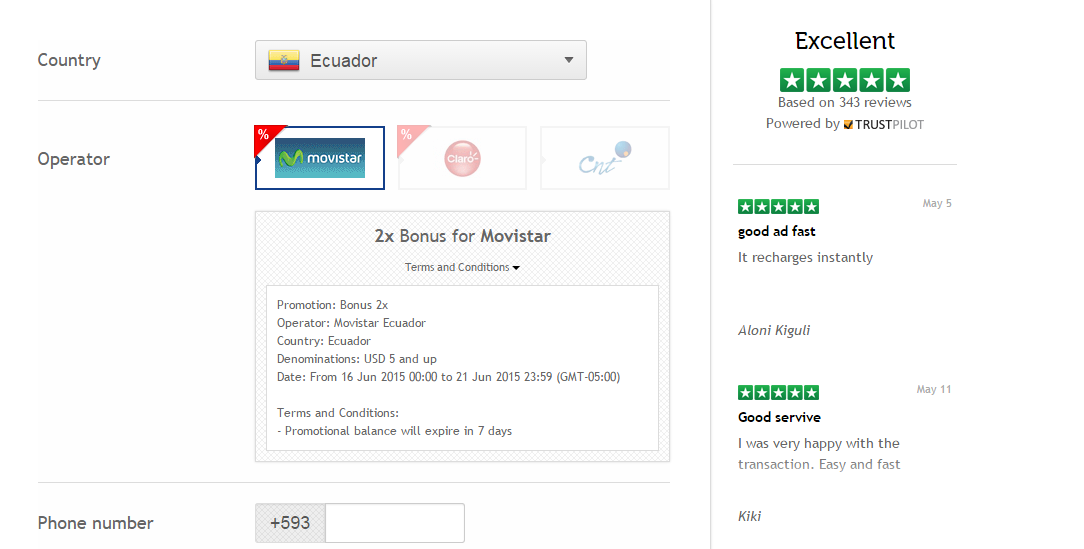 Movistar is a very generous operator. Daily promotions run for top ups to Latin America prepaid mobiles subscribed to Movistar.
400% extra credit on top ups of Movistar mobiles in Panama
June 21 is the last day of this promotion, which is dedicated to Panamanians worldwide. Say you top up a Movistar mobile with $5, which is the minimum amount for the Bonus to apply.  Well, your friend or family member in Panama will get 5 times the amount.
Wrap up 
June and July host generous promotions on MobileRecharge.com. Here is a summary of the destination countries that receive Bonus credit so far:
https://blog.mobilerecharge.com/wp-content/uploads/2015/06/mr_promotions_jump.jpg
2000
3000
Aura Badiu
https://blog.mobilerecharge.com/wp-content/uploads/2013/11/blog.mr_.logo_.png
Aura Badiu
2015-06-17 17:11:46
2018-04-26 12:08:13
8 Super Top Up Promotions running on MobileRecharge.com in June and July