Why is MobileRecharge app a Golden Globe winner in the expat app category?
Broadcasted by App Store and Play Store and directed by MobileRecharge.com, MobileRecharge app holds a high position among the fastest and easiest-to-use apps. Not only in the US, but worldwide. No big words… Many fellows in the diaspora use it to send credit to mobiles belonging to their friends and relatives back home.
Just like Meryl Streep, it stands among the expat apps with most wins for the best performance. And as in all Golden Globe winning cases, it's about optimised functioning, credibility and impact it has on numerous people.
Here are 16 back-stage things you'll love about it.
#1 MobileRecharge app is based on a true story!
As an expat app, it is tailored according to an expat's needs and life style.
A courageous and optimistic guy leaves his homeland in search of  new life opportunities in some other country. And since he makes it in the long or short run he returns the favour of his childhood education and unconditional love by sending his friends and family back home mobile credit. In other words, talk time. As an expat app, MobileRecharge is extensively used to send last minute gifts as well, or benefit from one of the daily promotions running on the screen on and on.
#2 Online is easy and really affordable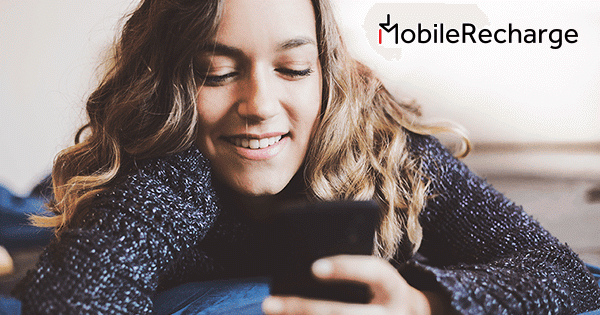 MobileRecharge works on both WiFi, as well as 3G and 4G, and can be installed for FREE on any iOS and Android devices.
Apps in general save you time and thus also money. An expat app, in particular, like MobileRecharge, saves time and money in multiple ways:
no need to run to the store; no ticket, so you save some dollars or euro, or whatever currency you use
it also helps save money as the processing fee doesn't include rental costs or any other costs that an offline physical space require
it saves time because you don't stand in a queue
"It's a perfect way to recharge your cell phone far from a authorized place." (Jorge Ramirez)
#3 Instant transfer of credit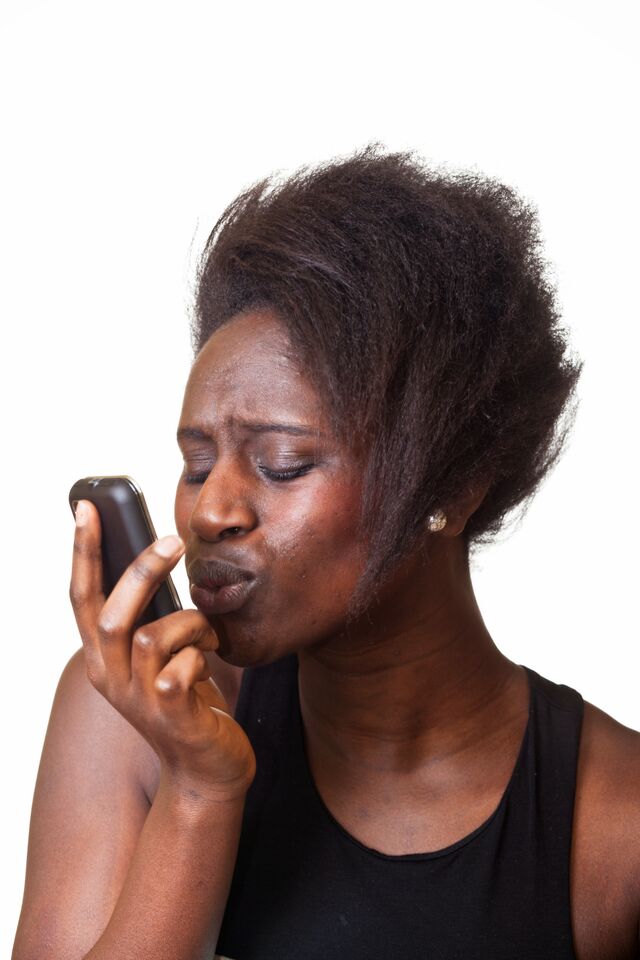 When it comes to MobileRecharge, distance and time overlap. It takes 1 minute to fill in the online form and about the same time for the credit to reach your dad's mobile in Cuba, or your sister in Pakistan, or your wife in Kenya.
There's some buzz about it on review platforms.
"My recipient received the recharge in barely less than 2 minutes, had no issues my transaction was smooth, no glitches, will definitely recommend this company to all who would like to transfer airtime." (Nelson Banda on Trustpilot.com)

"I like the service. It takes a minute to send the refill to my friend. I usually us this service average twice a month." (Shaikh Shahzad on Trustpilot.com)

"Buena opción. Sin problemas y al minuto se envia la carga al destinatario." (Kenzo on Trustpilot.com)
#4 Promotions make my day
The Menu keeps all the offers safe and alive! There are more than 10 promotions live daily. What they bring is up to 600% MORE talk time credit for the beneficiary of the Mobile Recharge from the app. For example, you you're on the go, and you use your 3G connection to send Digicel Haiti mobile. If there's a promotion running, you get to send $5 and the person in Haiti receives 100% Bonus, that is a total of 285.75 HTG. This amount can be used for local Digicel-to-Digicel calls, as well as message.
Say, you need to reload a Movistar mobile in Nicaragua. You pay a minim of $10.21 and your relative in Nicaragua gets 270 NIO instantly.
Sometimes we're talking about special Bonuses that some operators in certain countries offer. For example, for a minimum of $10, the friend or relative in Mexico who gets a top up from you on his/her Telcel mobile, can use the Special Bonus for Social Media network Internet access, like Facebook and Twitter for 60 days. Pretty cool, right?
#5 PayPal accepted besides major cards
"The website user interface is clear and easy to navigate. There is an option for PayPal which is always preferable. The whole process is quick and painless. " (User myshop-16350 on Trustpilot.com)
#6 Contacts imported automatically
Yes, indeed. Zero effort from you except one condition. All numbers should be saved in your phone contacts in the international format: country code + actual phone number.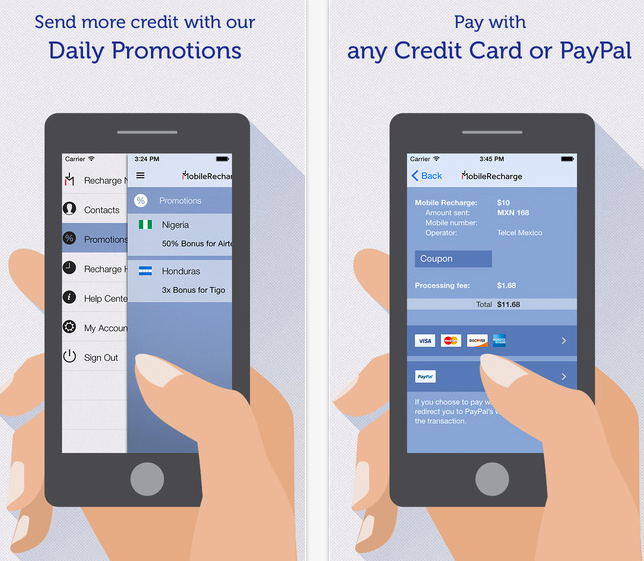 #7 Activity log at your disposal
Convenient & Prompt! I have used this service a number of times now. I have found the process to be simple, but best of all, the updated funds appear in my card account within minutes of completing the transaction! (Anthony Broome)
#8 Clear FAQ
Per customer's feedback, all important aspects that needed further details or explanation have been covered for independent users. For those who need a voice to talk to, the chat is also open.
#9 Multilingual 24/7  Support
Besides English, the Customer Support team behind the MobileRecharge app can assist you in Spanish & French.
#10 Language & account currency selection
Payment is accepted in any currency. So, no matter where you live, the transaction is accepted. Yet, if you use Euro, you may find it helpful to have the account set on Euro. You should decide it the moment you download the app and create a new account.
 #11 Five STAR popularity among expats
"MobileRecharge.com is the ABSOLUTE BEST of all the online companies to purchase air time for mobile phones!!! I've used a few others but when I found MobileRecharge, I stopped trying any others. I like the fact that I can pay using PayPal. And as soon as I pay, my friend's phone receives the airtime and a text notifying them of the credit. I intend to keep using MobileRecharge for all my airtime transfers." (User: baddcatt on Trustpilot.com)
#12 Lowest processing fee on the market
Now that's something we're proud of on your interest. We keep it minimal.
#13 Positive impact app
No doubt about it. This is an app that facilitates giving, family support, surprises, gifts, thankful gestures, generosity. But people empower it actually.
World Top Up Day took place this year on November 10 to point out those who top up their family's mobiles. They are undercover givers who have such a strong effect on other people's lives, piece by piece.
#14 Full security
This is valid due to multi-layered and complicated algorithm of fraud prevention, in a world hunted at every online corner. :) MobileRecharge got the label Verified & Secured for its high protection standards.
#15 More than 10 years of experience behind
MobileRecharge app has been built with the use of customers' feedback, based on real needs and expectations. That's why it is considered an expat app.
#16 Custom-made
Anyone can choose the amount they send, the currency displayed in the online account. For top up to Mexico or Cuba, nos amigos have the option to send or not to send a free SMS.
More free features include shortcuts. Let see an example. Anyone can pick a number from the history and top it up just by a simple click, no matter how far. Even better, many use nicknames to tag a phone number. Say, mom or Nelly, and so on. So, that free feature makes the top up even more personal.
How to top up a mobile from MobileRecharge app
How Raja uses the app
https://blog.mobilerecharge.com/wp-content/uploads/2016/01/Congrats.png
321
845
Aura Badiu
https://blog.mobilerecharge.com/wp-content/uploads/2013/11/blog.mr_.logo_.png
Aura Badiu
2016-01-19 16:21:39
2018-04-26 12:08:05
Why is MobileRecharge app a Golden Globe winner in the expat app category?