What you send is what they get. NO PROCESSING FEES on World Top Up Day!
You're now part of it! :) So, welcome to one of the events that will one day make it in Wikipedia as the First World Top Up Day ever — November 10, 2015. Which is today!
What's music to our ears today is that NO PROCESSING FEES apply on any of the top ups on MobileRecharge.com sent by the end of the day (23:59 EST). So, you can go wild! Choose your favourite number from the agenda, and pay a the owner a good-surprise. Make them smile, or help them stay talkative, the way probably like it. :)
Since there are no extra costs today, what you send your friends & family is what they get! No kidding about it! It's all in the checkout!
Worth mentioning that top ups on MobileRecharge.com are possible from anywhere to 135 countries and 400 operators worldwide. If you wonder "Oh, can I make that too?" then the smartest thing would be to solve the mystery by having a look over the list of countries and operators that welcome top ups for their subscribers:http://mobilerecharge.com/buy/mobile_recharge
Also, to notice!
You only need to pay for the actual amount you want to send.
You need no coupons to get over the checkout border, just play along, you're safe!
It takes few seconds to fill in the top up form.
You can transfer the credit in 2 ways: from the website, MobileRecharge.com, OR using the free app called MobileRecharge. The app can be easily installed from the App Store on your iPhone or iPad. If you have an Android smartphone, then you'll find MobileRecharge in Play Store for free.
There is no top up limit to send away as airtime. You can send $5 or $50, as many times as you need/want.
Oh, always double check the number, country, operator you send mobile credit to!
Whose important on World Top Up Day?
Without using big words, if you stepped on this territory, you are one of the reasons World Top Up Day was set up: the generous top-up giver or sender. People talk about givers mainly in the field of charity, donations, blood drives and other related actions, which are magical! Yet, there are many more people in this world who help and send gifts daily, unconditionally, out of what we define in dictionaries as "love".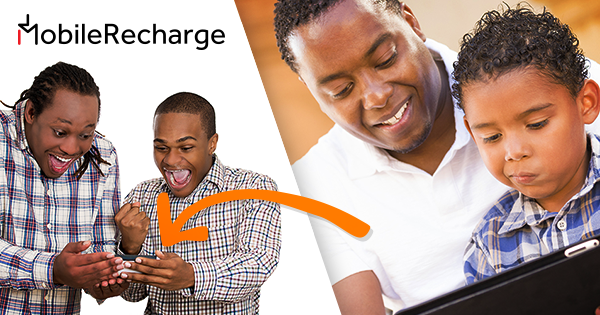 MobileRecharge.com fans are such beautiful people. So it came natural to think of those we're close to everyday… the top-up givers, who support families and friends with mobile credit and who are 100% givers.
They are an anonymous group of givers, most authentic ones… And this group is huge. Only on MobileRecharge.com there are thousands of hundreds of givers, and new ones join the community every 2 minutes. That's unbelievable.
Why FEES are GONE with the wind today?
Well, first of all, we all need to understand these processing fees are really processing fees. Any service needs them to cover their costs and pay people to process the orders.
First, we wanted to show our appreciation for your generosity towards your family, friends or even towards yourself :) and make it the easiest way possible. We couldn't wrap the gift in paper, because we're not into packaging, we took the liberty to give up what we can…
Secondly, we wanted you to make your loved ones smile and keep sharing their stories! Long distance is now backed up by technology, so we may easily replace the horse or the train with a phone call. Of course, we can talk over the quality of the encounter, but you got the picture…
How to top up a mobile on World Top Up Day
1. Go to MobileRecharge.com, or install for FREE the app called MobileRecharge.
2. Open an account f0r FREE, it only takes few seconds.
3. Fill in your friend or relative's phone number, operator, the country they live in and the amount you want to send; always double check!
4. Add a FREE notifying SMS if you send credit to mobile phones in Mexico or Cuba.
5. Click "Recharge Now" and ONLY pay what you'll send, nothing extra; you can use Paypal or any major card.
World Top in a nutshell
Today we celebrate for the first time in history all top-up senders or givers for their generosity! The event is already popular as the first World Top Up Day in history, although we've only been talking about it for a week now.
Everyone has FREE access to MobileRecharge.com. That's easy to explain and even easier to experience. NO FEES apply on any top up made on November 10! It doesn't mean one pays nothing to top ups a mobile abroad or under the same umbrella-country. NO FEE is not equal to FREE. It only means that what you order as mobile credit you send without paying anything extra.
https://blog.mobilerecharge.com/wp-content/uploads/2015/11/WorldTopUpDay_G-_cover_official1.jpg
608
1080
Aura Badiu
https://blog.mobilerecharge.com/wp-content/uploads/2013/11/blog.mr_.logo_.png
Aura Badiu
2015-11-10 18:37:53
2018-04-26 12:08:07
What you send is what they get. NO PROCESSING FEES on World Top Up Day!