5 cool promotions this month, including June Cubacel Bono
Expats worldwide, we prefer good news to any news, just like YOU! So, we brought together all the strong June promotions we know about so far.
Let's take a ride though the best mobile top up promotions this month, June Cubacel Bono included. We'll travel where mobile credit can get under your finger tap. Because it only takes 1 minute to transfer mobile credit to people you love, care for and support, no matter the distance in between.
#1 Dominicans abroad get up to 24% extra on the balance they send to Claro mobiles back home
June is a good month for Dominicans living abroad to send mobile credit to families and friends back in Dominican Republic for at least 3 reasons:
The minimum $5 top up made online on MobileRecharge.com or using MobileRecharge app receives additional credit of 20% or 24%. See conditions!
The main amount and the bonus gets to your friend or relative instantly.
The promotional balance can be used locally and applies to Claro Prepaid, Claro Control or Personal de Flota accounts; please be aware, it doesn't apply for Planes 365.
#2 Cubans abroad have a NEW Cubacel offer for their families & friends back home
Cubans in the USA, Canada, Australia, or any part of the Europe… it's raining with good news again!
June Cubacel Bono, as Cubans know it, is live and kicking generously! The promotion started on June 19, 2017, and is running until the end of the week.
All details in Spanish right here, under your nose, like a rich meal when you're hungry for surprise! June Cubacel Bonus resembles the last month Cubacel offer, you'll see. You get to send as much as 150 CUC, while paying for 60 CUC Cubacel mobile credit. That's a good deal. Oh, and remember the processing fee is the smallest on MobileRecharge.com, which is not a plus but a 5 star advantage many are not aware of.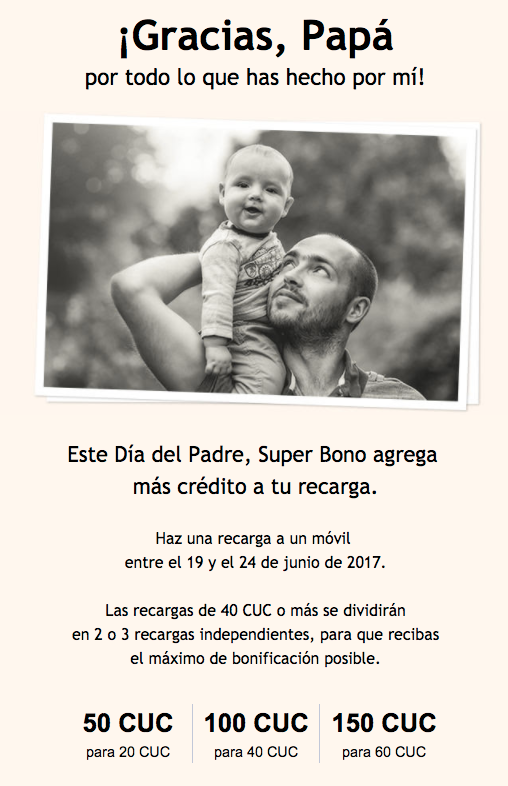 Conclusions
Cubans living abroad get to send up to 150 CUC with the June Cubacel Bono offer on Mobilerecharge.com.
Cubans who want to spend less than 60 CUC, can try 20 CUC and they send more than Doble Bono with this June Cubacel Bono promotion.
Time is limited, the Cubacel Bonus is available until June 24, 2017.
#3 Haitians in the USA & Canada send free extra international credit to Digicel Haiti mobile phones
Once upon a time there was a Haitian living his life dream in the USA or Canada… Thankful as any Haitian, he shared his goodies with people back home, including mobile credit. For as little as $6 mobile credit for someone they knew in Haiti, Digicel offered free extra credit. Good deal!
The promotion is REAL, and still running on MobileRecharge.com. Here are some details:
All bonus minutes are valid for International calls to the USA/CANADA and/or Digicel to Digicel calls within Haiti.
Entry points are the same for USA and Canada territories (ie: US $6 and CAD $6 deliver the same great value.)
Tell people who receive your mobile top up to check their bonus balance by dialling *120*65#

#4 Mobile top ups to Tigo mobiles in Honduras receive 200% FREE balance
Exactly! All top ups of minimum HNL 129 made in June for a Tigo number in Honduras, receive 200% Bonus. The punchline is that it includes international calling credit to the USA and Canada, which means you get to help your relatives in Honduras by sending them the credit, while they can call you back. Also, it can include Internet packages.
What you need to pay attention if you're interested in this offer is WHEN you send the credit on MobileRecharge.com or using MobileRecharge app. Because the offer resembles an economical game, or a pun. You need to consider the ending digit of the number you want to recharge for the Bonus to apply. No rocket science, just a bit of attention.
– Send Bonus on Monday if your relative's number in Honduras ends on 0 or 1
– Tuesday: if the receiver´s number ends on 2 or 3
– Wednesday: if the receiver´s number ends on 4 or 5
– Thursday: if the receiver´s number ends on 6 or 7
– Friday: if the receiver´s number ends on 8
– Saturday: if the receiver´s number ends on 9
#5 Internet bonus for the relatives in Jamaica of the Jamaican expats worldwide
Jamaicans are techie, don't ever underestimate them. And Digicel Jamaica lined up to offer up to 3 GB for free for $35 mobile credit sent from abroad to someone in Jamaica.
But this is not the only option:
$10 top up => 1 GB Free Data Bonus
$15  top up => Credit doubles = 1GB Free Data Bonus
$20 top up => Credit doubles = 2GB Free Data Bonus
$25 => Credit triples = 2GB Free Dat Bonus
$35 => 4 times the Credit you send = 3GB Free Data Bonus
https://blog.mobilerecharge.com/wp-content/uploads/2017/06/alyssa-moore-165574.jpg
2457
3686
Aura Badiu
https://blog.mobilerecharge.com/wp-content/uploads/2013/11/blog.mr_.logo_.png
Aura Badiu
2017-06-19 18:53:40
2018-04-26 12:07:51
5 cool promotions this month, including June Cubacel Bono