How to send 150 CUC to a Cubacel mobile, while paying only 60 CUC
Cuba has been on our lips these days. Partly because we have friends who have just returned from Cuba. They told us with enthusiasm about Cubans' dancing hearts, profound spirit and sincere joy. Of course, they also know the ups and downs of the social and economical faith there, but the colourful culture and Cubans' passionate voices are breathtaking.
And now, here is Cuba again with the Cubacel promotion, between 12-16 December. Cubacel mobiles can now receive up to 150 CUC, while the person sending it from abroad only pays 60 CUC on MobileRecharge.com. Expats who send credit to someone's Cubacel mobile in Cuba, whether a relative or a friend, a wife or child… are now welcome on MobileRecharge.com to grab the Bonus.

The promotion, available between December 12-16, 2016 on MobileRecharge.com, brings a Super Bonus. We'll squeeze the best Bonus for our fans, by splitting the amounts they order.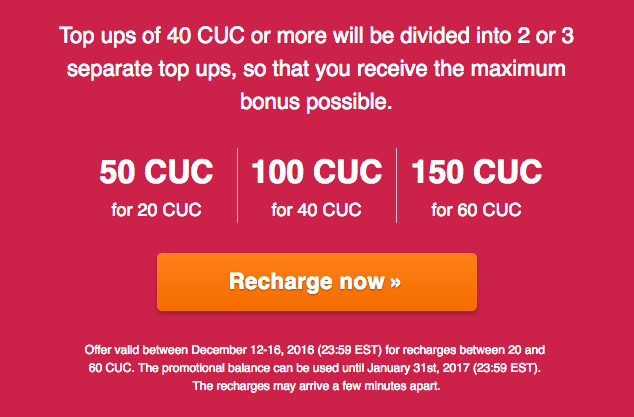 All top ups between 20 CUC and 60 CUC to a Cubacel mobile receive the Super Bonuses. MobileRecharge.com helps you send the basic amount and the bonus balance in seconds.
If you send 20 CUC, your relative or friend in Cuba gets 50 CUC.

If you choose to send 40 CUC, the person in Cuba gets 100 CUC

Pick the maximum of 60 CUC to send, and your friend or family member in Cuba gets 150 CUC, that is the maximum Cubacel Bonus.  
How to send mobile credit & Super Bonus to Cuba in seconds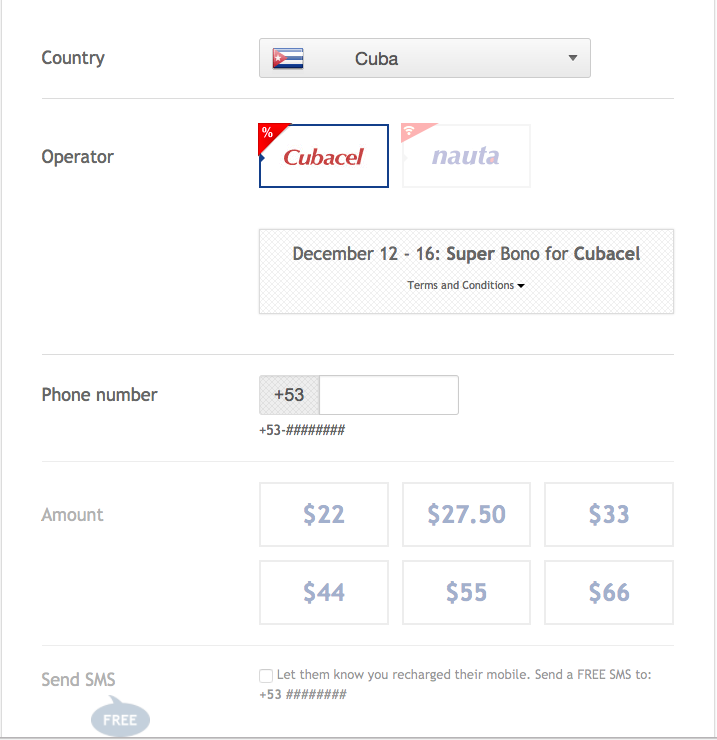 Step 1
Go to Promotions in the top menu of MobileRecharge.com. Click on the Cubacel Bonus promotion and fill in the order form on MobileRecharge.com. It only takes few seconds. It's very IMPORTANT you double check all the data entered. 
Step 2
Don't send an anonymous recharge. Before you proceed to payment, write a message to the person you want to send the recharge. It's free. Why not, right?
Step 3
Proceed to payment if you already have an account on MobileRecharge.com. Otherwise, no worry, we'll guide you on how to create an account without paying anything extra. You can pay with any major card or PayPal, no matter the currency of your bank account. 

https://blog.mobilerecharge.com/wp-content/uploads/2016/12/MR.com_.png
321
845
Aura Badiu
https://blog.mobilerecharge.com/wp-content/uploads/2013/11/blog.mr_.logo_.png
Aura Badiu
2016-12-13 18:19:53
2019-03-13 18:43:32
How to send 150 CUC to a Cubacel mobile, while paying only 60 CUC