How to send Cubacel credit in seconds and include a BONUS
As a Cuban abroad, you have the same dilemmas as everyone else surfing the Internet universal store. Which to choose from the whirlpool of services, deals, best tips… Of course, your interests are more specific: work permit, Cubacel online top ups, Miami jobs, English technical terms, etc. But just like a puzzled cooking fan who finds many recipes for the same dish, you may wonder which Cubacel online top up service is best for you and your folks. We're making it easier for you.
Let's see how MobileRecharge.com or MobileRecharge app helps you make your Cubacel online recharges in SECONDS with an automatic BONUS included. ;)
Life is short, top up your folks' Cubacel mobiles in seconds
Life is short. It's not us saying that, but Ana, a 92 year old lady we've talked to few months ago. "Too much work, too much hassle, it's not worth it after all," she said. So, invest time in what's personally important, and choose the fastest way when it comes to paying bills, news updates, job research, bank statements and Cubacel online top ups for your folks in Cuba.
It was Cubans abroad just like you who developed the FAST service feature. They sent their feedback along the years, so MobileRecharge.com developed both the fastest website / online form and the fastest MobileRecharge app to recharge a mobile in Cuba, no matter the distance. You can use the time you save for other affairs worth your life effort. Makes sense, right?
No need to sign a contract. That saves a lot of reading time and energy.
The online form is simple. Only 4 fields required: country, operator, amount (default amounts available), phone number.
FREE SMS option included. No need to get out of the platform and use your local operator credit.
Use your history for direct recharge. When you make your first Cubacel online top up for a certain number in Cuba, for the first time, you have the option to save that person assigning a nickname. Next time you log into your website account or the app, you can use the nickname and data associated to send a direct Cubacel online recharge, and thus skip filling in the form.
Pay the simplest way possible. Since it's a Cubacel online transaction, you can order credit for your folks using you PayPal account or any Visa or Mastercard. Don't worry about currency conversion, that's our business to care for. If you save your card with us (relax, it's safe), you don't need to enter any info. So, you save about 10 seconds.
Credit gets to the person in Cuba immediately.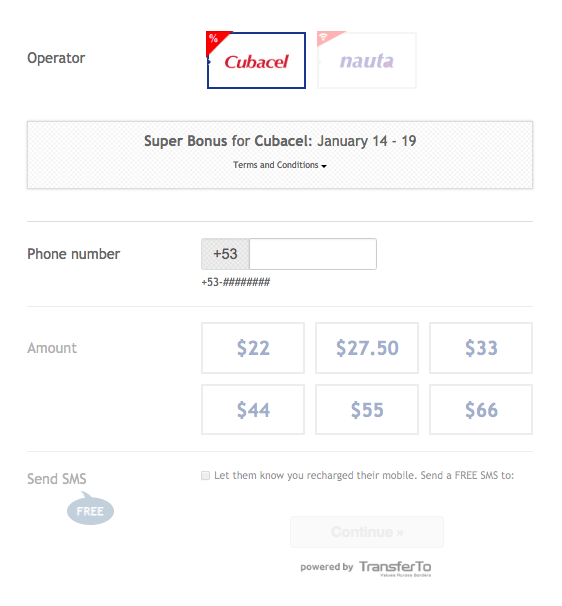 How to fill in the form to make your Cubacel online top up correctly.
Wow! So, what do I do with the time left?
Exactly! Invest time to relax, get to know your new-home culture and get to know the locals and the Cuban expat community in your area. If you've settled in Miami, you are lucky. You may already know that… Miami is 70% Hispanic and proud. :)
Okey dokey! What's with the automatic Cubacel BONUS?
It's like fresh extra fruit! :)
During Cubacel online campaigns there's an automatic Cubacel BONUS. Now, the truth is we worked a bit on it to squeeze the best credit juice from it. You send your Cubacel online recharge of at least $22, but the engineering behind MobileRecharge app or the website splits the amount to get many bonus waves. That's why the bonus amount reaches your folk in Cuba in cascades. In case you'll wonder… The Bonus you send will go as high as 60 CUC + 240 minutes and 120 SMS Bonus this January. Details below. ;)
Now, if thoughts could be heard, one of the common one in the Cuban expat community would be "Cuándo es la próxima recarga Cubacel?" And the answer today is NOW. This January, the first Cubacel promo in 2019 is as diverse as the USA, Canada, Australia or your workplace. :)
Here's what you pay and what gets to Cuba this January 2019.
22 dollar order = 20 CUC + 80 Cubacel minutes and 40 SMS
27 dollar order = 25 CUC + 80 minutes + 40 SMS
33 dollar order = 30 CUC + 80 minutes + 40 SMS
44 dollar order = 40 CUC + 160 minutes + 80 SMS Bonus
55 dollar order = 50 CUC + 160 minutes + 80 SMS Bonus
66 dollar order = 60 CUC + 240 minutes and 120 SMS Bonus
If you are not living in the USA, check the website for other currencies.
TAKEAWAYS to save even more time
For you, as a Cuban abroad, the Internet is cool but can also be a world with too many options, deals and "best info" shooting at you and keeping you puzzled.
Life is short. It's important to have things done the simplest and fastest way possible.
Pick the service for your Cubacel online top ups that has the FAST feature already developed.
Don't miss this month's Cubacel online promo: January 14-19, 2019
Bonus applies immediately and brings minutes, SMS plus your order amount Cubacel credit.
Have a seat or make it on the go: choose to send $22-$66 to send extra Cubacel online credit for FREE.
The Bonus you send will go as high as 60 CUC + 240 minutes and 120 SMS Bonus. 
https://blog.mobilerecharge.com/wp-content/uploads/2019/01/denys-barabanov-541762-unsplash-1.jpg
3456
5184
Aura Badiu
https://blog.mobilerecharge.com/wp-content/uploads/2013/11/blog.mr_.logo_.png
Aura Badiu
2019-01-18 15:22:40
2019-03-13 18:33:26
How to send Cubacel credit in seconds and include a BONUS