How to send free mobile credit to Cuba in just few seconds at the end of July
In 2015, there were over 1,400,000 Cubans outside the borders of Cuba. Over 1 million in the USA alone, the rest spread courageously all over Europe, Latin American countries, Asia, Australia and Canada, according to the International Organization for Migration official website. A large segment of them still keep in touch with friends or relatives back home in Cuba, whether it's about a call home, travelling, money transfers to support, or fast mobile credit to Cuba via MobileRecharge.com.
How much do I pay, how much FREE credit gets to Cuba?
The FREE credit to Cuba that Cubacel rewards this end of July between 24-28, 2017, ranges from 20 CUC to 90 CUC. Pretty generous and bold! And the SUPER Bonus applies automatically for recharges between 20 CUC – 60 CUC.
So, this July, we deal with a second promotion. The NEW Cubacel promotion for Cubans abroad brings up to 90 CUC FREE mobile credit for people in Cuba. You get to send 30 CUC, 60 CUC or the maximum of 90 CUC free credit to Cuba besides the actual amount you order. The Jackpot is 90 CUC free mobile credit to Cuba, of course. But that requires an order of 60 CUC on MobileRecharge.com.
If you to send 20 CUC to 60 CUC you get to send a Super Bono to Cuba automatically, as follows:
Who can send FREE mobile credit to Cuba?
Any Cuban having relatives and friends in Cuba can take advantage of this Cubacel promotion at the end of July. It's important that you review all details of your recharge to Cuba (Cubacel phone number and amount) before you proceed to payment.
Who can receive the FREE credit to Cuba: 30, 60 or 90 CUC ?
Cuban expats' family members in Cuba, using a Cubacel phone, are eligible for the recharge and the SUPER Bonus credit to Cuba, with no specific restrictions.
Generally the free credit to Cuba gets instantly in sessions. First, the basic amount reaches the destination (the value of the order), and soon after the Bonus.
How to start?
Just follow these 3 easy steps:
Go to MobileRecharge.com and open an account in seconds. No worries, no contract awaiting for you!
Fill in the online form and don't skip to send a FREE SMS along your recharge.
Proceed to payment, and check the status of your top up to Cuba in your account; Pending means we are still processing your transaction, so please be patient.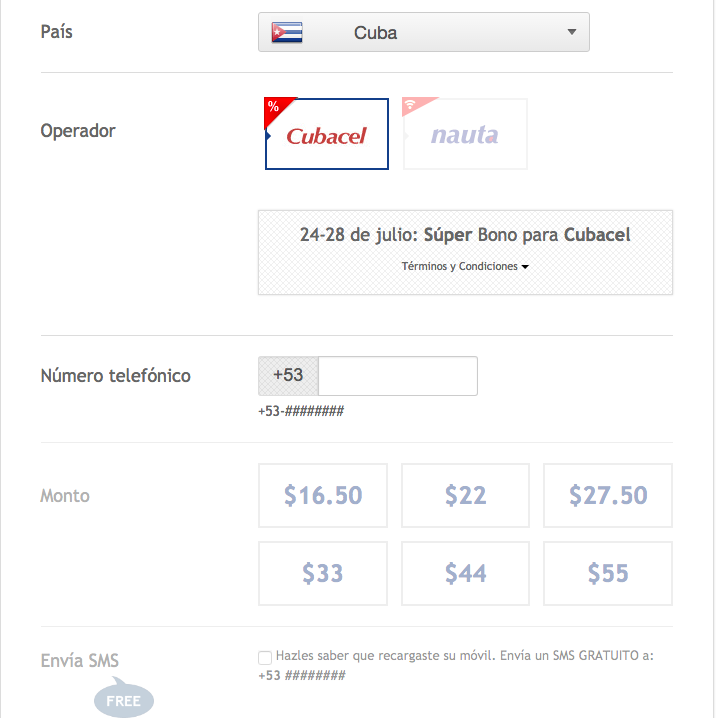 https://blog.mobilerecharge.com/wp-content/uploads/2017/07/wolf-schram-79896-2.jpg
3853
8192
Aura Badiu
https://blog.mobilerecharge.com/wp-content/uploads/2013/11/blog.mr_.logo_.png
Aura Badiu
2017-07-24 09:00:29
2019-03-13 18:41:27
How to send free mobile credit to Cuba in just few seconds at the end of July