3 best options to get the most out of this new Cubacel Bonus for Cuban families
Race-base weird decisions at Guantanamo Bay prison and "sonic attacks" against American diplomats in Cuba took over the covers of the magazines these days. For Cubans abroad, the news are not that enjoyable this week. Except maybe for this new Cubacel Bonus on MobileRecharge.com and the huge number of tourists in Cuba that is 7 times higher this January than in 2014, according to a Reuters article.
This is the second campaign Cubacel launches in January 2018. And totally different from the first one. Let's see the important stuff. What you can pay and what your Cubans friends or folks will receive. Best scenarios, please!
#1 Send 20 CUC worth credit & they receive 30 CUC + 50 min + 50 SMS
Remember the cost of calling minutes and SMS in Cuba? Not that inspiring, right? Exactly! So, what this new Cubacel Bonus brings is not only CUC that can be used for calling or texting, but the actual minute and SMS package, which is pretty generous for only 20 CUC. Oh, not to mention they get 10 CUC extra too.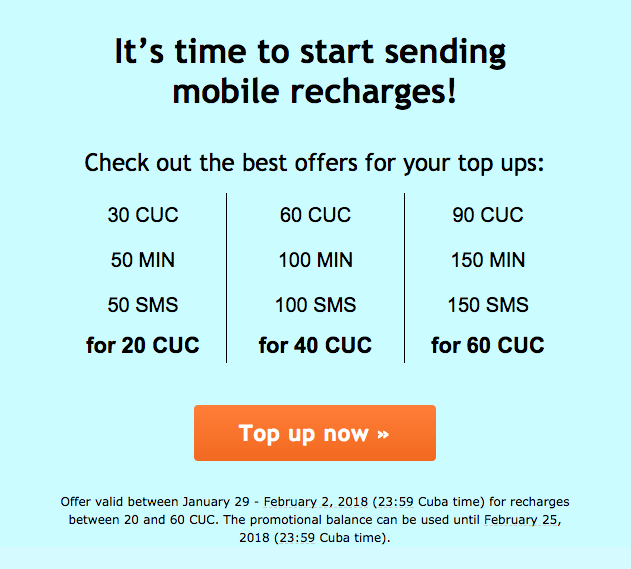 #2 More than Doble Bono Cubacel! They get for FREE: 20 CUC + 100 min + 100 SMS
The normal domestic calling rate from a Cubacel phone is 0.35 CUC/min. Multiply that by 100. Your Cuban friend or family member gets 35 CUC calling credit. To send an SMS in Cuba costs 0.09 CUC according to the official website of Etecsa. Let's do the math instead of the boogie dance: 9 CUC for texting with this new Cubacel Bonus.
So, the new Cubacel Bonus is 20 CUC + 35 CUC for calling + 9 for texting = 44 CUC Bonus despite the appearance! That's more than Doble Bono Cubacel.
You send 40 CUC worth Cubacel credit with MobileRecharge.com, and in seconds or few minutes, your folks in Cuba will receive 60 CUC plus 100 calling minutes and 100 SMS.
#3 Almost Triple Bono with the new Cubacel Bonus
The third option brings 96 CUC balance for FREE! Because Cubacel adds 30 CUC extra balance automatically to your 60 CUC order on MobileRecharge.com, as well as 150 Cubacel minutes and 150 SMS. Can we get an OMG here? :)
Yes, your math is correct if you summed it up all to 156 CUC balance for 60 CUC charged on your PayPal account or your card.
https://blog.mobilerecharge.com/wp-content/uploads/2018/01/emanuel-haas-466786.jpg
3064
4592
Aura Badiu
https://blog.mobilerecharge.com/wp-content/uploads/2013/11/blog.mr_.logo_.png
Aura Badiu
2018-01-31 11:54:57
2018-04-26 12:07:46
3 best options to get the most out of this new Cubacel Bonus for Cuban families